Name: Thiruchitrakootam
Otherwise called: Chidambaram, Thillai, Pundarikapuram
Presiding Deity: Lord Govinda Raja
Facing: East ward
Posture: Yogic down
Archa Murthi form: Sri Devadidevan, Chitrakoodathullan
Consort: Sri Pundarikavalli. ( white Lotus Valli )
Holy Places: 12
Dome: Satvika Dome
Sung by: Thirumangai Alwar & Kulasekara Alwar
Appeared before after penance: 1) Patanchali, 2) Kanvar Rishi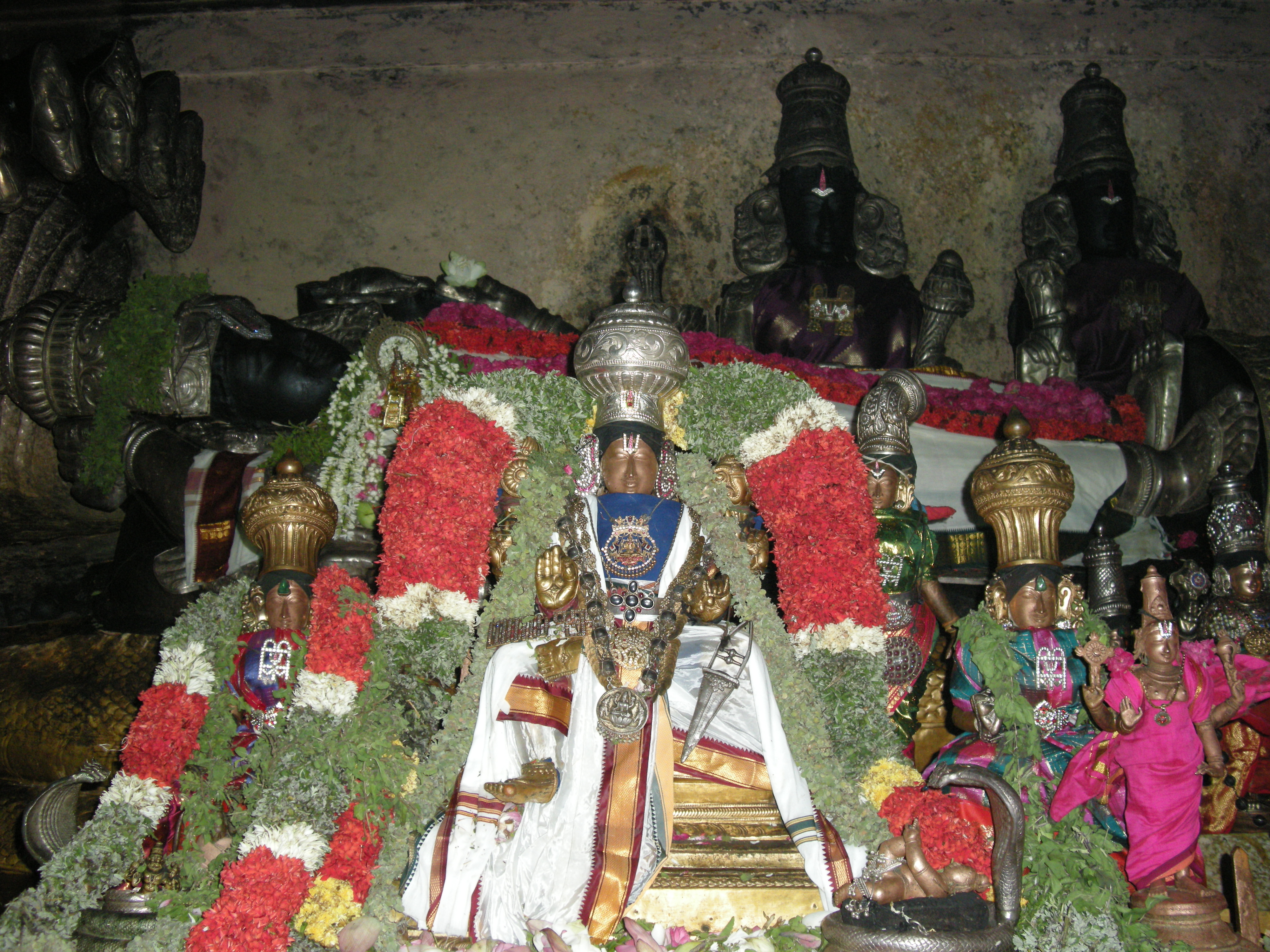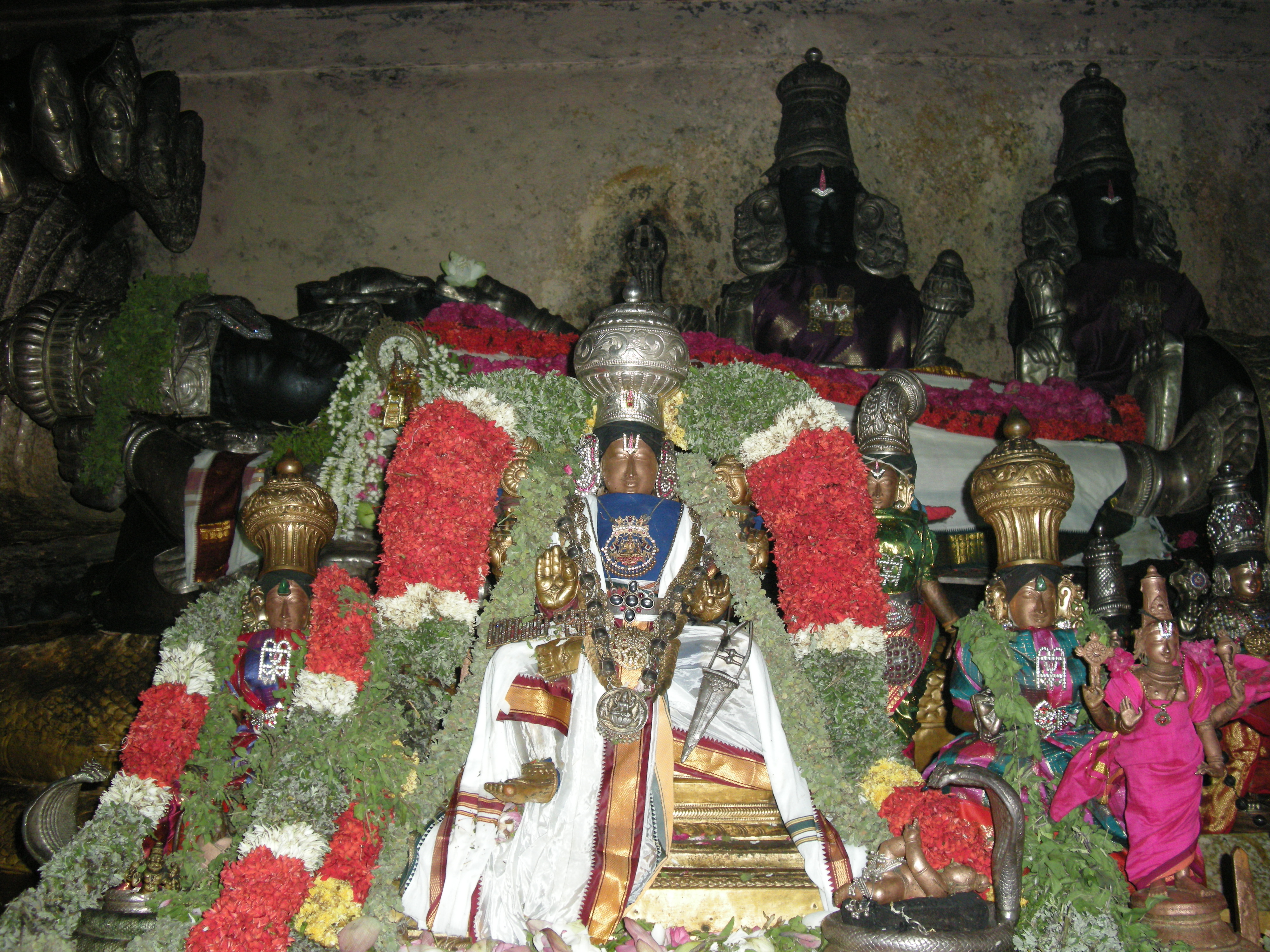 With consort on His sacred chest Lord Govinda Raja resides in the Shrine of Chitrakootam. It is easy to reach Him. One need not hold severe austerities like agnihotrams, if the holy precints of Lord Govinda Raja is reached for it is the spot purified by the chanting of Vedas by the fully well versed pundits. Go Chitrakootam there, an enchanted shrine and place.
Chidambaram also known as Chitrakootam.

It is said that Lord Govinda Raja is Lord Rama. One can reach Him by just uttering " Govinda". The archa-vigraha deity is called 1) Devadidevan, 2) Parthasarathy, 3) Chakravarthi Thirumagan, 4) Geethacharyan.
Holy Spot: 1) Pundarika Thirtham 2) Amudha goopam ( A spot where Garudan appeared to Lord on His visit to witness cosmic dance) 3) Thiruparkadal, 4) Sesha Thirtham, 5) Garuda Thirtham, 6) Kaveri Thirtham , 7) Swetanadhi theertham, 8 ) Iyamabagh chethara Thirtham, 9) Indira Thirtham, 10) Agni thirtham, 11) Nirjara Theertham, 12) Swamy thirtham.

1. Specialities in Thillai Chitrkootam
Location of the place: This sacred place is Northern border of the fertile chola country, also called " Fortieth cholam" Its boundaries are 1) Cauvery River in the north 2) Vellar in the south 3) Srimushnam in the east 4) Coramandal coast in the west.
Among the 108 sacred shrines sung by Alwars, this is the Twenty Third spot. The presiding deity is Lord Govindaraja.
This temple comes under Vaiganasa Agama regime of worship Its Sathvika Vimanam, Five Kalasas representing five basic elements , Animaniasanam, Thiruastakashra padi, are famous . The spot is also differently termed as Thilli forest, Thillai nagar, Thillai chitrakootam, Pundarika Puram, & Puliyur. Sage Pundarikar performed tapas here. Hence it gets the name " Punadrika Puram." And the tank called " Pundarika Pushkarini" A demoness called "Dilli" performed tapas here. Vyagrapathar worshipped this place and so is "Puliyur" Kanva Rishi attained Moksha ( release) in this place. Sage Patanchali got boons as a reward for his tapas . Sage Gopi pralaya's deep devotion gave him the very presence of Govinda Raja in the form of " Venugopalan". Kuchalas, Anjaneya, Sugreeva, in an assembly had darshan of Lord Govinda Raja"
2. Temples's formation
The sanctum sanctorum is domed by five Kumbams considered to represent the five basic elements. The Deity (GovindaRaja) is lying on the bed provided by serpent "Adisesha " with seven hoods. At His feet are the Sridevi and Boodevi. From His (naval ) abdomen rise Lord Brahma seated on Lotus flower. Utsava Moorthi is near Him seated on a diamond Simha Asana. With Him on His side are Devadi Deva, the twin devis, Selvar, Kannan Santhana Krishnan and Sri Andal.
In the Artha Mantap around the Prahara are Panchachanya Alwars, Narasimhar, Sri Venugopalan with his consorts, Gajendra Varadar mounted Garuda, Thirumazhisai Alwar alias Chakrath Alwar, Kanva Sage, Sage Patanchali, Narasimha in Yogic posture, Sri Ramanuja and KoorathAlwar,. In the inner ring Dwarapalakas adorn the entrance. In the outer wings Sudarsana and Panchachanya Alwar can be found.
In front of the Perumal Sannadhi are Thiruashtaksharapadi of Raja Gopuram. In a separate enclosure is Garuda Alwar. Dwjasthambam and Balipeedam are also there.
Thayar Sannadhi is a separate sanctum sanctorum as also Sri Andal. Yagasalai and sanctified kitchen and Pundarika Tank have also found a presence here. The place is called Divya Desam.
3. Alwars obeisance
Sri Kulasekara Alwar and Sri Thirumangai Alwar have sung in praise of this deity. In his work "Perumal Thirumozhi"Kulasekara Alwar praised the place as "Anganedu mathil pudai soozha". In his work "Thirumadal" Thirumangai Alwar calls Him " Then Thillai chitrakootathen selvanai, minnumazhai thavazhum vengadathan viththakanai". It is significant to note that GovindaRaja had the high esteem to be sung by two kings namely Kulasekara Alwar and Thirumangai Alwar.
Kulasekara Alwar has sung Sri Rama's life in his work. It is said that Lord Govinda Raja appeared before Kulasekara as Lord Rama Himself. The verses referring to Govinda Raja in Kulasekara Alwar's work can very well be called the essence of Rama Charitham.
3rd Verse: A direct reference to Lord Govinda Raja as " Thillai Thiru Chitrakootathan.
4th verse: A reference to Lord Govinda Raja as Sri Rama Himself. In the last stanza Sri Kulasekara Alwar makes a mention of Maruthi who is seated on the Left side of Lord.
Kulasekara Alwar has sung in praise of the Visara Murthi seated on the Simhasana.
Sri Thirumangai Alwar says that one need not suffer physical pains to attain Moksha. It is enough one worships Lord Govinda Raja of Thiruchitrakootam. In the 4th stanza Thirumangai Alwar directs devotees to go to Chitrakootam and worship the Lord lying on the serpent Adhisesha bed . In 6th,8th,9th stanzas he praises the Lord as "Devadi Devan" He points to the Northern side of the place where River Vellar courses along, being considered as one of the holy waters among the twelve of Chitrakoota deity. Thirumangai Alwar has a special mention of the deity's mounting on the divine Garuda.
4.Historic background
Thiruchitrakootam finds mention in the Sanskrit works of Sri Varadha Puranam, Brahmmanda Puranam, and Bavishyath Puranam.
There is a story of an ancient King called Kareva., when his daughter Cauvery deserts him taking the slope of " River Cauvery" ,he went on pilgrimage visiting Vaishnavite temples. On a Mahamaham day he and his wife had a holy bath in river Cauvery.. It happened that their daughter appeared before them and directed them to go to Thillai and do tapas controlling all the sense perceptions on Thirumal who will give them release. The couple performed tapas as instructed by Cauvery.Thirumal showed them his presence. The couple asked for a boon requesting Him to stay in Thillai taking the names of Govinda Raja and consort Pundarika Valli. The boon being granted the Lord and consort took Thillai as the place for their stay and to satisfy the devotees seeking their blessings.
The story goes that Lord Shiva and Shakthi danced in Thirukayilai and Thiruvalangadu. Then they did it in the presence of Thirumal . When Shakthi overdid than Lord Shiva , Thirumal gave a clue to raise one leg and He danced successfully. Shakthi took the form of Kali and moved north to stay assuming the name of Kali. To commemmorate this dance event, the hall where Lord Nataraja danced to be known as Thiruchitra Kootam.
It is said an Asura VALAN got killed by Indra.. In retaliation Valan's brother VALKALI in the company of Asuras fought DEVAS and drove them out of Deva Loka. A shocked Indra sought the help of Thirumal who asked them to follow him to Thiruchitrakootam where He will witness dance of Sivakali and promised to supply them enough army to fight Valkali. This incident happened on a Monday of Uthira star on full moon day at Rishaba Lagna in the month of Vijay Panguni. Later Rishis Kanvar and Patanjali in quest for Moksha entered Thillai Nagar, bathed in Pundarika Pushkarini and had darshan at the golden feet of Lord Govinda Raja.
Source: https://sites.google.com/site/govindarajachidambaram