Here is a writeup of Stalapuranam about Thiruvattaru, one among the 108 Divya Desams, written by Sri U.Ve.Vidwan Egai VedantaDesika Thatacharya Swami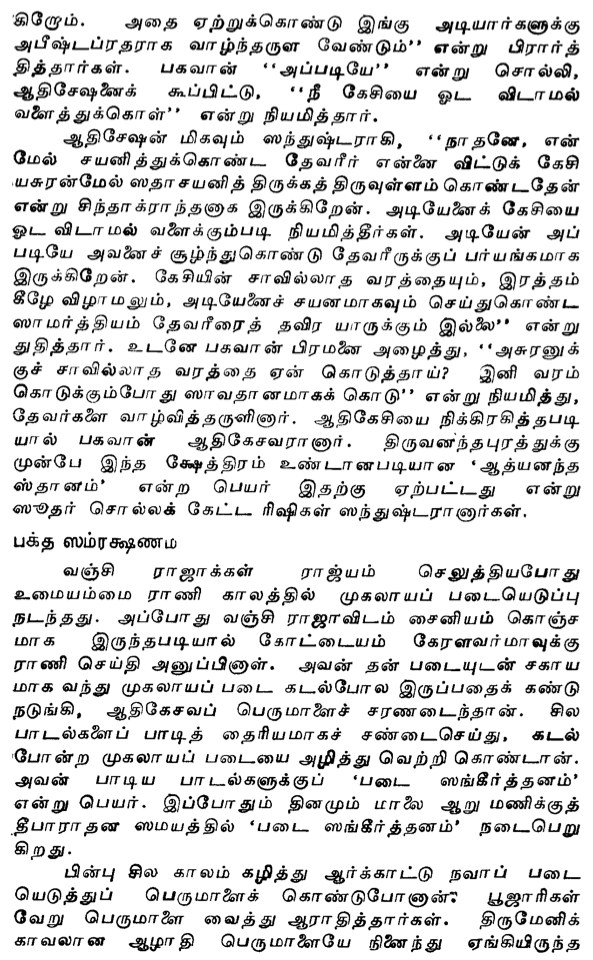 Located about 30kms from Nagercoil off Marthandam near the Kerala – Tamil Nadu border and one of the 13 Malai Naatu Divya Desams is the Adi Kesava Perumal Koil. This is one of the oldest temples in this region.
Though this Divya Desam is located in Tamil Nadu, there are no big temple towers that are typical of Divya Desams in Tamil Nadu. The temple has been built in typical Kerala style on a 3 acre land. All poojas are in Kerala style – Thaanthriga Vithi and the priest is from Kerala as well.
Asuras Kesan and Kesi tried to disrupt the Yaagam of Brahmma and troubled the Devas, who requested Lord Vishnu to help them destroy the asuras. Vishnu came here, killed Kesan and kicked down and slept on Kesi displaying his Sayana Kolam. Kesi's wife invoked the blessings of Goddess Ganga, who along with Tamaraibarani, came with great velocity to cause floods here. Seeing this and as per the instructions of the Lord,Bhoodevi created a mount to block the over flow. Realising the fault, Ganga and Tamaraibarani split into two and into a circular formation around the Lord in a symbolic gesture of garlanding the Lord.
As the Lord killed the Asura Kesan, he came to be called 'Adi Kesavan'. This Divya Desam is surrounded and circled by rivers (River Parali) from all sides. Hence, this place came to called Thiru 'Vatta-aaru'.
One has to climb 18 steps to reach the Adi Kesavan Sannidhi, where the 22 feet Lord, made out of 16008 Saligramams, is seen in a West facing Bhujanga Sayanam (seen sleeping in the opposite direction –Head in the South, Feet in the North).
This Maaru Sayanam of Lord sleeping from right to left is also seen in Thiruvekka in Kanchipuram.
The temple is older than Anantha Padmanabha Swamy temple in Trivandrum (about 50kms from here). Adi Kesava Perumal is said to be the elder brother of Anantha Padmanabhan and hence, this place is referred to as Aadhi Ananthapuram. This temple is also known as Chera Naatu Srirangam.
Between the 3rd and 9th day of Puratasi and Panguni, during dusk, Sun's rays directly falls on the Lord inside the sanctum, almost as a mark of respect from the Sun God to Adi Kesava Perumal. Parasuraman is said to have undertaken penance at this place and performed daily poojas for Adi Kesavan. Chaitanya Maha Prabhu visited the temple in 1510AD. Sage Vashista is said to have stayed here for several years
There are close to 50 inscriptions inside the temple in the outer prakarams in both Tamil and Sanskrit including those relating to Kulothunga Chozha I and his contribution to this temple. In addition to the inscriptions, one also finds a number of stunning sculptures on the pillars similar to the ones in Krishnapuram and Sri Vaikuntam. Another remarkable feature is the mandapam outside the sanctum measuring 18ft width and 3 ft height that has been built on a single stone in the 12th Century AD.  There is reference to Thiru Vattaru in the more than 2000 year old famous Sangha time Tamil literature 'Pura Naanooru'. Hence, this temple can be said to belong to that time or before.
King Marthanda Varam is said to have visited the temple and sought Adi Kesavan's blessing before he undertook the battle of Kolachal. It has been over 400 years since the last Kumbabhishekam at this temple. Initiatives are currently on for the Kumbabhishekam.
Azhvaar Praise
NammAzhvaar has sung 10 verses of praise of Adi Kesavan of ThiruVattaru.
"Vattrataan Adi Vanangi, Ma Gnalap Pirapu Aruppan
Kettaye Mada Nenje, Kesavan Em Perumaanaip
Paattu Aai Pala Paadi, Pazhavinaigal Patru Aruthu
Naatarodu Iyalvu Ozhinthu Narananai Nanninamey"- 3947
Singing praise of Kesavan and worshipping Him provides salvation from rebirth and takes one away from worldly attachments.
Moolavar : Adi Kesava Perumal, West Facing Bujanga Sayanam
Thaayar : Maragada Valli Thaayar
Utsavar : Adi Kesavan
Azhvaar : NammAzhvaar has praised the Lord with 11 paasurams (3946-55)
Time : 5am-12noon , 5pm-7.30pm
Contact : Kesavan Namboodari @ 043651 283320 or 93455 48039
Mohan Kumar -Manager @ 94425 77047
Address : Adi Kesava Perumal Koil, Thiruvattaru PO 629 177 Kanyakumari District
Festival:
Panguni, Aipasi 10 day festival
Avani Thiruvonam
12 day Kalapa Pooja festival in Thai
Chennai -Nagercoil Train- Kanyakumari Express or Ananthapuri Express
Take bus from Nagercoil to Marthandam on the Trivandrum Highway ( 30kms – will take about 45minutes)
Bus No. 89 to Thiruvattaru from Marthandam about 6kms (on the way to Kulasekaram)
Temple is about 2minutes walk from the bus stop.
By car, one can reach Thiruvattaru in half hour from Nagercoil (about 30kms)- by taking a right just after Padmanabhapuram at Azhagiya Mandapam (23kms).
Nearest Railway Station: Kulithurai (Marthandam) – Ananthapuri Express stops here.
English Write-up Courtesy: Sri Prabhu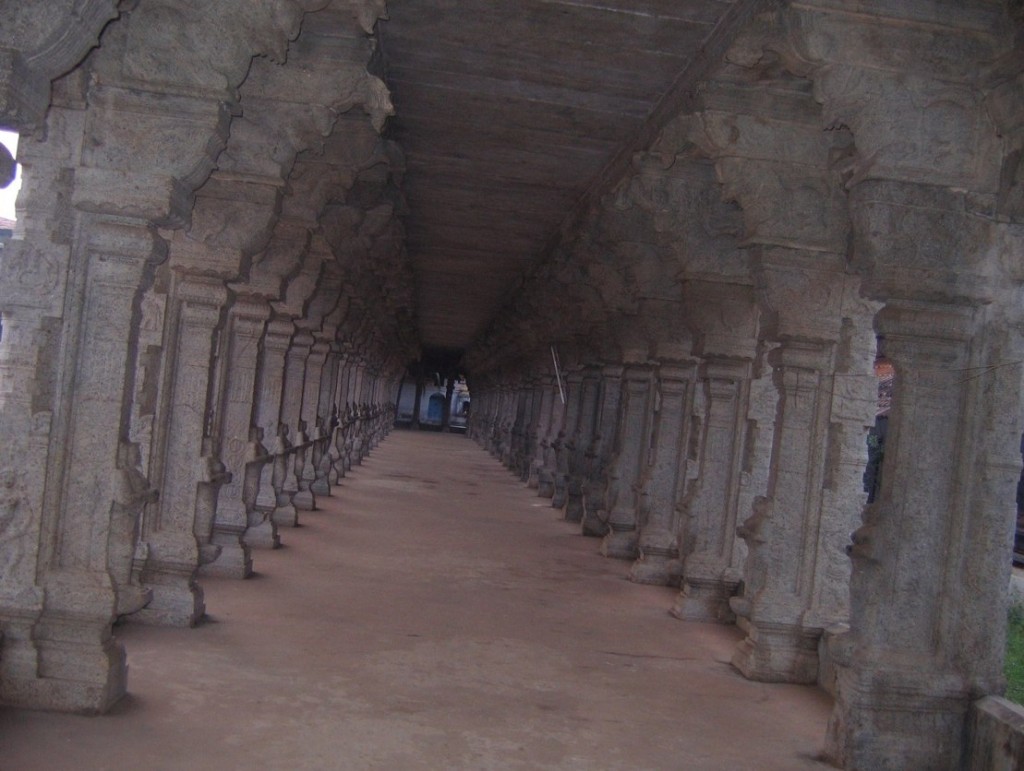 For other Kerala Divya Desa Sthala Puranams click here:
http://anudinam.org/2013/05/10/sthala-puranam-thiru-kadithanam-kerala-divya-desam-series/
http://anudinam.org/2013/05/09/sthala-puranam-thiru-vanvandur-kerala-divya-desam-series/
http://anudinam.org/2013/05/07/sthala-puranam-thirukatkarai-kerala-divya-desam-series/
http://anudinam.org/2013/05/06/sthala-puranam-thiru-moozhikalami-kerala-divya-desam-series/
http://anudinam.org/2013/05/04/sthala-puranam-thiru-naavai-divya-desam/
http://anudinam.org/2013/05/04/sthala-puranam-thiru-naavai-divya-desam/
http://anudinam.org/2013/05/03/stalapuranam-thiru-vithuvakkodu-divya-desam/
http://anudinam.org/2013/04/30/stalapuranam-anantha-padmanabhaswamy-temple-in-thiruvananthapuram/
http://anudinam.org/2012/04/29/thiruvallavazh-divya-desam/
http://anudinam.org/2012/03/31/puliyur-divya-desam-near-chengannur-detailed-stala-puranam/
http://anudinam.org/2012/02/18/thiruvanparisaram-divya-desam-stala-puranam/
http://anudinam.org/2013/05/15/sthala-puranam-aranmula-thiruvaaranvilai-kerala-divya-desam-series/