Significance Of Navarathiri Celebration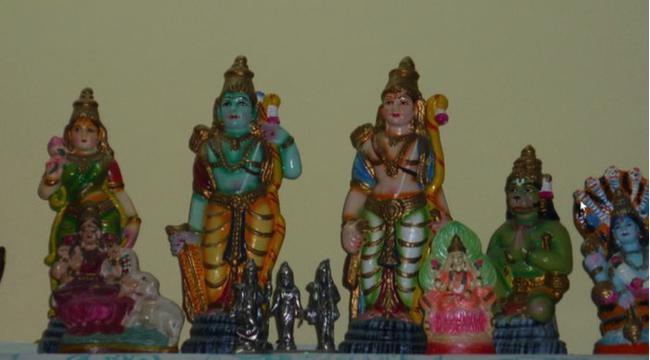 This year (Manmatha) 2015 Navarathri begins from 13/10/. Technically it starts on Mahalaya Amavsya (12/10) as the padi (steps) are  readied, the dolls are set and decorations done. Nava means new and also nine. Nine is a very significant number as it denotes steadfastness. Any multiple of nine will add up to nine. For eg. 9×3=27(2+7=9) 9×11=99(9+9=18-8+1=9).  There are actually two navarathris in the Hindu calendar-Chaitra Navarathri which culminates with SriRamanavami and Sharada Navarathri which culminates with Vijaya Dasami. Srimadh Bhaghavatham talks of nava-vidha bhakthi, then we have the navagrahas (nine planets), the nava rasas, the nava ratnas,the navadhanyams  and ofcourse the nava ratris (nine nights)
During Navarathri  Srivaishnavas worship Laksmi and Narayana alone and the first eight days of Navarathri are dedicated to the ashta (8) Lakshmis – Dhairya Lakshmi, Adi Lakshmi, Dhana Lakshmi, Daanya Lakshmi, Gaja Lakshmi, Santana Lakshmi, Vidhya Lakshmi and Vijaya Lakshmi. The ninth day is known as Mahanavami when Hayagreeva aradhanam is done. The dasami which follows goes by the name Vijaya Dasami and anything started on this day is crowned with Vijayam (success). In many households Srimadh Ramayana parayanam is done and completed during this period. Sundara kandam parayanam is also done in the navaham mode.
Srivaishnavas usually arrange their golu with Perumal Thayar and Vaishnava  themes.  The padi or steps are usually in odd numbers. Marapachi dolls are part and parcel of golu as also chettiar/chettichi selling grocery items and vegetables and fruits. Marapachi are wooden toys which originated in Tirupati .Made of red sanders wood they have medicinal value.They form part of the villayadal-thatu during weddings and always come in pairs. They can be clothed and decorated as one wishes. Being non-toxic they can be given as toys to kids who tend to put every toy in their mouth. In many households after the symbolic rice-grains, arhar dal and turmeric are placed on the golu padi the marapachis are kept. Marapachis symbolise Srinivasa Perumal and Alarmelmangai Thayar. Navarathri is that time of the year when women and girls dress up in their traditional best and visit their friends and relatives. Vethilai-paku ,manjal, coconuts, fruits are given. Nowadays people give plastic  gifts which are stored to be re-gifted next year. Instead giving good-quality blouse-pieces to those who would use them will be a better idea or better still whatever cash one can afford.
Sundal and navarathri go together. Sundals are healthy snacks using minimum oil. There are some sweet sundals too. Generally whole beans like Kabuli chana, blackgram, green moong, pattani are used. Rajma and groundnut are good variants. Fridays puttu is made and Saturdays ellu podi (sesame roasted and powdered with jaggery). Chana dal and moong dal sundals can also be prepared. Both moong and chana dals need no previous  soaking  and should be cooked in four times the amount of water and draining it off once the dals are cooked. Other beans need overnight soaking and can be pressure cooked. Sweet sundal can be prepared with pacha payaru (green moong).payuru and karamani should be dry-roasted and soaked for about an hour.So it is time to get your dresses inorder and your jewels too. Use your imagination ,get ready the padis (steps) and make beautiful kolams( kolams can be made with flowers, with different dals and ofcourse rangoli colours) and plan to make tasty sundals.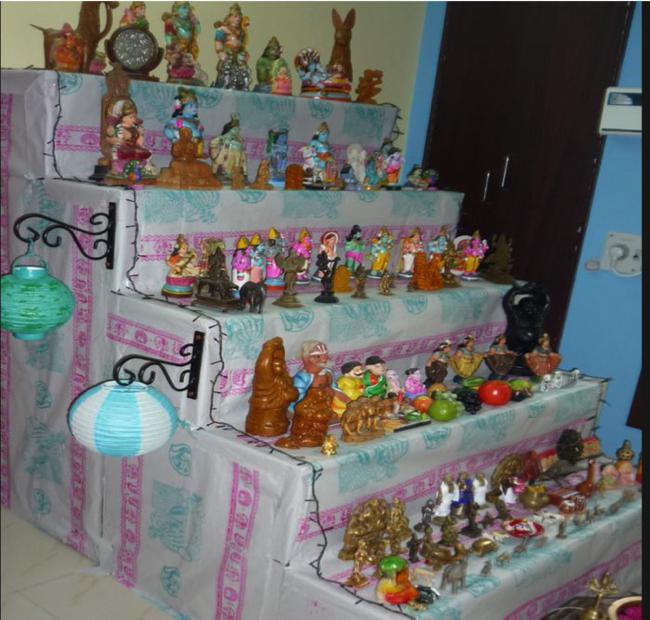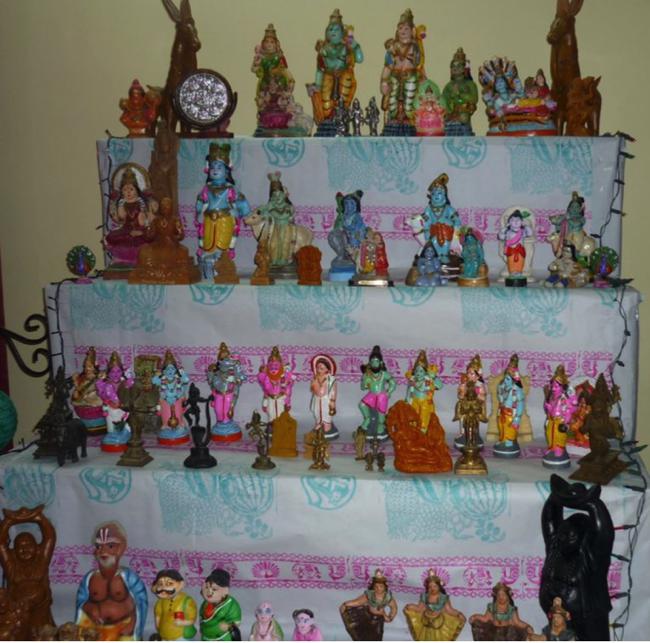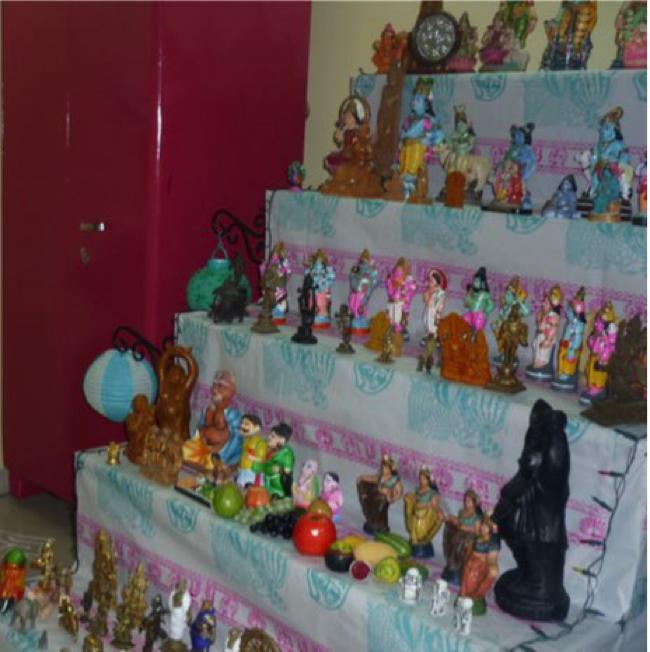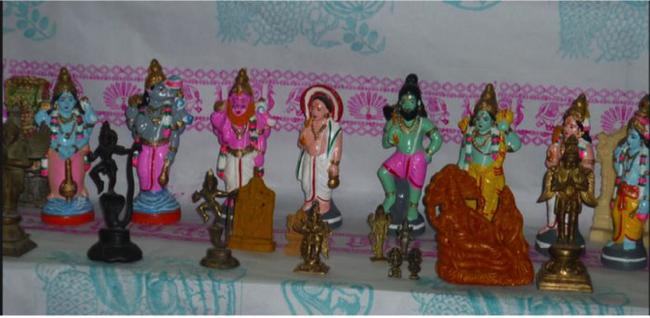 Courtesy: Vyjayanthi Rajan