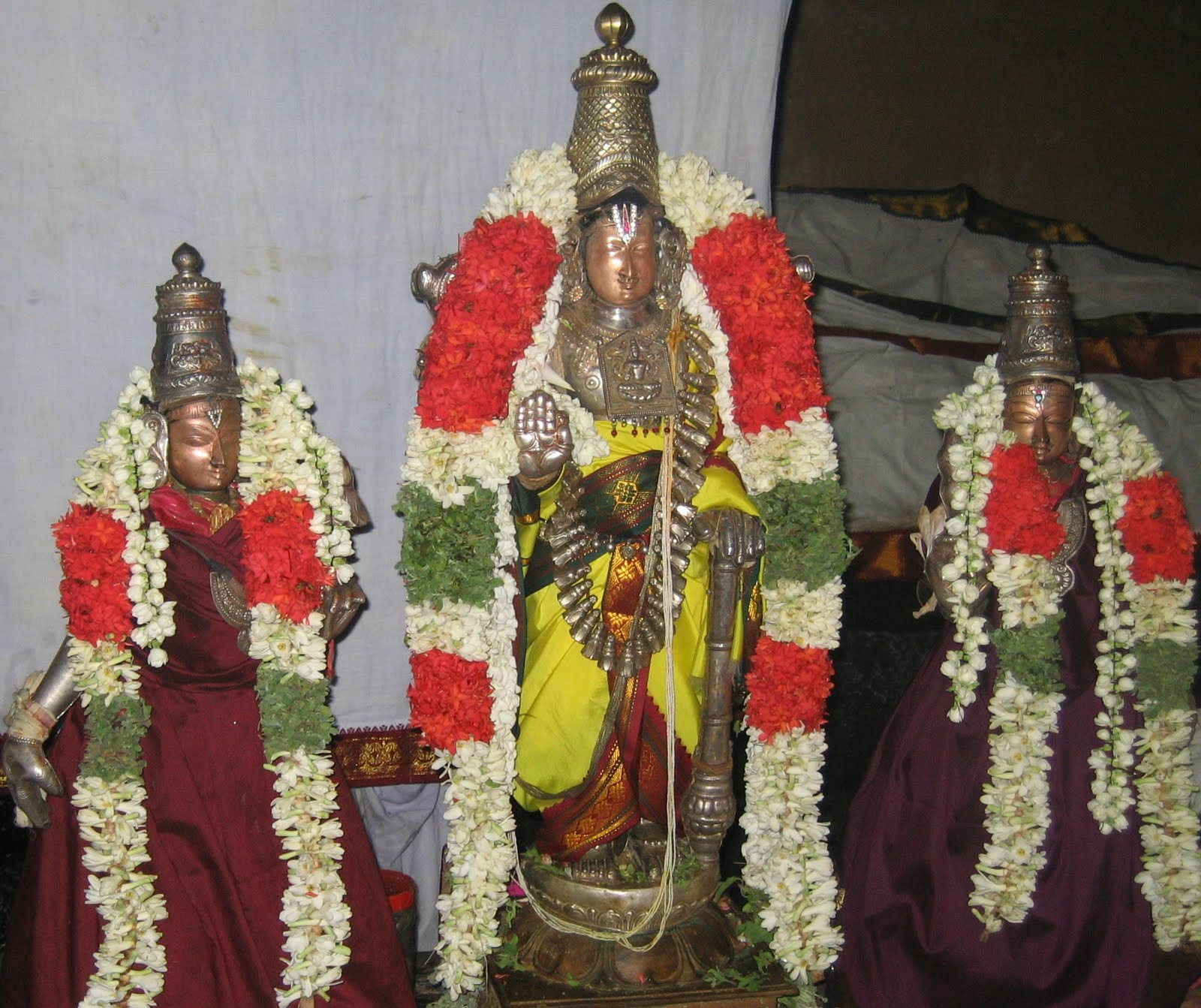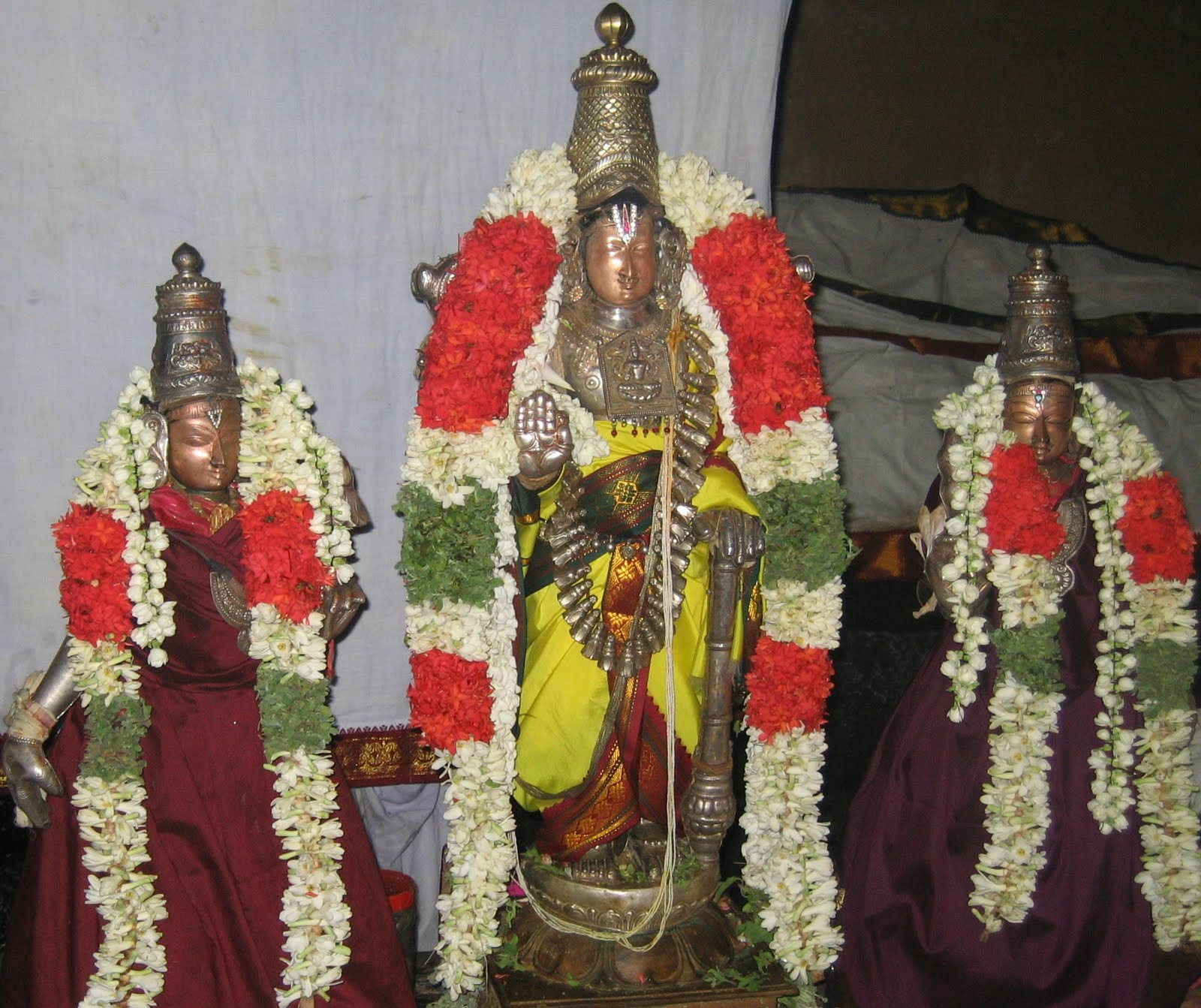 Pancha Rangam Kshetram – Only Divya Desam where 'Appam' (Sweet rice cake) is offered to the Deity every day
NammAzhvaar is said to have sung the last of his Paasurams on Appaala Rangan before attaining Moksham

Located about 25kms East of Trichy on the Kallanai -Thiruvayaru road near Thirukattupalli, Koviladi AppaKudanthan temple in ThiruPer Nagar is situated right on the banks of Cauvery. This is a temple that dates to a period before the Srirangam Ranganatha temple. In centuries gone by, people used to visit Koviladi and walk 2 kms across the Coloroon to reach Anbil Divya Desam
It is said that Appaala Ranganatha led/measured the steps for Srirangam Ranganatha and hence the name 'Kovil – Adi' (Srirangam is called the 'Kovil' among the Divya Desams, Adi is 'steps')
The Story
A King incurred the wrath of Sage Durvaasa and lost all his powers as a result of the curse. To get liberated from the curse, he was asked to feed a lakh people. He undertook this and continued for a while. One day, Lord Narayana came here in a disguised form and asked for food. The Lord ate through the day leaving the King surprised.
Appam Eating Ranganatha
When asked what else he wanted to eat, the disguised Lord asked the king to feed him a pot (Kudam) of 'Appam' (a sweet rice cake delicacy). The moment Lord consumed the pot of 'Aappam', the king got liberated from his curse.
Being the one who had a pot of this sweet delicacy, the Lord here is called 'AppaKudathan'. The Lord can be seen holding a pot of Appam in his right hand. This is only Divya Desam where Aappam is offered daily to the Lord.
Pancha Rangam Kshetram
This is a Pancha 'Rangam' Kshetram – Aathi Rangam(Srirangapatnam), Madhya Rangam (Srirangam), Chathurthara Rangam (Kumbakonam), Pancha Rangam (Indhalur) and Appala Rangam (Appakudathaan- Koviladi)
ThirumangaiAzhvaar's could not forget Appala Rangan
Thirumangai Azhvaar was so enticed by this Lord that he says he could not forget Lord AppaKudathaan even when he went to Thiruvellarai (another Divya Desam on the other side of Coloroon).
"Thulakkam Il Sudarai, Avunan Udal Pilakkum Mainthanai
Peril Vanangippoi Alappu Il Aar Amuthai,
Amararku Arul Vilakkinai Sendru
Vellaraik Kaandumey." –Thirumangai(1851)
NammAzhvaar and Koviladi Rangan
Nammazhvaar sang the last of his Paasurams about Appaala Rangan before attaining Moksham.
ThiruMazhisai Azhvaar and his reference to 7 temples
Appakudathaan Ranganathar is one of the 7 temples referred by Thirumazhisai Azhavaar of Lord Vishnu in reclining Posture – others being Srirangam, Thiru Kudanthai (Kumbakonam), Anbil (Vadivazhagiya Nambi), Thiru Vallur, ThiruVekka and Thiru Paarkadal.
Temple Priest
The priest at this temple ranks as one of the best I have seen. He has a sweet and totally 'devoted' voice. Despite being located in a non centric place and with very limited facilities, his devotion to Appala Rangan can be seen in the way Srinivasa (Jawahar) Bhattar goes about the daily poojas.
Quick Facts
Deity : Appa Kudathan in reclining posture facing West
Utsavar : Appala Rangan
Goddess : Indira Devi / Kamalavalli
Paasuram : 33 Paasurams
Azhvaars :Thirumangai(1428-37,1851,57,2048,59,60,70,2673-74), Thirumazhisai (2417), PeriAzhavaar (173,205) and NammAzhvaar (3744-54)
Priest : Murali Bhattar@ 04362 281488
Temple Timing : 7am-12noon and 4pm-8pm
How to reach Koviladi: 
Take a bus to Kallanai from Chathiram Bus Stand in Trichy. This route takes one along a narrow route right next to the Cauvery. From Kallanai, Koviladi is about 5 kms further East on the way to Thiruvaiyaru, just before ThiruKaatuppalli. One could take Trichy – Kumbakonam bus going via Thiruvaiyaru, though this service is not that frequent. No courier service to this place.
Where to stay
Best to stay in Trichy and take a bus or a taxi to this temple. No staying facilities available here
Source:  prtraveller