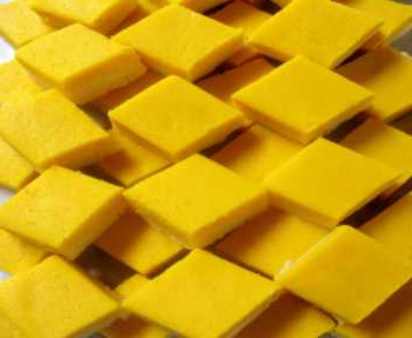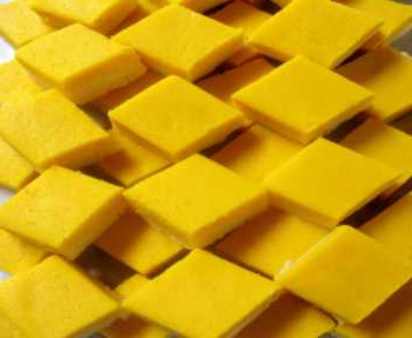 Ingredients:
Fully Riped Mango (Medium size) – 1
Besan Flour – 1 cup
Sugar – 1 cup
Milk Powder – 4 to 5 tablespoons
Ghee – 2 to 3 tablespoons
Cashew Nuts – few
Cardamom Powder – 1/2 teaspoon
Since it is mango season, we get fresh fruits. If it is off-season, we can use ready-made mango pulp available in stores and make this Burfi.
Method:
Wash the mango and peel the skin. Cut the flesh portion into medium size pieces. Put it in a mixie and make a fine paste. For one medium size mango, you will get one cup of mango pulp.
In a kadai put a tablespoon of ghee and add besan flour. Fry in a medium heat till nice aroma comes out and the colour changes to light brown. Remove and keep aside.
In the kadai put the mango pulp and sugar and stir now and then till it thickens.
Add fried besan flour and mix it well. Add one tablespoon ghee. Stir continuously till it leaves the sides of the vessel and becomes thick dough.
Now add milk powder, cardamom powder and cashew nuts chopped finely. Mix everything well and transfer to a greased plate.
Allow to cool and cut it into small squares.
Source:  Kamala's corner