Nandana Year ChaturmAsya Sankalpam of Sri Vaishnava aacharyas has begun today, the 3rd of July 2012. (Being a Pournami day)
Chaathurmaasya vratham is very important for sanyasis of every kind. From Sanyasis ranging from Kootika (one who resides in a hut) to sanyasis on sancharam observe this sanyasa dharma anushtanam without fail. It is very pleasing for the Lord to see the sanyasis observe this annual vratham. The power of this vratham increases every day from the first to the last day of the observance. This vratham lasts from 2 to 4 months.
During the four months starting from Avani and ending up with Karthikai, it is rainy season in India. Many insects and worms are created in the soil during this time. Since sancharam by the sanyasis might cause accidental death to these living entities, the sanyasis take a vow not to travel during those four months and stay put at one place.
A sanyasi is required to move around often by his dharma. That results in the sanyasi not having enough time during these sancharams to perform japam, homam, aaradhanam, upadesams and reflections on the sasthras. To make up for lost time and to facilitate such karmas and studies, a sanyasi is required to slow down and stay at one place for four months. sasthras point out that any good deed done during the Chaathurmaasya kaalam yield infinitely greater fruits than those done during the rest of the 8 months of the year.
Here are the details of Various aacharyas Sankalpam details. For those who are planning for Samasrayanam and/or Bharanyasams can plan accordingly
Please help us, to include more details of Chathrumaasya Vrutham of Sri Vaishnava aacharyas not in this article. Mail us to: Srivaishnavanews@gmail.com or through comment section of this page.
Ahobila Mutt
This year's ChAturmAsya Vratam will be observed from July 3 – October 10 over 90 days by both the Azhagiya Singars at Satari Bhavanam, Selayur, Chennai.
It will be the 614th ChAthurmAsya vratam  to be observed by the Azhagiya Singars of SrI Matam founded in the year 1399 C.E by Lord Lakshmi Narasimhan Himself at AhOBilam
Address: 8-A AARTHI NAGAR
EAST TAMBARAM,
CHENNAI 600059
PH:-044-2279 0814/2239 7567, 044-2461 0042
More details at: http://anudinam.org/2012/06/12/chathrumasya-sankalpam-of-srimath-azhagiya-singars-at-srirangam/
Sri Parakala Mutt
The 21st Chaturmasya Sankalpam of Sri Lakshmi Hayavadhana Divya Mani Paduka Sevaka Srimath Abhinava Vagisha Brahmatantra Swatantra Parakala Mahadesikan will be performed on 'Ashada Bahula Chauthi' Saturday- 07-07-2012 ,11.30 AM, at Sri Brahmatantra Swatantra Parakala Swamy Mutt, Mysore
Address :
Sri Brahmatantra Swatantra Parakala Swamy Mutt
Krishna Vilas Road, Devaraja Mohalla
Mysore – 570 024
Office – 0821 2422536
More details at: http://anudinam.org/2012/06/26/21st-chaturmasya-sankalpam-of-sri-parakala-swami/
Srimad Poundarikapuram Andvan
Srimad Rayapuram Andavan, Sri Raghuveera Mahadesikan's ChAturmAsya Sankalpa MahOtsavam is at Srirangam Ashramam, From 3rd July to 30th September 2012.
Contact Details:
43A/13, Ashramam Road, Srirangam. Contact: 0431-2436100
More details at: http://anudinam.org/wp-content/uploads/2012/06/Page-02-2012-Nandana-chAturmAsyam.jpg
Srirangam Srimad Andavan
HH Srimad Andavan Sri Ranga Ramanuja Maha Desikan (Srimushnam Andavan) swami will observe his 24th Chathurmasya Sankalpam at the newly constructed Srirangam Srimad Andavan Ashramam at Madurai from Third July 2012.
Since its a new location, here are the route map to reach the Ashramam
1) Those arriving Madurai by train : — Please catch town bus 44 Periyar bus stand to Azhakar koil,, get down at Kallandhiri stop. Autos are available there. (They charge Rs.70/– which is slightly higher but there is no alternative except walking the 1 KM mud road) Hire the auto to reach the ashramam. 
2) Those arriving by bus and coming via Arapalayam bus stand , may either come to Periyar bus stand and catch town bus no 44 and follow as in the previous para (1). From Arapalayam, they may come to Goripalayam by 77B and change to no 44 also.
3) Those reaching Mattuthavani bus stand may catch town bus C4 or some mini bus to reach Surveyor colony, cross the road to catch town bus 44 to get down at Kallandhiri. (Thanks to Shri Raghuveeradayal Swami, for the route guidance)
Sri Kaliyan Vanamamalai Ramanuja Jeer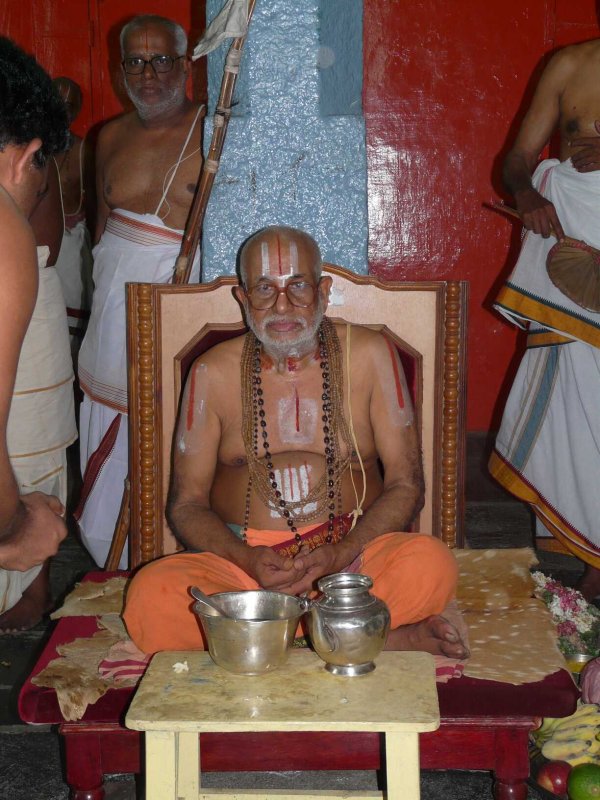 HH Sri Kaliyan Vanamamalai Ramanuja Jeer Swami will be performing Chaturmasa Vratam at SriRangam from July 3, 2012 to August 31, 2012
Address: Sri Vanamamalai Mutt, East Chitrai Street, Srirangam. Contact details can be found in the following link: http://anudinam.org/2012/06/12/hh-sri-kaliyan-vanamamalai-ramanuja-jeers-chaturmasa-vratam-at-srirangam/
Srivilliputtur Sri Jeeyar Swami
Srivilliputtur Sri Jeeyar Swamy, Sri Satakoparamanuja jeeyar is observing the Chathrumaasya Vrutham at  Melkote, Karnataka
Contact Details:
Sri Satakoparamanuja jeeyar, Sri Manavalamamunigal Mutt,
opp-Bangoor Dharmashala,B-72,
Rajaveedi, MELUKOTE-571 431.
Mandya district, Karnataka.
Fax & Phone: 04563-263222
cell No: 9047273090
E-mail: swamiji@andaljeeyar.org
andaljeeyar @gmail.com
 Tirumala-Tirupati Jeeyar
The CHATHURMASYA SANKALPAM of the Tirumala Pedda Jeeyangar , Sri Periyakoil Kelviappan Shatagopa Ramanuja Periya Jeeyar Swamy (44th pontiff of Tirumala)  will be observing on Sunday- 08-07-2012 , at Pedda Jeeyar swamy mutt, Tirumala .
Please inform us, with more details of Chathrumaasya Vrutham of other aacharyas. Mail us to: Srivaishnavanews@gmail.com or through comment section of this page.