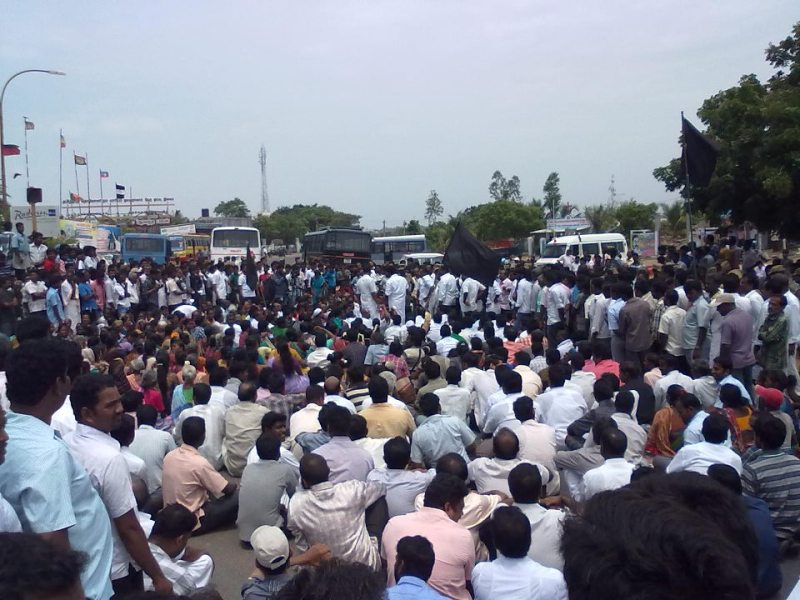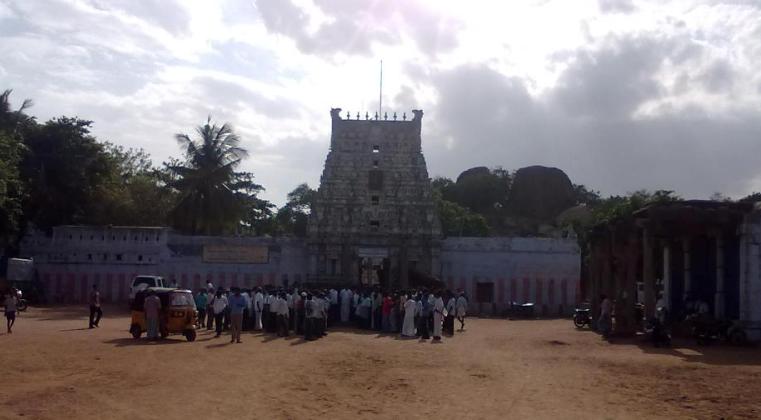 The Srivaishnavaite tradition and sampradhayam is constantly threatened by non-believers ; quite unfortunately sometimes, there is trouble from the administrators who are expected to administer, organize and manage the affairs of the temple.  There are many puranic temples which are in bad condition, not cared for and not maintained and there lack of funds would be cited.   At places which thrive with support of devotees,  money is spent on everything other than upkeep of temple, upholding of agamas and religious practices preserved and followed through centuries.
While we are about to come out of the 'Controversial Syllabus' about Sri Periyalwar and Thayar Sri Andal and the yet to find justice for Thiruvallikeni Divya Deasam alterations, the Thirukadanmallai divya deasam in Mahaballipuram issue seems to need more attention, which is about to be taken over by ASI – Archaeological Survey of India
The Archaeological Survey of India  Notification states that Central Govt is of the opinion that the ancient monument, Sthalasayana Perumal Temple is of national importance and in exercise of the powers conferred by the Ancient Monuments & Archaeological Sites & Remains Act 1958, the Central Govt gives notice of its intention to declare the said ancient monument to be of national importance. Which means that, Thirukadalmallai Divyadesam will be under the complete control of ASI.
Understand that once it comes within the control of  Archaeological Survey of India, it would become more of a monumental place rather than the Temple of worship.  It is stated that once any place becomes a protected monument under the Act, the place shall not be used for any purpose inconsistent with its character.    Where a part is still used for religious worship, the Collector is to make due provisions for protection from pollution or desecration.  Here it is not a part, but the whole of the temple and it should be ensured that any of the Authorities do not indulge or hinder with the customary religious practices being followed.    The Act also forbades that the monuments should not be used for the purposes of holding any meeting, reception conference or entertainment – 'these should not in any way stop congregation of devotees and temple related activities – is what our concern is'.
Whilst one would feel only too happy that Temples are cared for and are maintained, such steps making the Temple a protected monument, affect the way our daily rituals are followed.  Will the Temple become more of an monument than the place of worship – which was intended to be  ??    – The fears arise from the way the Vaikunda Natha Perumal Kovil  at Kanchipuram [Parameswara Vinnagaram]  is presently  placed; though there are Archagars and reportedly some rituals are being followed, it no longer has the festivities that go with the Devaraja Perumal Kovil or any other sannadhi in the vicinity like Ashapujagara Perumal Kovil or Yathothagari sannathi.
If Thirukadalmallai goes under ASI control, even to put a pandhalkaal for a short festival, make small modifications like let us say, improve the madapalli etc becomes impossible. After takeover it is only a maintenance phase. There is no room for development.
Writeup and photos: Thanks to Shri Srinivasan Sampathkumar of samptamilspeak.blogspot.se
The Lord is seen in a sleeping posture lying on the ground Only Divya Desam where the Utsav deity has a Lotus flower in his hand. This is the  birth place of BhoothathAzhvaar
Thiru Mangai Azhvaar in his Periya Thirumozi refers to ships carrying Gold and Gems along the shores of Kadal Mallai. Located in the heart of Maamallapuram, about 50 kms South of Madras along the East Coast Road, is the Sthala Sayana Perumal temple in Thiru Kadal Mallai. More about Stala puranam at: http://anudinam.org/2012/01/09/thiru-kadalmallai-sri-sthala-sayana-perumal/
This threaten of  takeover of  Thirukkadanmallai [Mamallapuram / Mahabalipuram] divyadesam, 'Sthalasayana Perumal" by Archaeological Survey of India. is strongly condemned by People and have staged protest couple of times in the past few weeks.

The Government order can be download and read from: http://www.asichennai.gov.in/downloads/mamallapuram_sthalasayanaperumal.pdf
Voice your opinon!
http://www.asichennai.gov.in/contact.html ( Chennai sub circle and Mahapalipuram circle) Archaeological Survey of India.
a) Shri Shaik Jilani Basha
Senior Conservation Assistant
Chennai Sub-Circle
Fort St.George, Chennai-600009
044 25671596
E mail: asichennaisubcircle@gmail.com
b)Shri P Vasudevan
Senior Conservation Assistant
Archaeological Survey of India
Mamallapuram Sub-Circle
Mamallapuram – 603 104
Kanchipuram District
044 27442226
E mail: asimpmsubcircle@gmail.com
c)Smt. Sathyabhama Badhreenath
Superintending Archaeologist
circleche.asi@gmail.com