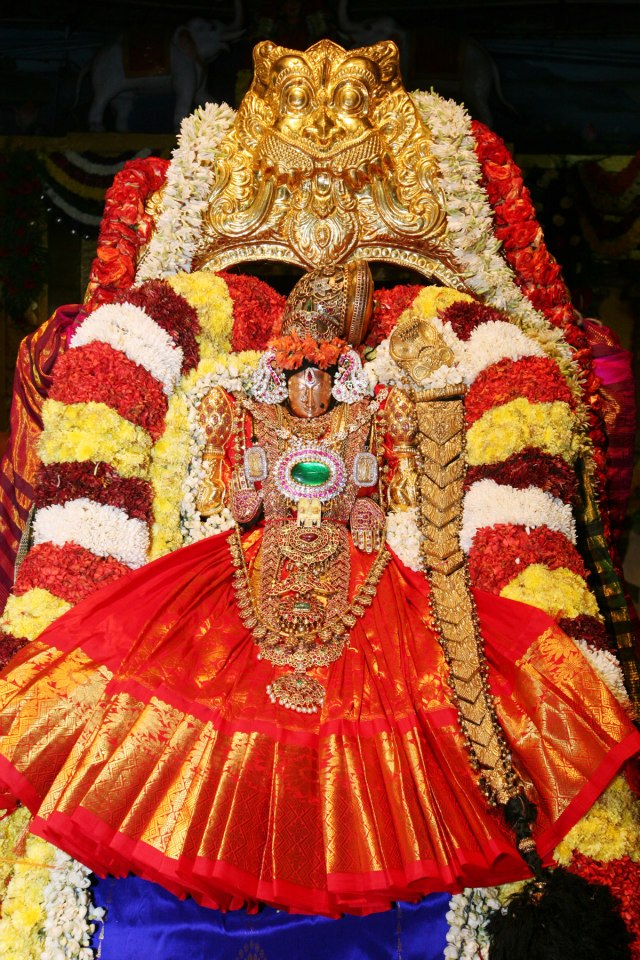 Nine Day Sri Padmavathi Thayar  Kaarthika Brahmostavam began in Tiruchanoor today with Dwajaaroohanam. Dwajarohanam was performed as signalling the commencement of the nine-day annual Brahmotsavam. The sacred yellow cloth flag with the imprint of Gaja , the celestial carrier of Goddess Padmavathi, was hoisted atop the golden flag post, `Dwajasthambham,' situated inside the temple complex at the auspicious `Vrischka lagnam' between 8.35am to 08.55 am. amidst the traditional recitation of Vedic hymns by temple priests.
Yesterday  ANKURARPANAM in connection with Sri Padmavathi Ammavari Brahmotsavam was conducted. Processional deity of Sri Senadhipathi Varu ( Vishwakshenar) were taken out in a procession around four mada streets as part of Ankurarpanam a preparatory function before the start of the Annual Kartheeka Brahmotsavam in Sri Padmavathi ammavari Temple in Tiruchanoor on Friday evening. Later temple priests performed Punyahavachanam, Rakshabandhanam inside the Temple.
Please find below some of the pics taken during the rituals.
Ankurarpanam
Dwajaroohanam