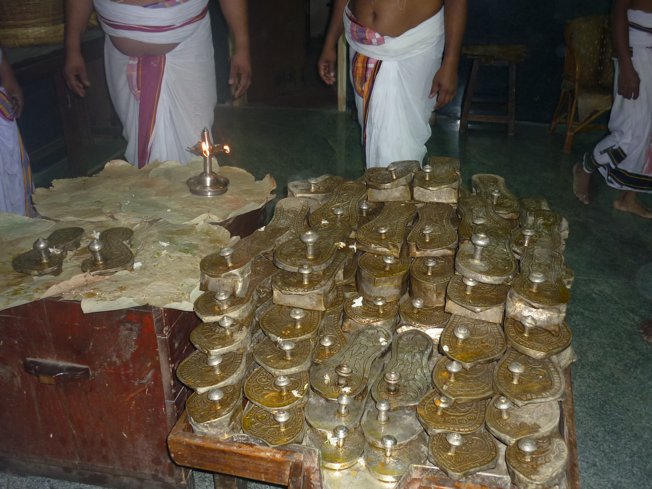 After sancharam to Pandyanadu Divya desams, HH 46th Srimad Azhagiyasingar, Srimathe Srivan Sathakopa Sri Ranganatha Yatindra Mahadesikan, with Perumal and parivaram reached the Dasavathara Sannidhi, Srirangam, as planned on Friday (July 19, 2013) at 3.30 pm.
Today, July 20, 2013, being Dwadasi, after abhigamnam, paduka aradhanam was done to the padukas of 45 Srimad Azhagiasingars. Theertham and shatari  was followed by Paduka theertham given by Srimad Azhagiasingar. Ijyai was done in the morning itself.  A large number of devotees did Dwadasi Paranai thereafter.
Chaturmasya sankalpam is scheduled to be held on Monday July 22nd, 2013. Shishyas may make it convenient to attend the same in large numbers.
For details about Srimad Azhagiyasingar's Chaturmasya Sankalpa Mahotsavam, please visit http://anudinam.org/2013/06/10/hh-46th-srimad-azhagiyasingars-58th-thirunakshatram-chaturmasya-sankalpam-mahotsavam-at-srirangam/
The following are some of the photographs taken earlier today…
Courtesy: Smt Vyjayanthi & Sri Sundar