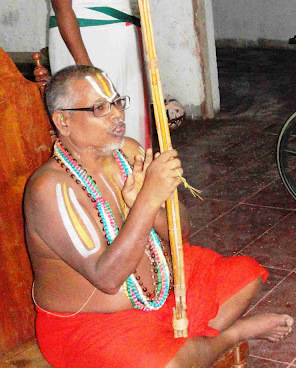 Article by Sri Sadagopan Iyengar Swami, Coimbatore
The Sun was blazing down mercilessly. It was the peak of summer, with the monsoon season months away. The heat was so extreme that crops had just wilted away, starved of sustenance. The parched ground, devoid of even an iota of moisture, had broken up into squares.
The thirteenth day ceremony for a Sri Vaishnava was being conducted at a house in Naduvakkarai village near Kumbakonam. When the Charama Slokam was read out, the officiating Brihaspati told the gathering of relatives and friends of the departed that according to the horoscope of the Sri Vaishnava who had ascended to Paramapadam, there should be rains on that day. He also said with all humility that it was not his prediction, but what the planets foretold.
Given the scorching weather of the day and the month, few really expected rain: for, so intense was the heat and so clear the sky, that people thought that the Brihaspati Swami was saying this just to praise the departed soul, as is customary on such occasions. It seemed so improbable for rain to occur, considering the totally unfavorable weather condition that was prevailing. However, being polite people, they did not say anything and confined their disbelief to their own hearts. The Brihaspati Swami took leave and returned to his residence at Kumbakonam.
An hour or so after he left, the sky which was so crystal clear and blue, without even a trace of a single puff of a cloud, suddenly became dark with cumulus, blotting out the scorching Sun. A sudden wind picked up and blew with force. When the first few drops fell from the sky, people thought it was just a case of passing clouds, for it was not the season for rain at all. However, the raindrops became bigger and bigger, joined themselves into pouring sheets and in no time at all, rain was coming down in torrents, driving people to seek shelter under the nearest roof. And it rained continuously and copiously for the next couple of hours, with water flowing in the streets veritably like the Kaveri.
People at the Naduvakkarai house couldn't believe their eyes. Those who had smiled cynically when the Brihaspati Swami had predicted rain, now rued their lack of faith in the Shastras and in elders whose words could never prove untrue. The moment there was a let up in the rain, they rushed to Kumbakonam, prostrated before the astonished Brihaspati Swami and told him how his prediction had miraculously come true. It had however not rained at Kumbakonam. The Swami just smiled and reiterated that the prediction was not his, but only an indication of the departed soul's goodness and piety.
The Brishaspati Swami who had so accurately predicted torrential rain, when there was no apparent possibility at all of even a drizzle, was none other than our Srimath Azhagiyasingar, Srivan Satakopa Sri Ranganatha Yatindra Mahadesikan, in his poorvashramam.
Article by Sri Sadagopan Iyengar Swami, Coimbatore