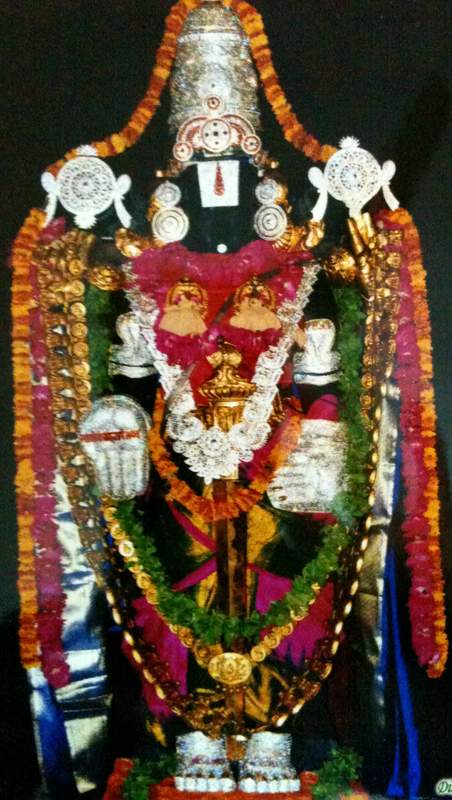 With the blessings of the present Srimad Andavan, Sri Rangaramanuja Mahadesikan, Thiruvadipooram (Andal Thirunakshatram) will be celebrated in grand manner at Uttara Tirupathi Sri Balaji Mandir, Vrindavan. Thirumanjanam would take place for Andal in the morning followed by Kalyana Utsavam in the afternoon. There would be satrumurai and goshti thereafter. Astikas in and around the area may make it convenient to attend the utsavam and get the anugraham of Sri Andal and Sri Gokula Krishnan.
News Courtesy: Sri Aravamudhan N Srinivasa Varadhan
About the Temple:
Uttar Tirupathi Sri Balaji Mandi is under the administration of Srirangam Srimad Andavan Ashramam.The Brindavan Ashramam is one of the most abhimana kshetrams of Srimad Andavan. While performing His Chaturmasa Sankalpam at the Ashramam during 2006, HH took special care and initiatives to construct within the Ashramam a small sannidhi for Sri Srinivasa – Sri Balaji.  The main feature of the moolavar of this kshetram is inscription of Sri Ashtalakshmis within the vigraham. Utsavar Sri Gokula Krishnan is also the most beautiful with chottum azhagu.
Recently,  the moolavar sannidhi vimanam, mandapam, and small rooms/sannidhis for Thayar Sri Maha Lakshmi, Sri Andal, Sri Garudan and the compound wall were renovated and the Samprokshanam took place in January 2013.
Srimadh Andavan Ashramam Sri Balaji Mandir is situated at Parikrama Marg , Raman Reti , Vrindavan – 281 121, Mathura District Tel: 0565 3207818
Contace No. Mr. R.V. Rajagopalan: 09871096075; Mr. Vasudevan:09286244454