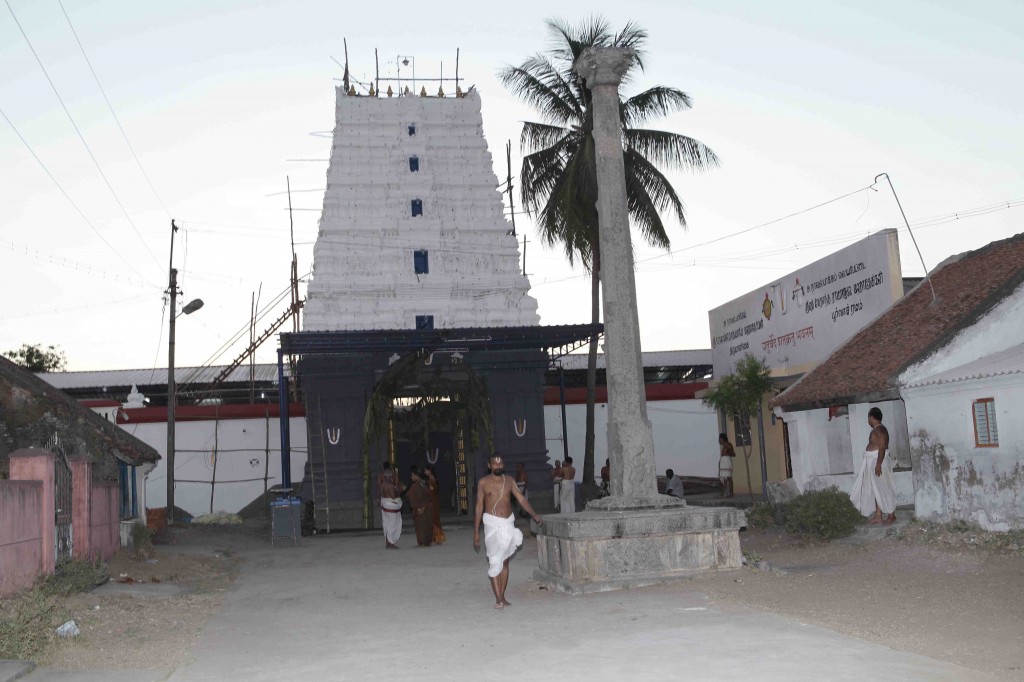 As a part of 124thThirunakshatram celebrations of Yajva Svami (Navalpakkam Agnihotram Somayaji Narayana Thathayarya maha Desikan) on 3rd Aug 2013 (Adi Mrugasirsham), the seventh book in the series Naanaamathi Granthamaalaa was released at Madurantakam. It contains mainly two stotras:
1.Padmanaabha Khadgam by Ammani Ramanujacharyar
2.Vedapadastavam by Appu Acharyar
both with Tamil meanings provided by Navalpakkam Vasudevacharyar. Also, the sixth book in the same series, (namely Venkatadhvari's Lakshmisahasram, with three Sanskrit commentaries and one Tamil commentary, Part I consisting of seven stabakas) was distributed in the gathering. Pages 10+462. Price: Rs.350. Copies can be had from: Prof.V.Kannan, 195, Doyens Township, Lingampalli, Hyderabad 500019, India.
On the same day, as a part of 224th Thirunakshatram celebrations of Srimat Annayarya Maha Desikan,  a team of devotees visited Uratti village in Kancheepuram district,  where Srimushnam Srimad Andavan has magnanimously constructed a Mani-mantapam in honour of  this great Acharya, at his  birth-place. Parayanam, Sambhavana and brief talks took place.
The same event was celebrated at Navalpakkam village also, with Thiruveethip purappaadu for Srinivasa perumal.
This fervour of festival was continued at Navalpakkam on the next day also 4th of August 2013 with the celebrations of Thirunakshatram of Sri.U.Ve.Ayya Devanatharya Maha desikan (Adi Thiruvaathirai).
Three-day Veda Parayanam for these events were held  at Madurantakam, Navalpakkam, Velachery, and at other places, and the Veda Goshtis were befitting the phrase "Thondai Mandala Vethiyar Vaazhave".
Courtesy: Sri V.Kannan