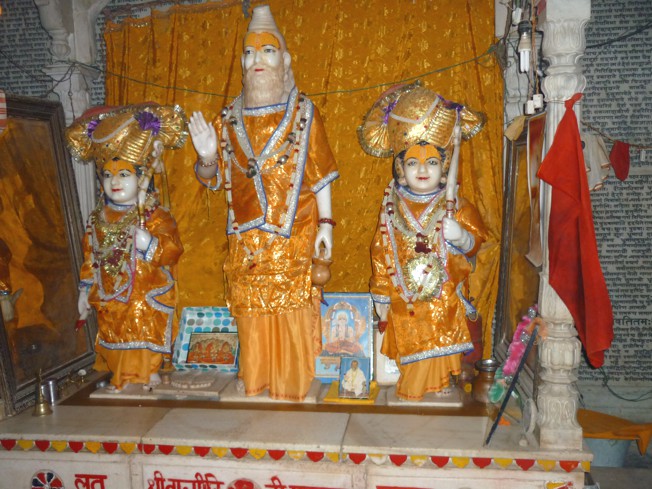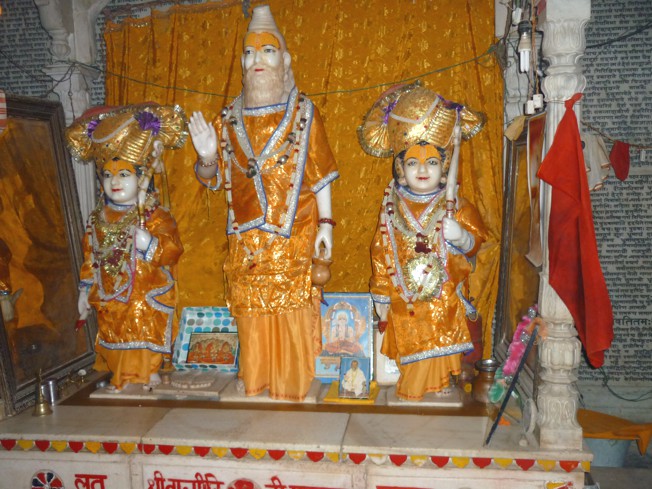 Ayodhya is at a distance of 20 kms from Nandigram. So we reached the famed town by 4.00 pm. Ayodhya, Mathura, Maya (Haridwar), Kasi,  Kanchi, Avantika (Ujjain) and Dwaraka  are the 7 cities which confer Moksham or liberation.  Ayodhya is more famous as the city which witnessed the avatharam of Maryadha Purushotham Sri Ramachandra. The  avathara which showed how an ideal man should be,  happened in this city. And we had the fortune of setting foot on this punyabhumi. An ideal son, king, brother, husband, friend, enemy, you name it and who was He – SriRama. Ramo Vigrahavan Dharmo says Swami Desikan. Yes Sri Rama was Dharma Personified. So it was He who gave us shelter at the Birla Sri Ram mandir till we were allotted rooms.
Our luggage remained unloaded in the bus and we were provided coffee while we waited. Drinking water was available at the guest house and seats (very interesting seats, big logs of wood painted in dark brown)were there to sit all around. Meanwhile 5 autos were arranged and with eight persons in each auto we were taken to see important places in Ayodhya.  Our first stop was Ammaji mandir.
This temple houses Sethu Ramar. Yogi Pathasarathi's wife.  Yogini Singammal dreamt that there were vigrahas buried in Tirupullani and her dream proved to be true. The vigrahas were taken to Ayodhya and since the temple was built by her it is called Ammaji mandir. The gopuram and layout is South Indian and houses Sri Ranganatha, Kodanda Rama with Seetha and Lakshmana and Hanuman. There are two utsava murthis, Nammazhwar, Tirumangai Azhwar, Ramanuja and Manavala Mamuni .The temple is in a state of neglect on the outside and the pradakshina path has a lot of thorny shrubs. The temple is run by Saraswathi Bhandaram Committee Triplicane.
We were next taken to Kanak Bhavan. The Bhavan however is not of gold but is a highly impressive architectural splendour housing three pairs of Seetha –Rama. The alankaram is beautiful and many salagrama murthis are there infront of Seetha-Rama. The atmosphere is soaked in piety with continuous bhajans, Ramayana Reading and devotees carrying their offerings. After making our offerings (a mixture of dry-fruits and diamond sugar candy) and  anjalis we came out  and bowed our heads on the footprints (Sri Rama Charanam) of Sri Ram and circumbulated  His Padharavindam along with a pot of Basil kept near by decorated with marigold strings.
As we headed out we bought Tiruman and other puja items for home and for distribution. The Ayodhya Tiruman is pasty and good to use. We were next taken to Hanuman Gaddhi.  To reach this temple we had to climb about 70 steps with beggars occupying the corners. Being a Saturday it was totally crowded and to offer the Prasad (wheat-flour ladoo) was a formidable task. Sri Hanuman is said to reside at this place and He is seen as an infant on mother Anjana's lap.  While doing  pradakshinam we noticed a room housing thousands of Salagramashilas. This was the most crowded temple we visited in Ayodhya.
Our next halt was  Sri Valmiki Gaddhi. In this temple we  saw  Valmiki Bhaghavan flanked by two chubby children. They were Luva and Kusa, the twins of Seetha-Rama who were born in Valmiki ashram and were taught Srimadh Ramayanam by the sage-composer. Valmiki is Adhi kavi and Srimadh Ramayana is Adhikavya. All 24000 slokas of Srimadh Ramayana are inscribed on the four walls with pictures of the most important incidents of each kandam on the top. As we circumbulated from Bala-kandam to Uttara kandam we remembered how the divyadampatis showed by example to live a dharmic life.
Next stop was Char-Dham temple housing Dwarakanath, Badrinath, Jagannath and Ranganath. This appears to have been built in recent times. The main attraction here is a black pillar on which the entire Valmiki Ramayana is etched. Filled with the sounds of Ramanama and drinking in His beauty and purity we reached the Birla guest house and were allotted rooms. The rooms were large with cupboards and attached bathrooms. By the time we settled we were called for dinner and were served hot food with instructions to be ready by 7.00am next morning for a dip in the Sarayu.
Next morning after coffee we were taken (8 persons per auto) for a bath in The Sarayu. River Sarayu is a tributary of Ganga and finds mention in the Vedas but we associate it with Srimadh Ramayana. The trio – Ram, Lakshmana, Janaki crossed this river while going on Vanvasam and Seetha Matha prayed to the river goddess wishing that their 14 years should be completed and that they should return safely to Ayodhya. Remembering this we prayed for safe completion of Sri Salagrama Yatra. After Sankalpam  we had our Sarayu snanam, changed into dry clothes on the bank and put on Srichurnam, Tiruman  when it started to rain so we rushed to our autos and reached our guest house without getting too wet.
We put the wet clothes to dry inside the rooms and the rain  had stopped by then so we followed Devarajan swami to SriRamajanma Bhoomi.  We were not allowed to take anything but some money with us. We walked through dirty roads chanting "SriRam Jaya Ram Jaya Jaya Jaya Ram" made worse by rains littered with plastic bags and plates strewn around. There were police men and women all around and we were put to security checks in several spots.  Monkeys   followed us through barriers and footpaths under seen and unseen eyes till we reached a spot with a Panditji sitting beside a table. Oh this was Ram Lalla at a distance under a tent! All through the way we felt sad that in His place of avatara He was a prisoner. Was He competing with Seetha who attained fame after Her imprisonment? It was with a heavy heart that we went back past shops selling puja items, CD's etc. When we reached our guest house lunch was ready. We were provided rice,    kuzhambu, sathumadhu, beans karamadhu, kesari and butter-milk. After eating and cleaning up the place we went and got ready for departure. The bus left Ayodhya for Sanauli after 12.00 pm.
Some of the Photos taken around Ayodhya:
Courtesy: Vyjayanthi and Sundararajan