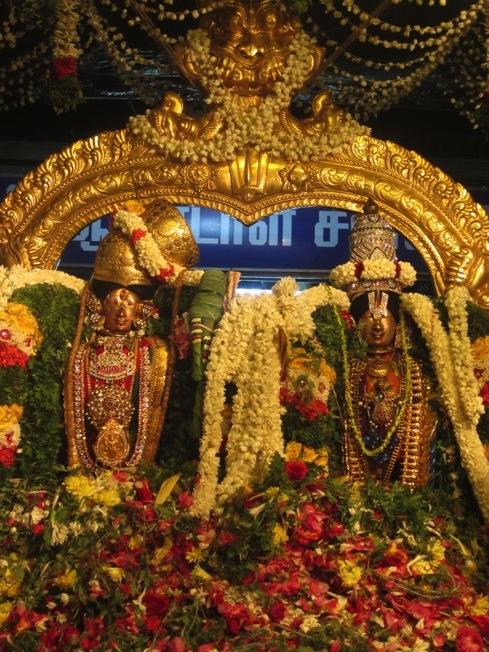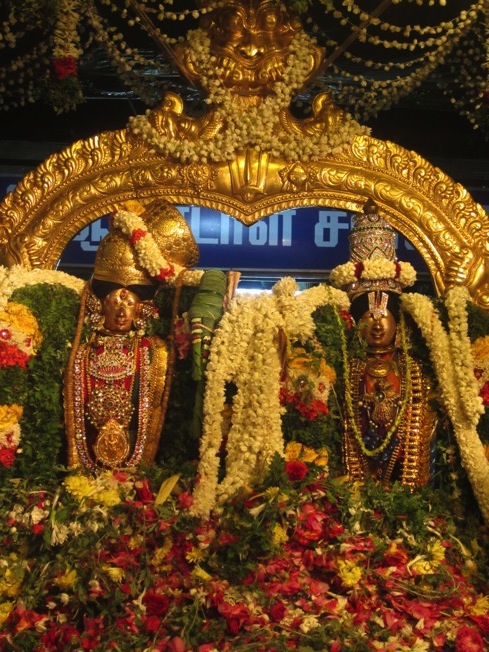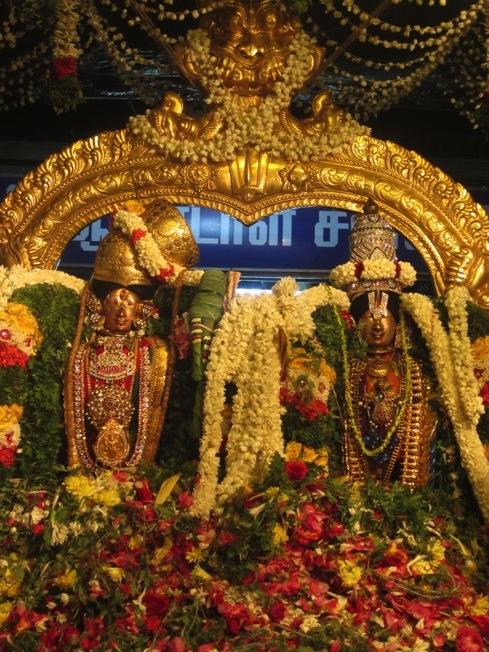 Today, December 20, 2013 is Day 5 of Margazhi masam. The fifth pasuram of Thiruppavai, Mayanai Mannu Vada Madurai Mainthanai, is to be recited today.
Margazhi month assumes special significance for Srivaishnavas. Lord Krishna in Bhagavad Gita says masanam margashirso aham (of months, I am Margazhi). Of the 12 sub-Vyuhas which are representative of the 12 months beginning from the Tamil month of Margazhi, Kesava is the lord for the month of Margazhi.
Most importantly, the month derives its auspiciousness primarily due to its association with ThiruppAvai. It was during Margazhi that Sri Andal observed the pious Pavai Nombu for Sriman Narayanan and composed the 30 pasurams of Thiruppavai for  the ujjeevanam (upliftment) of jeevatmas like us. Thiruppavai is very sacred and all our Acharyas have given commentaries on this prabhandam. The very fact that Swami Ramanuja was called 'ThiruppAvai Jeeyar' because of his deep attachment to this, illustrates the special place Thiruppavai had with Swami Ramanuja. In this Vijaya Varusham, the Margazhi month began on December 16, 2013.
For the benefit of Anudinam readers, we bring detailed Tamil commentary, musical recitation and detailed upanyasam audio by various vidwans (scholars) for each pasuram. It may be noted that the audio files are also available at www.sravanam.org
The following is an article about the fifth pasuram (Mayanai Mannu Vada Madurai Mainthanai)…



In the fifth Pasuram Andal addresses Perumal as Mayan. Krishna is addressed as  Mayan who incarnated in Mathura (vada Madhurai). As soon as Andal remembers Mathura the pure Yamuna comes to Her mind. Yamuna was so close to Kamsa's city yet She did Krishna kainkaryam unlike Godhavari who was scared of Ravana and failed to inform SriRama about Seetha's wherabouts. The child born in Mathura was the darling of Gokulam and the gopi-gopas. He made famous His mothers womb and revealed His Saulabhyam by letting Yasodha tie Him to the mortar. He was celebrated as Damodharan. Andal says if we chant His names and offer perfumed flowers with purity of thought, word and action all our sins will get burnt like a ball of cotton. So Nama Smaranam is the way to redemption.
தூய பெரு நீர் யமுனைத் துறைவனை*
ஆயர் குலத்தினில் தோன்றும் அணிவிளக்கைத்*
தாயைக் குடல் விளக்கம் செய்த தமோதரனைத்**
தூயோமாய் வந்து நாம், தூமலர் தூவித் தொழுது*
வாயினால் பாடி மனத்தினால் சிந்திக்கப்*
போய பிழையும் புகுதருவான் நின்றனவும்*
தீயினில் தூசாகும் செப்பேலோரெம்பாவாய் (௫)
maayanai, mannu vaDamadhurai maindanait*
tUya peru nIr yamunait tuRaivanai*
aayar kulattinil tOnRum aNiviLakkait*
taayaik kuDal viLakkam seyda damOdaranait**
tUyOmaay vandu nAm, tUmalar tUvit tozhudu*
vaayinAl paaDi manattinaal sindikkap*
pOya pizhaiyum pugudaruvaan ninRanavuM*
tIyinil tUsaagum seppElOrempaavaay (5)
మాయనై, మన్ను వడమధురై మైన్దనైత్*
తూయ పెరు నీర్ యమునైత్ తుఱైవనై*
ఆయర్ కులత్తినిల్ తోన్ఱుం అణివిళక్కైత్*
తాయైక్ కుడల్ విళక్కం శెయ్ద దమోదరనైత్**
తూయోమాయ్ వన్దు నాం, తూమలర్ తూవిత్ తొళుదు*
వాయినాల్ పాడి మనత్తినాల్ శిన్దిక్కప్*
పోయ పిళైయుం పుగుదరువాన్ నిన్ఱనవుం*
తీయినిల్ తూశాగుం శెప్పేలోరెమ్పావాయ్ (౫)
ಮಾಯನೈ, ಮನ್ನು ವಡಮಧುರೈ ಮೈನ್ದನೈತ್*
ತೂಯ ಪೆರು ನೀರ್ ಯಮುನೈತ್ ತುಱೈವನೈ*
ಆಯರ್ ಕುಲತ್ತಿನಿಲ್ ತೋನ್ಱುಂ ಅಣಿವಿಳಕ್ಕೈತ್*
ತಾಯೈಕ್ ಕುಡಲ್ ವಿಳಕ್ಕಂ ಶೆಯ್ದ ದಮೋದರನೈತ್**
ತೂಯೋಮಾಯ್ ವನ್ದು ನಾಂ, ತೂಮಲರ್ ತೂವಿತ್ ತೊಳುದು*
ವಾಯಿನಾಲ್ ಪಾಡಿ ಮನತ್ತಿನಾಲ್ ಶಿನ್ದಿಕ್ಕಪ್*
ಪೋಯ ಪಿಳೈಯುಂ ಪುಗುದರುವಾನ್ ನಿನ್ಱನವುಂ*
ತೀಯಿನಿಲ್ ತೂಶಾಗುಂ ಶೆಪ್ಪೇಲೋರೆಮ್ಪಾವಾಯ್ (೫)
Thiruppavai Pasuram 5 Musical/Recitation
Thiruppavai Pasuram 5 Upanyasams
Tamil Upanyasams
HH 45th Srimath Azhagiyasingar


HH Thirukkudanthai Andavan


Sri U.Ve. Madhavachar


Oragadam Sri U.­Ve. Lakshmi Nar­asimhachariar

Sri U.Ve. Velukkudi Krishnan

Sri U.Ve. Kuruchi Narayanan

Sri U.Ve. M.V. Ananthapadmanabhachar

Sri U.Ve.M.A Venkatakrishnan

Sri U.Ve. P.B. Annangarachariar




Sri U.Ve. K.B. Devarajan

Sri U.Ve. E.S.Boovarahachar

Telugu Upanyasams
Sri U.Ve. Aachi Srinivasacharya

Sri U.Ve. Sribashyam Appalacharya

Sri U.Ve. Santhana Gopalacharya