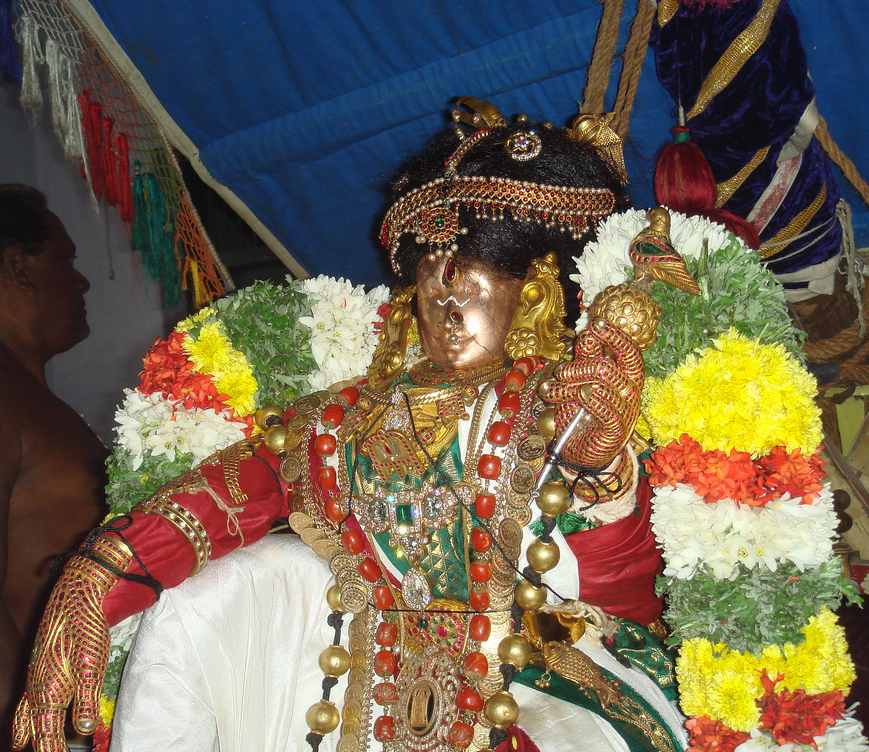 Today, January 6, 2014 is Day 22 of Margazhi masam. The twenty second pasuram of Thiruppavai, Angan Ma Nyalathu Arasar, is to be recited today.
Margazhi month assumes special significance for Srivaishnavas. Lord Krishna in Bhagavad Gita says masanam margashirso aham (of months, I am Margazhi). Of the 12 sub-Vyuhas which are representative of the 12 months beginning from the Tamil month of Margazhi, Kesava is the lord for the month of Margazhi.
Most importantly, the month derives its auspiciousness primarily due to its association with ThiruppAvai. It was during Margazhi that Sri Andal observed the pious Pavai Nombu for Sriman Narayanan and composed the 30 pasurams of Thiruppavai for  the ujjeevanam (upliftment) of jeevatmas like us. Thiruppavai is very sacred and all our Acharyas have given commentaries on this prabhandam. The very fact that Swami Ramanuja was called 'ThiruppAvai Jeeyar' because of his deep attachment to this, illustrates the special place Thiruppavai had with Swami Ramanuja. In this Vijaya Varusham, the Margazhi month began on December 16, 2013.
For the benefit of Anudinam readers, we bring detailed Tamil commentary, musical recitation and detailed upanyasam audio by various vidwans (scholars) for each pasuram. It may be noted that the audio files are also available at www.sravanam.org
The following is an article about the twenty second pasuram (Angan Ma Nyalathu Arasar)…
In this pasuram Andal and Her friends reiterate their status saying that they have surrendered at Sri Krishna's feet, in all humility drowned by His Kalyanagunams. Great kings and monarchs who conquer territories get their pride shattered at one point of time and reach His Feet. The throng of devotees want Krishna's glances to fall on them as soon as He wakes up. They ask Him to grace them with both eyes one of which is The Sun and the other The Moon. When Seen with both eyes all their base qualities would vanish, all the impediments would be removed and they would attain Bliss.
அங்கண் மா ஞாலத்து அரசர்* அபிமான
பங்கமாய் வந்து நின் பள்ளிக் கட்டிற் கீழே*
சங்கம் இருப்பார் போல் வந்து தலைப்பெய்தோம்*
கிங்கிணி வாய்ச் செய்த தாமரைப் பூப் போலே**
செங்கண் சிறுச் சிறிதே, எம் மேல் விழியாவோ*
திங்களும் ஆதித்தியனும் எழுந்தாற் போல்*
அங்கண் இரண்டும் கொண்டு எங்கள் மேல் நோக்குதியேல்*
எங்கல் மேல் சாபம் இழிந்தேலோரெம்பாவாய்  (௨௨)
a~gkaN maa ~jaalattu araSar* abhimaana
pa~gkamaay vaMdu nin paLLik kaTTirx kILE*
Sa~gkaM iruppaar pOl vaMdu talaippeydOM*
ki~gkiNi vaayc seyda taamaraip pUp pOlE**
Se~gkaN Sirxuc sirxidE, em mEl viLiyaavO*
ti~gkaLuM aadittiyanuM eLundaarx pOl*
a~gkaN iraNDuM koNDu e~gkaL mEl nOkkudiyEl*
e~gkal mEl SaabaM iLiMdElOrempaavaay  (22)
అఙ్కణ్ మా ఞాలత్తు అరశర్* అభిమాన
పఙ్కమాయ్ వందు నిన్ పళ్ళిక్ కట్టిఱ్ కీళే*
శఙ్కం ఇరుప్పార్ పోల్ వందు తలైప్పెయ్దోం*
కిఙ్కిణి వాయ్చ్ సెయ్ద తామరైప్ పూప్ పోలే**
శెఙ్కణ్ శిఱుచ్  శిఱిదే, ఎమ్ మేల్ విళియావో*
తిఙ్కళుం ఆదిత్తియనుం ఎళున్దాఱ్ పోల్*
అఙ్కణ్ ఇరణ్డుం కొణ్డు ఎఙ్కళ్ మేల్ నోక్కుదియేల్*
ఎఙ్కల్ మేల్ శాబం ఇళిందేలోరెమ్పావాయ్  (౨౨)
ಅಙ್ಕಣ್ ಮಾ ಞಾಲತ್ತು ಅರಶರ್* ಅಭಿಮಾನ
ಪಙ್ಜಮಾಯ್ ವಂದು ನಿನ್ ಪಳ್ಳಿಕ್ ಕಟ್ಟಿಱ್ ಕೀಳೇ*
ಶಙ್ಕಂ ಇರುಪ್ಪಾರ್ ಪೋಲ್ ವಂದು ತಲೈಪ್ಪೆಯ್ದೋಂ*
ಕಿಙ್ಕಿಣಿ ವಾಯ್ಚ್ ಸೆಯ್ದ ತಾಮರೈಪ್ ಪೂಪ್ ಪೋಲೇ**
ಶೆಙ್ಕಣ್ ಶಿಱುಚ್ ಶಿಱಿದೇ, ಎಮ್ ಮೇಲ್ ವಿಳಿಯಾವೋ*
ತಿಙ್ಕಳುಂ ಆದಿತ್ತಿಯನುಂ ಎಳುನ್ದಾಱ್ ಪೋಲ್*
ಅಙ್ಕಣ್ ಇರಣ್ಡುಂ ಕೊಣ್ಡು ಎಙ್ಕಳ್ ಮೇಲ್ ನೋಕ್ಕುದಿಯೇಲ್*
ಎಙ್ಕಲ್ ಮೇಲ್ ಶಾಬಂ ಇಳಿಂದೇಲೋರೆಮ್ಪಾವಾಯ್  (೨೨)
Thiruppavai Pasuram 22 Musical/Recitation
Thiruppavai Pasuram 22 Upanyasams
Tamil Upanyasams
HH 45th Srimath Azhagiyasingar

HH Thirukkudanthai Andavan


Sri U.Ve. Madhavachar

Oragadam Sri U.­Ve. Lakshmi Nar­asimhachariar

Sri U.Ve. Velukkudi Krishnan

Sri U.Ve. Kuruchi Narayanan
Sri U.Ve. M.V. Ananthapadmanabhachar

Sri U.Ve.M.A Venkatakrishnan

Sri U.Ve. P.B. Annangarachariar




Sri U.Ve. K.B. Devarajan

Sri U.Ve. E.S.Boovarahachar

Telugu Upanyasams
Sri U.Ve. Aachi Srinivasacharya

Sri U.Ve. Sribashyam Appalacharya

Sri U.Ve. Santhana Gopalacharya