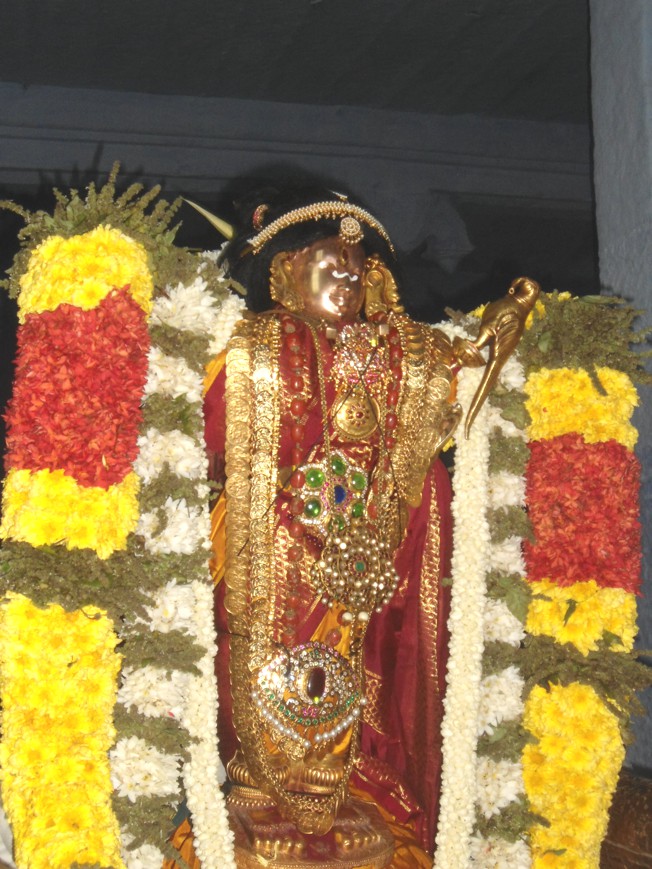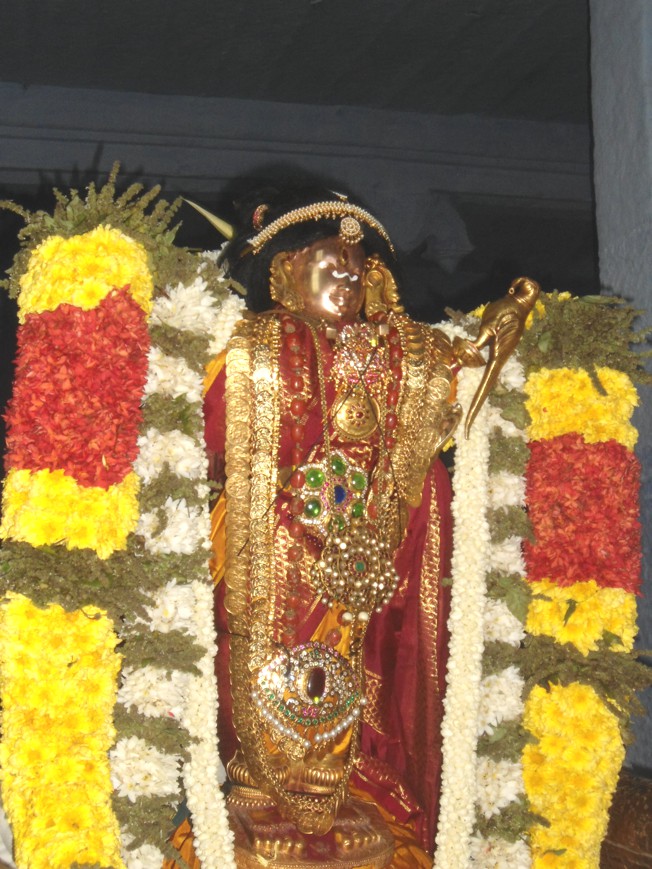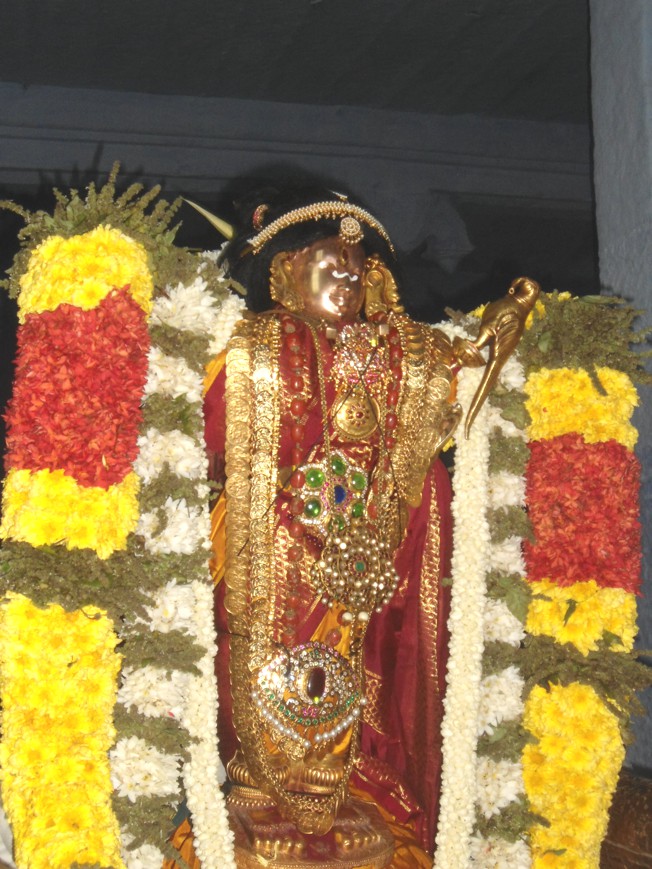 Today, January 9, 2014 is Day 25 of Margazhi masam. The twenty fifth pasuram of Thiruppavai, Oruthi Maganay Pirandu, is to be recited today.
ஒருத்தி மகனாய்ப் பிறந்துஓர் இரவில்
ஒருத்தி மகனாய் ஒளித்து வளரத்
தரிக்கிலான் ஆகித்தான் தீங்கு நினைந்த
கருத்தைப் பிழைப்பித்துக் கஞ்சன் வயிற்றில்
நெருப்பென்ன நின்ற நெடுமாலே உன்னை
அருத்தித்து வந்தோம் பறைதருதி யாகில்
திருத்தக்க செல்வமும் சேவகமும் யாம்பாடி
வருத்தமும் தீர்ந்து மகிழ்ந்தேலோர் எம்பாவாய்.
Margazhi month assumes special significance for Srivaishnavas. Lord Krishna in Bhagavad Gita says masanam margashirso aham (of months, I am Margazhi). Of the 12 sub-Vyuhas which are representative of the 12 months beginning from the Tamil month of Margazhi, Kesava is the lord for the month of Margazhi.
Most importantly, the month derives its auspiciousness primarily due to its association with ThiruppAvai. It was during Margazhi that Sri Andal observed the pious Pavai Nombu for Sriman Narayanan and composed the 30 pasurams of Thiruppavai for  the ujjeevanam (upliftment) of jeevatmas like us. Thiruppavai is very sacred and all our Acharyas have given commentaries on this prabhandam. The very fact that Swami Ramanuja was called 'ThiruppAvai Jeeyar' because of his deep attachment to this, illustrates the special place Thiruppavai had with Swami Ramanuja. In this Vijaya Varusham, the Margazhi month began on December 16, 2013.
For the benefit of Anudinam readers, we bring detailed Tamil commentary, musical recitation and detailed upanyasam audio by various vidwans (scholars) for each pasuram. It may be noted that the audio files are also available at www.sravanam.org
The following is a brief on the twenty fifth pasuram (Oruthi Maganay Pirandu)…
The same night saw Him born of one mother (Devaki) and raised by another mother (Yashodha). The Lord who created fear in the stomach of Kamsa who tried to kill Him by continuous attempts also created fear in the residents of Gokulam who feared for the safety of their beloved Kannan. Andal and Her maids addressed Kannan as the dispeller of inauspiciousness and bestower of goodness. Andal and friends beseech The Lord who is the object of adulation of Sri to end their sadness caused by separation (from Him) and confer the bliss of divine communion.
oruththi maganaay(p) piRandhu Or iravil
oruththi maganaay oLiththu vaLara(th)
tharikkilaan aagi(th) thaan theengu ninaindha
karuththai(p) pizhaippiththu(k) kanchan vayitril
neruppenna ninRa nedumaalE!, unnai
aruththiththu vandhOm paRai tharudhiyaagil
thiruththakka selvamum sEvagamum yaam paadi
varuththamum theerndhu magizhndhElOr empaavaai
Thiruppavai Pasuram 25 Musical/Recitation
Thiruppavai Pasuram 25 Upanyasams
Tamil Upanyasams
HH 45th Srimath Azhagiyasingar

HH Thirukkudanthai Andavan
Sri U.Ve. Madhavachar

Oragadam Sri U.­Ve. Lakshmi Nar­asimhachariar

Sri U.Ve. Velukkudi Krishnan

Sri U.Ve. Kuruchi Narayanan
Sri U.Ve. M.V. Ananthapadmanabhachar

Sri U.Ve.M.A Venkatakrishnan

Sri U.Ve. P.B. Annangarachariar





Sri U.Ve. K.B. Devarajan
Sri U.Ve. E.S.Boovarahachar
Telugu Upanyasams
Sri U.Ve. Aachi Srinivasacharya

Sri U.Ve. Sribashyam Appalacharya
Sri U.Ve. Santhana Gopalacharya