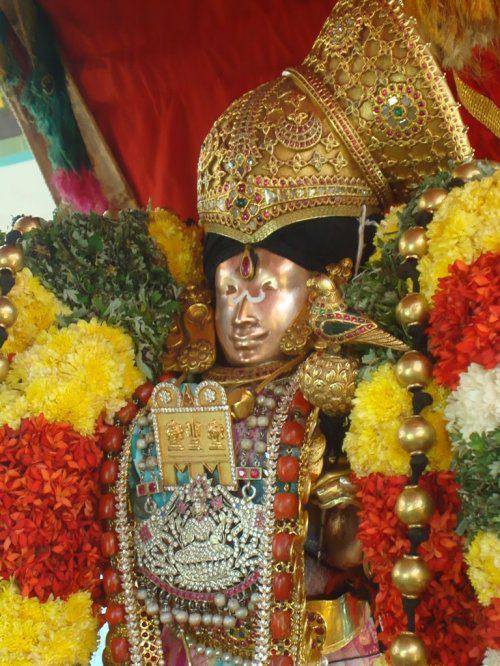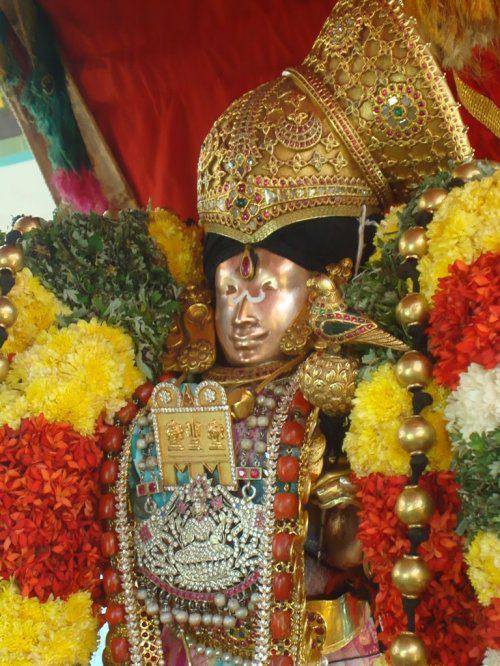 Today, January 13, 2014 is Day 30 of Margazhi masam. The thirteeth pasuram of Thiruppavai, Vanga Kadal Kadainda, is to be recited today.
Margazhi month assumes special significance for Srivaishnavas. Lord Krishna in Bhagavad Gita says masanam margashirso aham (of months, I am Margazhi). Of the 12 sub-Vyuhas which are representative of the 12 months beginning from the Tamil month of Margazhi, Kesava is the lord for the month of Margazhi.
Most importantly, the month derives its auspiciousness primarily due to its association with ThiruppAvai. It was during Margazhi that Sri Andal observed the pious Pavai Nombu for Sriman Narayanan and composed the 30 pasurams of Thiruppavai for  the ujjeevanam (upliftment) of jeevatmas like us. Thiruppavai is very sacred and all our Acharyas have given commentaries on this prabhandam. The very fact that Swami Ramanuja was called 'ThiruppAvai Jeeyar' because of his deep attachment to this, illustrates the special place Thiruppavai had with Swami Ramanuja. In this Vijaya Varusham, the Margazhi month began on December 16, 2013.
For the benefit of Anudinam readers, we bring detailed Tamil commentary, musical recitation and detailed upanyasam audio by various vidwans (scholars) for each pasuram. It may be noted that the audio files are also available at www.sravanam.org
The following is a brief on the thirteeth pasuram (Vanga Kadal Kadainda)…
This pasuram tells us that those who chant the 30 verses of Tiruppavai will receive the choicest benedictions of Perumal and Thayar similar to the fruits attained by Andal and her friends. Andal addresses Krishna as Kesavan , one who is the father of Brahma and Shiva , the killer of Kesi the asura who came like a horse. It also indicates one with beautiful hair. Madhavan denotes that He is the lord of Sri who came out of the ocean of milk which was churned by the devas and asuras and Perumal took Kurmavatharam to hold the Mandhara mountain firmly. Perumal ferries the Prappanan across the ocean of samsara to Sri Vaikuntam. Andal who identifies Herself as Bhattar Piran Godhai of Srivilliputhur who was adorned with Tulasi beads and lotus garlands and offered flowers to Vatapathrasayi daily. This garland of 30 verses in beautiful Tamil offered to the handsome Lord with four hands will confer happiness on earth and Eternal Bliss and servitude at Sri Vaikuntam.
vanga(k) kadal kadaindha maadhavanai kEsavanai
thingaL thirumugaththu sEy izhaiyaar senRu iRainchi
anga(p) paRai konda aaRRai aNi pudhuvai(p)
painkamala(th) thaN theriyal battar piraan kOdhai-
-sonna sanga(th) thamizh maalai muppadhum thappaamE
ingu ipparisuraippaar eerirandu maal varai thOL
sengaN thirumugaththu(ch) chelva(th) thirumaalaal
engum thiruvaruL peRRu inbuRuvar empaavaai.
Thiruppavai Pasuram 30 Musical/Recitation
Thiruppavai Pasuram 30 Upanyasams
Tamil Upanyasams
HH 45th Srimath Azhagiyasingar

HH Thirukkudanthai Andavan
Sri U.Ve. Madhavachar

Oragadam Sri U.­Ve. Lakshmi Nar­asimhachariar

Sri U.Ve. Velukkudi Krishnan




Sri U.Ve. Kuruchi Narayanan


Sri U.Ve. M.V. Ananthapadmanabhachar
Sri U.Ve.M.A Venkatakrishnan

Sri U.Ve. P.B. Annangarachariar
Sri U.Ve. K.B. Devarajan

Sri U.Ve. E.S.Boovarahachar

Telugu Upanyasams
Sri U.Ve. Aachi Srinivasacharya


Sri U.Ve. Sribashyam Appalacharya


Sri U.Ve. Santhana Gopalacharya