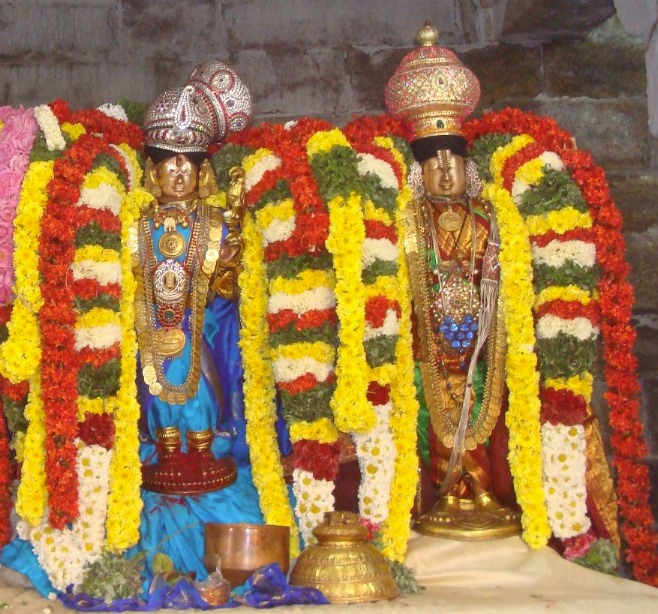 Panchajanyam Trust, Saran and Srutismrithi has organized "Chennaiyil Srivilliputtur" on January 18th and January 19th 2014 (Saturday and Sunday) at chellammal Hindu vidhyalya, 8th cross st Hindu colony nanganallur Chennai -600061. This programme will be conducted under the guidance of Sri U.Ve. M.V.Anannthapadmanabhachariar.
Sri Andal is called Choodi Kodutha chudarkodi   because she worshipped  "Lord Krishna" with her pasurams and floral garlands made of bhakthi and love for him. These pasurams purifies our hearts with bhakthi.  Sri Andal  wakes up the lord  with her thirupavai  pasurams. Thirupavai popularly known as the "Roots of Vedas". Not only thirupavai even the pasurams of all the alwars were born to discipline our lives. Chennaiyil Srivilliputhur is organized to popularize the famous pasurams to the present generation. This programme is presented to promote our culture through Upanyasam, Debates,Dance,Drama and Music. Great philosophers, Musicians and Scholars will be participating in this  cultural fete. Exclusive exhibitions, book stalls and various other stalls will be arranged in this venue.
Two books  "Adiguru and Megathin Dagam" written by vachaspathi Sri U.Ve.Anannthapadmanabhachariar  and published by panchajanyam trust and some of is upanyasa Cd's &DVD's will be released on January 19 2014.  The Book  Megathin dagam is Written based  on an important incident in the life of Sri Ramanujar and 'Adiguru' is written based on two important incidents in the life of Sri Ahobila mutts Adipurusha Srimath Adivann Sadagopa swami.
This cultural festival will be an eye opener and guide the younger generation to the right values of lives. To understand the Dharma and cultural heritage of our ancient India astikaas are requested to attend and participate in Chennaiyil Srivilliputhur with their family, friends and children