Ingredients:
For the Dhokar / Fried Lentil Cakes

1 Cup Channa Dal
3-4 no's Green Chillies
1/4 tsp Turmeric powder
1 tsp Fresh grated Ginger
A pinch Asafoetida
1/4 tsp Black cumin seeds / Kalonji / Nigella seeds
Oil For shallow frying
For the Dalna
1 Bay Leaf
1 tsp Black cumin seeds / Kalonji / Nigella seeds
A pinch Asafoetida
1 Medium sized Tomato, finely chopped
1 Medium sized Potato, cubed
1/2 tsp Cumin powder
1/2 tsp Coriander powder
1/2 tsp Red chilli powder
2 tsp Thick curd / Yoghurt
1 tsp Sugar
1 tsp Garam Masala
Water, as required
Method:
For the Dhokar / Fried Lentil Cakes

Soak the channa dal for 3-4 hours. Drain the water and along with green chillies, salt grind it into a  coarse paste. Add turmeric powder through asafoetida and mix it well.
Meanwhile grease a plate with little oil and keep aside.
Heat oil in a pan, add the black cumin seeds and once they splutter, add the paste and keep stirring it.
Keep stirring it until the dal mixture comes together without sticking to the pan. A lightly sticky dough like consistency but it should not become very dry though. It will break while you are frying it.
Pour it in the greased plate and flat it out with your palm or a flat spatula. While it is warm, run a knife through it to make it into any shape of your choice like square or diamond.
Allow it to cool completely. Then either deep fry them or shallow fry them in oil and keep it aside.
For the Dalna / Gravy
Mix the cumin powder, coriander powder and red chilli powder in yoghurt / curd. Keep it aside.
Heat Oil in a pan over medium heat. Add the cubed potatoes and brown the edges. (1)
Add the bay leaf, cumin seeds and once they splutter add the tomatoes and cook them until they become soft and mushy.
Once the tomatoes are cooked, add the curd paste and stir it.
Add in the potatoes and a cup of water and simmer it  until the potatoes are done.
Finally add the Fried lentil cakes, sugar and Garam Masala. Once the concoction comes to boil turn off the flame and garnish it with coriander leaves.
General guidelines for healthier food – Both body and mind:
One should be thinking about Perumal (Nama Smaranam) while cooking, and the purpose should be to offer the preparation to Him.
Once the food is prepared, it should be offered to Perumal first. While offering, one should make sure that the food is neither too hot nor cold. It should be offered with love and affection.
Please do not offer either pre-cooked food bought from outside or any pre-consumed food.
Please follow thiruvaradanam kramam as instructed by your respective acharya. (http://anudinam.org/2012/03/08/bhagavad-tiruvaradhanam/)
Follow ahara niyamam as much as possible. Atleast make sure that onion and garlic are not used at all.(http://anudinam.org/2012/06/11/srivaishnava-ahara-niyamam/)
Please ensure that food which are not prasadams are not consumed.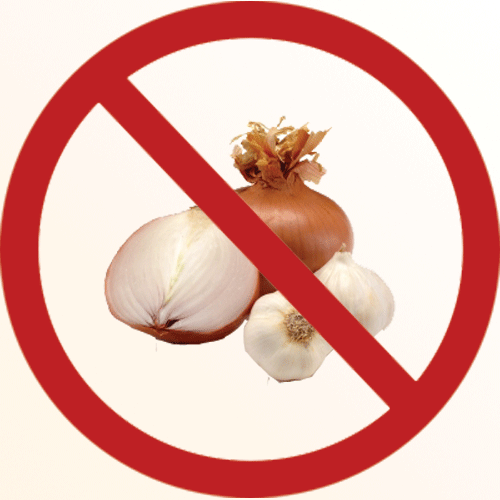 Courtesy: mytaste