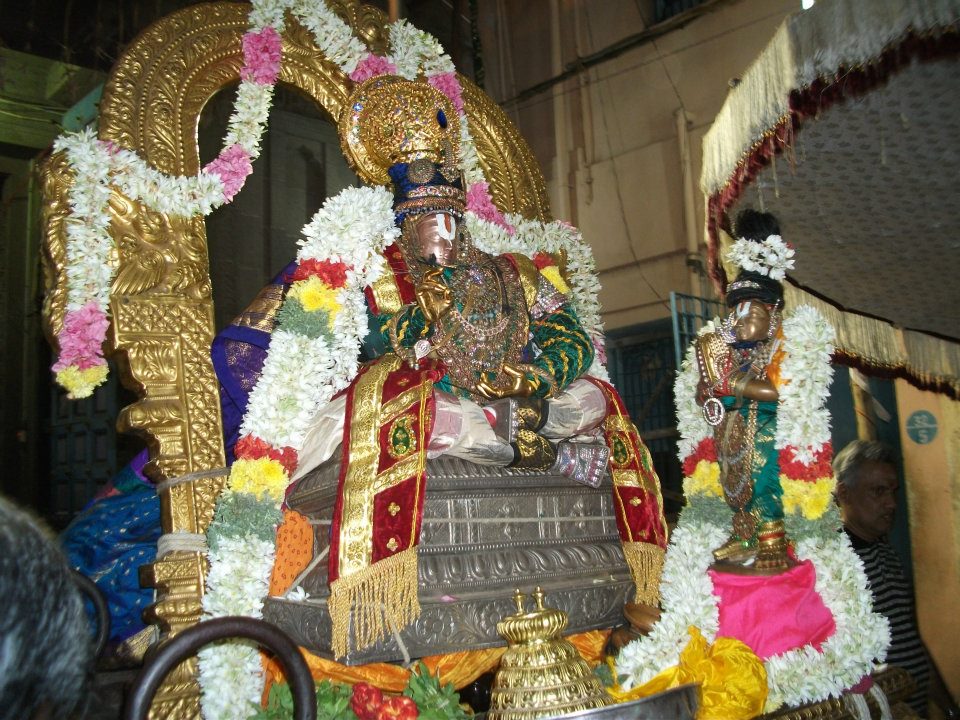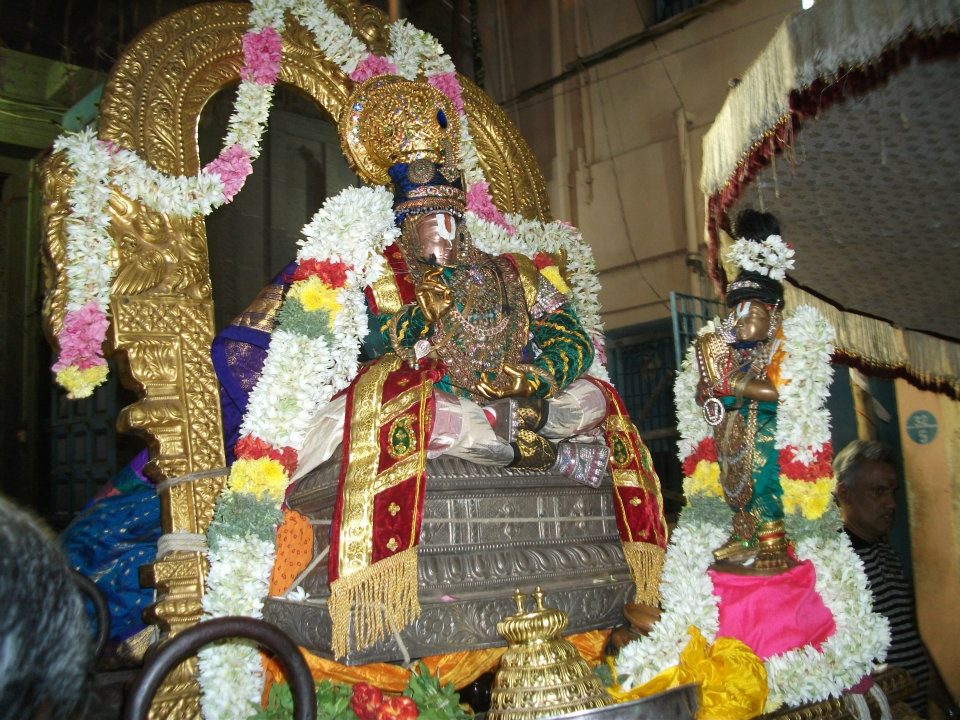 Today, January 26, 2016 (Thai Maham), is the varusha Thirunakshatram of Thirumazhisai Azhwar.
The Azhwars of South India and their divine outpourings – The Nalayira Divya Prabhandam – The Divine 4000 can be said to be the starting point of the Bhakthi Movement in India. Perumal took so many avatharams but could not make people realise the Eternal Truth. So He sent His divine weapons and Nityasuris who were in constant contact with Him to earth and they were more successful in reaching out to the masses. So great was their influence that it reached through the length and breadth of India. If North India is blessed with Punya Bhumis like Ayodhya and Mathura, South India was where all Azhwars and Acharyas chose for their avatharam. This is predicted in Srimadh Bhaghavatham and the History of Hindi Literature acknowledges that the Bhakthi Movement was due to Azhwars Divya sukthis.
Each Azhwar's contribution is unique and conveys the message "Worship Sriman Narayana Alone". The First Azhwars in their outpourings made known in clear-cut terms that Sriman Narayana is Paratathvam and had to be worshipped. The fourth Azhwar was Thirumazhisai Azhwar. Sriman Narayana's Sudarsana Chakra manifested as Bhakthisara in a place called Thirumazhisai near Kanchipuram as the son of Kannakangi and Bhargava Muni. He incarnated in the Tamil month of Thai under Makha nakshatram. It is said the baby was a mass of flesh who was left near some cane shoots. The mass had the kataksham of Lakshmi Narayana and assumed a human form. A couple Thiruvalan and Pankaja Chelvi who had come to cut cane found the baby and brought him up with love and care.
The child showed interest in religion and studied Sankhyam, Jainism, Buddhism and Shaivam among others. Infact, He bacame a staunch devotee of Shiva and assumed the name Shiva Vakya. PeyAzhwar who was his contempory wanted to make him learn the Truth which he did by a particular demonstration. (The above photograph is that of Thirumylai Sri Peyazhwar Sri Mazhisai Azhwarkku Upadesam Seyyum Thirukolam). He planted a plant with the root upwards and stem underground and watered it meticulously. Perplexed by this foolish act, Shiva Vakya wanted to know the reason for this funny act. PeyAzhwar replied that it was an illustration of Shiva Vakya's act of not worshipping Sriman Narayana the Supreme bestower of Moksha and the creator of Brahma and Rudra. The Eternal Truth dawned on Shiva Vakya who became BhakthiSara. Budathazhwar and Poigai along with PeyAzhwar are said to have met Bhakthi Sara. Bhakthi Sara was the name conferred by Lord Shiva. This Azhwar is said to have possessed three eyes the third eye was on his foot.
Bhakthi Sara's divine outpourings are the two creations: ThiruchhandaViruttham and Nanmukham Thiruvanthathi. Both talk about Paratvam of Sriman Narayana in clear-cut terms and a study of these pasurams will ensure that Lakshmi and Narayana alone are worthy of worship.
Bhakthisara worshipped at several Divya Desams and reached Thiruvekka the birthplace of Poigai Azhwar. His disciple was Kannikannan. While living there, there was an old woman who served them by doing menial service. She wanted eternal youth and Azhwar made her wish come true and she got married to the king of the land. She told her husband about her boon of eternal youth and he summoned Kannikannan to his court. Kannikannan refused to go or sing his praises or grant eternal youth, and was banished from the kingdom. When Kannikannan left Thirumazhisai Azhwar left and on his request the Divya Desa Perumal rolled up His serpent bed and followed the two. There was famine in the kingdom and the king realising his mistake requested the trio to return. The place where the three stayed for a single night is called Orikkai. Perumal came back and lay down in the opposite direction. He got the name SonnaVannam Seyda Perumal or Yathothkari. Thirumazhisai Azhwar spent the last days of his life at Thirukudanthai. Azhwar threw all his compositions in the Kaveri. ThiruchhandhaViruttham and Nanmukham Thiruvanthathi alone floated up and Thirumazhisai Azhwar felt these two were enough. If Thirumazhisai Azhwar made Tiruvekka Perumal get up and accompany him he made Aravamudhan Perumal an Uthanasayi. Uthanasayanam is the pose when Perumal attempts to get up from sleep. Azhwar tells Him to stay thus. Aravamudhan was so fond of Azhwar that He accepted prasadams offered to Azhwar. Thus, Thirumazhisai Azhwar became Thirumazhisai Piran and Perumal became AravamudhAzhwar. Such then was Azhwar's relation with Perumal. Thirumazhisai Piran ascended to Paramapadham at Thirukudunthai. By knowing about Thirumazhisai Piran our darkness will get dispelled and we will get true gnanam. Salutations to Thirumazhisai Azhwar!
Write-up Courtesy: Smt Vyjayanthi Sundararajan