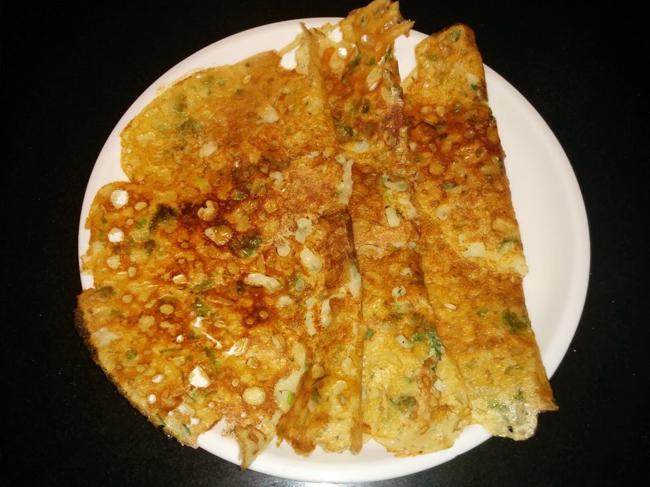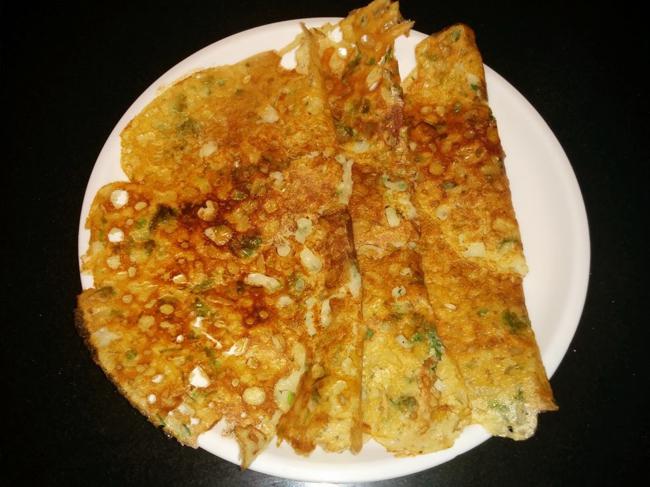 Ingredients
semolina – 1/2 cup
rice flour – 1/4 cup
all purpose flour (plain flour or maida) – 1/4 cup
cumin seeds – 1/2 tsp
salt – as needed
Pinch of asafoetida
green chillies – 1 chopped
water – 2 cups
curry leaves – few
Method
Mix all three flours including semolina, rice flour and all-purpose flour. Make a thin batter using little water at a time and avoiding any lumps. Batter should have pouring consistency little watery.
Add all other ingredients to the batter including cumin seeds, salt, asafetida, curry leaves and green chili. Mix it well. Let the batter stand for about 30 minutes.
Heat the tawa on medium high. Wipe the tawa with few drops of oil.
Pour the batter into the dosa tawa and cook on both sides till done.
Now Rava dosa is ready to serve.
General guidelines for healthier food – Both body and mind:
One should be thinking about Perumal (Nama Smaranam) while cooking, and the purpose should be to offer the preparation to Him.
Once the food is prepared, it should be offered to Perumal first. While offering, one should make sure that the food is neither too hot nor cold. It should be offered with love and affection.
Please do not offer either pre-cooked food bought from outside or any pre-consumed food.
Please follow thiruvaradanam kramam as instructed by your respective acharya. (http://anudinam.org/2012/03/08/bhagavad-tiruvaradhanam/)
Follow ahara niyamam as much as possible. Atleast make sure that onion and garlic are not used at all.(http://anudinam.org/2012/06/11/srivaishnava-ahara-niyamam/)
Please ensure that food which are not prasadams are not consumed.