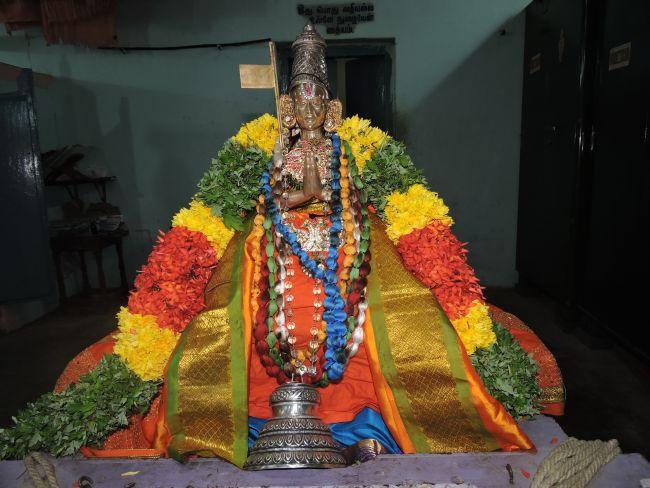 Sri Venatrankarai Andavan Swami Thirunakshatra Utsavam was celebrated in grand manner at Sri Poundarikapuram Srimath Andavan Ashramam , Srirangam. On March 27th 2016, in the evening around 3.00 pm Thirumanjanam was performed at Sri Vennatrankarai Swami Brindavanam. On March 28th 2016, Sri Vennatrankarai Andavan had Thiruveethi Purappadu from Srirangam Uthira veedhi Ashramam to Srimad Poundarikapuram Ashramam followed by Asthanam in the evening. Grand satrumurai and sevakalam took place with arulicheyal and veda parayana ghosti. Many Sishyas participated in the Purappadu and received the blessings of Acharya.
ஸ்ரீ பவுண்ட்ரிகபுரம் ஸ்ரீமத் ஆண்டவன் ஆஸ்ரமத்தில் ஸ்ரீமத் வின்னாற்றங்கரை ஆண்டவன் ஸ்வாமி திருநட்சத்திரம் 3 நாளும் வேத பிரபந்த கோஷ்டியுடன் வெகு விமர்சையாக நடைபெற்றது. ஸ்ரீமத் வின்னாற்றங்கரை ஆண்டவன் ஸ்வாமிகளுக்கு 27th mar 16 மதியம் 3 மணிக்கு திருமஞ்சனம் நடைபெற்றது.
28th mar 16 காலை ஸ்ரீரங்கம் உத்திரவீதி ஸ்ரீமத் பவுண்ட்ரிகபுரம் ஆஸ்ரமத்திலிருந்து ஸ்ரீமத் வின்னாற்றங்கரை ஆண்டவன் ஸ்வாமிகள் புறப்பாடு கண்டருளி ஸ்ரீமத் பவுண்ட்ரிகபுரம் ஆஸ்ரமத்திற்கு எழுந்தருளினார். ஸ்ரீமத் ஆச்சார்ய ஸ்வாமிகள் முன்னிலையில் வேத, பிரபந்த கோஷ்டியுடன்  சாத்துமுறை நடைபெற்றது. மாலை 5,30 pm ஆஸ்ரமத்திலிருந்து புறப்பாடு கண்டருளி உத்திர வீதி ஆஸ்ரமம் அடைந்தார்.
To view the Thirumanjanam photos please visit: Sri Poundrikapuram Srimath Andavan Ashramam Sri Vennatrankarai Andavan Thirunakshatra Utsavam
The following are the photos taken during the Utsavam: