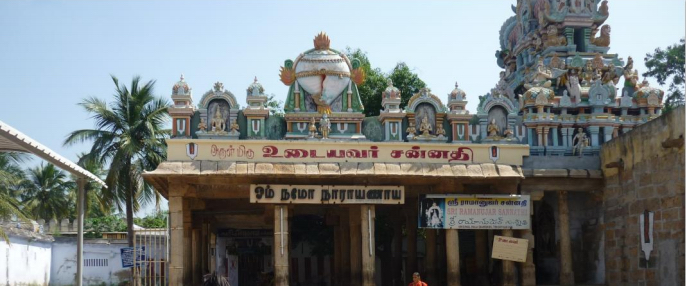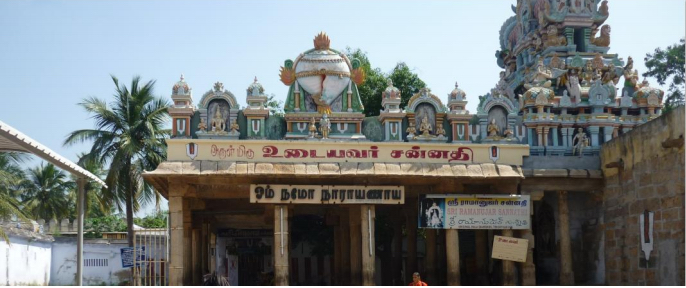 Udaivar Sannidhi Srirangam
Kollidam (North Cauvery)
Ramanuja becomes Udaiyavar
Taking His shishyas along with him Ramanuja left Kanchipuram for Srirangam with Tiruvaranga Perumal araiyar. After bathing in Kollidam (North Cauvery) Ramanuja performed anushtanams on the bank of the holy river before proceeding to the temple of Periya Perumal(Sri Ranganatha). The srivaishnavas of Srirangam rejoiced at the coming of Ramanuja and proceeded to welcome him with the garland and parivettam (the vastrams) of Periya Perumal. Ramanuja did sashtang dandavath pranams(prostrations) and accepted the prasadams with devotion and humility. Led by Mahapoorna (Periya nambi) Ramanuja entered the North gate of the Periya koil and went to Thayar sannidhi. After worshipping Periya Piratti (Ranganayaki Thayar) and Mettu Azhaghiasingar (Lord Narasimha) he proceeded to the sanctum sanctorum of Periya Perumal(Ranganatha). He stood by the 'Tirumana thoon '(The two gold clad pillars inside the sanctum) and drank the Beauty of Ranga from Feet to Crown as described by Tiruppanazhwar in Amalanadhipiran. He was given Perumal theertham and Srisathari by the bhattar swamis (priests) which he partook of with devotion. At this juncture Ranganatha spoke through His archakar swami hailing Ramanuja as 'Udaiyavar'. Udaiyavar means owner and Ramanuja was proclaimed the owner of 'Nitya vibhuthi' and 'Leela vibhuthi'. Nitya vibhuthi refers to Sri vaikuntam and Leela vibhuthi to all Creation. Ranganatha asked Ramanuja to take over the administration of 'Periya-koil' and take care of every aspect of its functioning. Ramanuja humbly accepted the responsibilty and said this status was conferred on him because of his guru Mahapoorna 's (Periya nambi) grace. He executed every action after consulting Mahapoorna(Periya nambi).
Paramapada vasal Srirangam
The reforming of Govinda
We may recall at this juncture Govinda, Ramanuja's cousin who warned him about Yadavaprakasa's ruse and who had become an advaithin residing at Kalahasti. Wanting to bring him back to the fold, Ramanuja had sent a message to his maternal uncle Srisailapoorna (Tirumalai nambi) to reform him. The srivaishnava messenger met Ramanuja at Srirangam and reported the happenings at Kalahasthi.
Govinda
Accompanied by his shishyas and the srivaishnava messenger sent by Ramanuja Srisailapoorna (Tirumalai nambi) went to Kalahasti thrice. He and his shishyas camped somewhere on the path 'ulam kai konda nayanar' would take daily. Since Govinda found a shivalingam rest on his palms while he was bathing in the Ganga along with Yadavaprakasa and his students he got this name. One day Govinda heard Alavandar's stotra ratnam being discussed by Srisailapoorna (Tirumalai nambi). Another time the group was intently listening to Nammazhwar's 'Tiruvaymozhi' pasurams. Another time when Govinda had come to collect flowers for his worship, Srisailapoorna (Tirumalai nambi) was explaining how every perfumed flower and sandal-paste worthy of adorning Perumal alone. Govinda who was eavesdropping, heard this and felt guilty. He fell prostrate at the feet of Srisailapoorna (Tirumalai nambi) and said flowers and sandal-paste are for Him alone. He repented for what he had done and followed Srisailapoorna (Tirumalai nambi) to Tirumala. Srisailapoorna (Tirumalai nambi) performed upanayanam and did panchasamskaram (samashrayanam) for him. Govinda then studied azhwar srisukthis at the feet of his maternal uncle.
Ramanuja was thrilled to hear of these developments. He sought Mahapoorna (Periya nambi) and did kalakshepam at his feet. Kalakshepam means detailed study of Srivaishnava texts done at the feet of a guru. Mahapoorna (Periya nambi) then asked Ramanuja to seek Goshtipoorna (Tirukoshtiyur nambi) and learn the meanings of the 'Rahasyatrayams' that is the inner purport of Tiruashtaksharam, and Charama slokam. Tiruastakasharam is the eight syllabled Narayana mahamantram and charama slokam is 'sarvadharman parityajya mam ekam sharanam vraja' delivered by Krishna to Arjuna in Srimadh Bhaghavadh Geetha.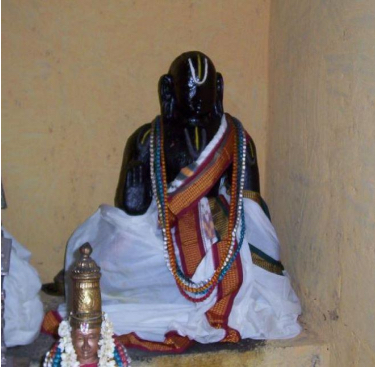 Mahapoorna (Peria Nambi) Maduranthakam
The Tirumaaligai(house) of Mahapoorna(Periya Nambi) Srirangam
Udaiyavar becomes Emperumanaar
As instructed by Mahapoorna (Periya nambi), Udaiyavar left for Tirukoshtiyur with his shishyas. He asked the srivaishnavas there to show him the 'tirumaaligai' of Goshtipoorna (Tirukoshtiyur nambi). Even if it is a hut the residence of a srivaishnava is called a tirumaaligai (palace) and one's dwelling even if it is palatial is called 'kudisai' (hut) in srivaishnava parlance. Udaiyavar did pranamam to the tirumaaligai of Goshtipoorna and proceeded there. He did dandavath pranams at the feet of Goshtipoorna. He begged Goshtipoorna (Tirukoshtiyur nambi) to reveal the meanings of Sriastaksharam and charama slokam. Goshtipoorna (Tirukoshtiyur nambi) wanted to test the sincerity of his pupil so he said 'come some other time'. Udaiyavar went back to Srirangam. He made 17 visits to Tirukoshtiyur but it was always 'some other time'. Once when Goshtipoorna (Tirukoshtiyur nambi) had gone to Srirangam to worship Ranganachiyar and Ranganatha, some srivaishnava elders asked him why he was testing Udaiyavar so much. Goshtipoorna gave no reply but after returning to Tirukoshtiyur he sent a srivaishnava messenger asking Udaiyavar to come. Elated Ramanuja left for Tirukostiyur along with Nadadurazhwan, Kurathazhwan and Mudaliandan. He alone went to Goshtipoorna and learnt the rahasyarthams of Astakaskaram and charama slokams.' Keep these meanings to yourself' warned Goshtipoorna (Tirukoshtiyur nambi).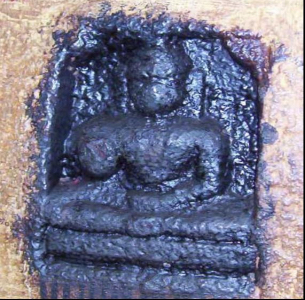 Goshtipoorna (Tirukoshtiyur nambi)
Goshtipoorna (Tirukoshtiyur Nambi)
Next morning Udaiyavar called his shisyas and told the esoteric meanings of Astakasharam as taught by Goshtipoorna (Tirukostiyur nambi). Goshtipoorna (Tirukoshtiyur nambi) was very angry. He summoned Ramanuja and said 'Do you know the punishment for breaking an acharya's commandment?' 'I had specifically told you not to reveal the meaning of 'Astaksharam or charama slokam' to anyone and you have openly revealed it to your shishyas.' Can you explain?
Udaiyavar fell at the feet of his guru and said 'for going against the wishes of my acharyan, I will go to narakam (hell) but crores of jeevatmas will go to Srivaikuntam because of having thy sambandam'. Goshtipoorna (Tirukoshtiyur nambi) was taken aback by this explanation. He had so far thought only Perumal was an ocean of mercy but on seeing it exhibited in Ramanuja tears swelled up in his eyes. You are 'Emperumanar' he declared loudly. No sin will attach to you. Our siddhantham (philosophy) which was so far called 'Vaidhika (true to the Vedas) sampradhaya shall henceforth be known as 'Ramanuja darsanam'. Though the story goes that Ramanuja shouted the astakashara mantram from the top of the gopuram in Tirukoshtiyur temple this could not have been possible as mantrams are taught as rahasyam (whispers) and not loudly to a crowd. Secondly Ramanuja had already got the mantra initiation in Madurantakam. It was the inner meanings he learnt from Goshtipoorna (Tirukoshtiyur nambi). After offering dandavath pranams to Goshtipoorna (Tirukoshtiyur nambi) Ramanuja returned to Srirangam. Ramanuja offered dandavath pranams to Mahapoorna (Periya nambi) and reported in detail the happenings at Tirukoshtiyur. Ramanuja then requested Mahapoorna (Periya nambi) to teach him Nammazhwar's 'Tiruvaymozhi'.Mahapoorna( Periya nambi) directed Ramanuja to serve and learn from Tiruvaranga perumal araiyar.Tiruvarangaperumal araiyar was the son of Alavandar who enticed Kanchi Varadan with his'araiyar-sevai' and brought Ramanuja to Srirangam. Ramanuja served Tiruvarangaperumal araiyar meticulosly and with devotion for six months. One day he presented a cup of freshly ground turmeric to Tiruvarangaperumal araiyar for cosmetic use. Pleased with Ramanuja's services rendered with total humility Tiruvaranga perumal araiyar promised to impart certain important Truths and also teach the singing of 'Tiruvaymozhi' with abhinayas.
Tirukoshtiyur Vimanam
The Lessons taught by Tiruvaranga perumal araiyar:
Acharya is sakshath Hari. Perumal who is in sayana tirukolam(sleeping posture) comes as acharya who goes from place to place imparting mantras and bringing people on the right path.
Acharyas teach the way to happiness on earth and after death.
One who has acharya-bhakthi has the greatest purushartham(wealth).
Madurakavi showed this path in 'Kanninum Siruthambu'.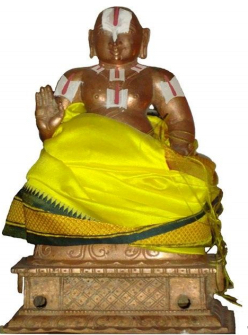 Tiruvaranga Perumal Araiyar
Tiruvaranga Perumal Araiyar then taught Tiruvaymozhi which shows 'Tatvam' (Supreme Truth) 'Hitham' (following what is good for us) and 'Purushartham' (Ultimate Wealth). The ways and means of attaining moksham is elucidated in Nammazhwar's 'Tiruvaymozhi'. Having learnt the Tiruvaymozhi with music and mime Ramanuja was directed by Mahapoorna to do kalakshepam of Tiruvaymozhi at the feet of Maladhara (Tirumaalai Andan). Maladhara (Tirumaalaiandan) had done kalakshepam of Tiruvaymozhi at the feet of Alavandar. He taught what he had been taught by Alavandar. Mahapoorna (Periya nambi) Goshtipoorna (Tirukoshtiyur nambi) Tiruvaranga Perumal Araiyar, Maladara (Tirumaalai aandan) and Srisailapoorna (Tirumalai nambi) were direct disciples of Alavandar who were asked to impart what they learnt from Alavandar to Ramanuja. Poorna or nambi means completely learned.
Maladhara(Tirumaalai Andan)
Avatharam of Pillaan
Srisailapoorna (Tirumalai Nambi) as we may recall was the maternal uncle of Ramanujacharya. His wife's nephew was Pranatharthiharan or Kidambi Aachan who was born in Kanchipuram on Chitra Hastham. Thus Pranatharthiharan's athai (father's sister) was the devigal (wife) of Srisailapoorna (Tirmalai nambi). Pranatharthiharan (Kidambi Aachan) visited Tirumalai and stayed at his athai's house worshipping Srinivasa. During this period was born a son called 'Pillai' to Srisailapoorna (Tirumalai nambi.) A second son Pillaan was born in Bilva varusham, Aipassi Pooradam. Pillaan was spiritually inclined and even as a child would listen attentively to his father's kalakshepams on Azhwar pasurams. Srisailapoorna (Tirumalai nammbi) observed that this son of his was very much like Ramanuja his sister Bhumi piratti's son. Kidambi aachan was very fond of his cousins Pillai and Pillaan. Later on there was a third son born to Srisailapoorna (Tirumalai nambi) who was named Ramanujan.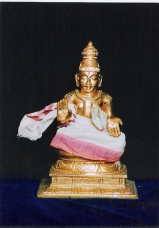 Srisailapoorna(Tirumalai Nambi)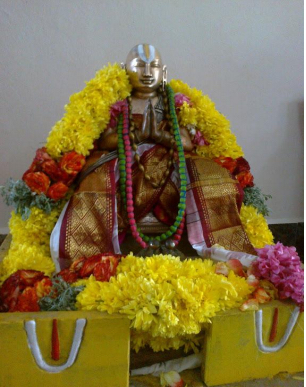 Pillaan-Kanchipuram
Pillaan
One day a group of Srivaishnavas from Srirangam came to Tirumalai to worship Srinivasa. Srisailapoorna (Tirumalai Nambi) eagerly enquired about the happenings at Srirangam and was elated to hear about Ramanuja's glory. He asked them to relate in detail the happenings and 'Pillaan' who was listening started relating and play-acting Ramanuja's actions. Pillaan had upanayanam and vivaham (marriage) at the appropriate age and his father sent him to Srirangam escorted by Kidambi Aachan. Kidambi Aachan took Pillaan to Kanchipuram to worship Perundevi Thayar and Varadaraja Perumal before proceeding to Srirangam and were received affectionately by Ramanuja. Pranatharthiharan (Kidambi Aachan) told Ramanuja about Srisailapoorna (Tirumalai Nambi) and the happenings at Tirumala. On seeing 'Pillaan' Ramanuja cast his kataksham (divine glances) on him and blessed him. Pranatharthiharan (Kidambi Aachan) studied all the sastras at the feet of Ramanujacharya. But there was a greater role in store for Pranatharthiharan (Kidambi Aachan).
Poison in the bhiksa (alms)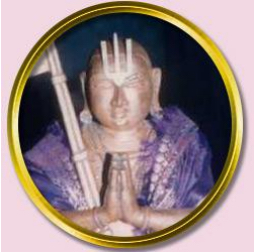 Kidambi Aachan
Ramanuja as we know was entrusted with the administration and proper functioning of Srirangam temple. He meticulously set upon the job and aimed at perfection. He could not brook any lapse in 'Perumal kainkayam' (services rendered) and did not hesitate to punish and reform those who erred. This angered some of the people involved and they hatched a plot to murder Ramanuja. As a sanyasi Ramanuja had to accept alms from grihasthas (householders) from a certain number of houses. The cooked prasadam (rice) would be given in the bowl by the grihini (housewife). One such grihini (housewife) was compelled to give poisoned rice as alms. This was against her will. She placed the poisoned rice away from the rest of the alms and prostrated Ramanuja with tears in her eyes. No one should offer namaskarams to a sanyasi after giving bhiksa(alms). In the event of such a happening the sanyasi has to observe upavasam (fast). Ramanuja understood something was amiss. He took the rice and threw it in the Kaveri. Some particles which fell on the river bank was eaten by a crow which fell down dead after eating it. Ramanuja observed upavasam (fast) for several days. Goshtipoorna (Tirukoshtiyur nambi) heard about this from Mahapoorna (Periya nambi) and immediately rushed to Srirangam. Ramanuja went to the banks of the Kaveri to receive his guru. It was mid-day and the sands were scorching. Yathiraja who was weak due to fasting kept prostrating his guru and his guru did not stop him. Seeing this happening Pranatharthiharan (Kidambi Aachan) could not contain himself. With tear- filled eyes he asked 'Is the acharya going to test his shishya till he dies?' He hugged Ramanuja and rubbed him all over. Goshtipoorna (Tirukoshtiyur nambi) said this was a test to find the person most concerned about Ramanuja's well-being.He said "Pranatharthihara! (Kidambi aachan) henceforth Ramanuja will not go out seeking 'bhikshai'(alms). We entrust you with the serving of bhiksai personally cooked by you." Thus it was that Pranatharthiharan (Kidambi aachan) became incharge of Ramanuja's madapalli (kitchen) and became known as madapalli aachan. Our sampradhaya got the name 'Mahanasa sampradhayam' or 'Madapalli sampradayam'.
The scorching sand banks of Kollidam(North Cauvery)
Painting depicting Kidambi Aachan lifting Ramanuja
(To be continued..)
Write – up: Smt Vyjayanthi Rajan