Today, August 10th, 2016; Dhurmuki varusha Aadi Swathi, Garuda Jayanthi (Garudazhwar's Thirunakshatram) is celebrated. This utsavam is celebrated at several divya kshetrams with Garuda Homam and Thirumanjanam.
At Nachiyar Thirukoil, special homam takes place in front of Kal Garudan in the morning followed by Swathi Deepam. In the evening of Garuda Jayanthi every year, utsava moorthies of Sri Vanjulavalli Thayar and Sri Srinivasa Perumal can be worshipped along with Garudazhwar in the Kal Garudan Sannadhi. There is special alankaram for Garudazhwar as well.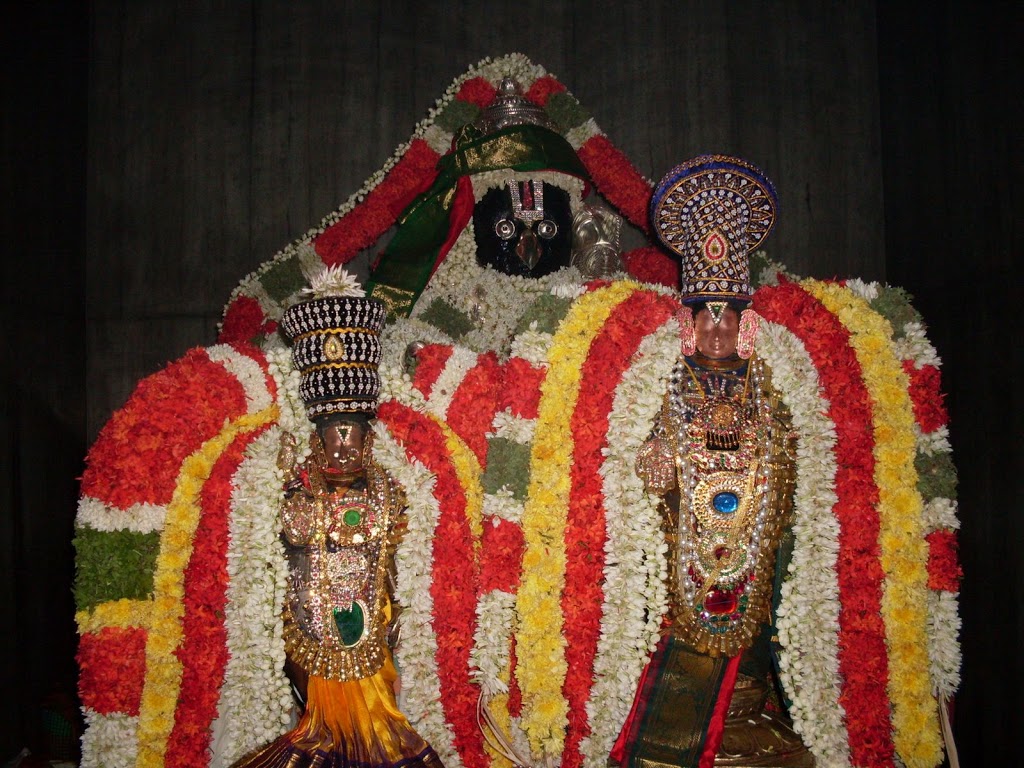 At Thirukannamangai, Vishesha Thirumanjanam and Archanai takes place. Please visit Thirukkannamangai Sri Pakshirajan Thirunakshatram Utsavam
For more about Garudazhwar, please visit the following article on Garuda – The Vehicle and Banner of Lord Vishnu
The following is the article on Garudazhawar in Tamil…
Bhaktas may recite Garuda Dandakam and Garuda Panchashat on this day. The following is the text and meaning for Garuda Dandakam…
Pdf versions can be downloaded from:
http://prapatti.com/slokas/english/desika-stotramaala/garudadandaka.pdf
http://prapatti.com/slokas/tamil/desika-stotramaala/garudadandaka.pdf
http://prapatti.com/slokas/sanskrit/desika-stotramaala/garudadandaka.pdf
Outline of the Stotra
Swami Desikan was initiated into Garuda mantram by his Acharya, Sri AppuLLar. Incidentally, the Tamil word PuL stands for a bird. Here the reference is to the divine bird, Garuda, who is also known as Pakshi Raja (the king of Birds). Garuda Mantram includes therefore among its five syllables the two syllables constituted by the word Pakshi. The Garuda Mantram was a Mantram of AppuLLar's family. After instructing Sri Desikan on all relevant Sri Vaishnava granthas, Rahasyas, Tarka and Vyaakarna, Sri AppuLLar initiated him into the recitation of Garuda Mantram.
After his Acharya's passing away, Sri Desikan settled at Thiruvahindrapuram and  worshipped Sri Devanayaka Perumal and Hemabujavalli Thaayar. While residing there, he ascended the hillock near the Lord's temple known as Oushadhadri and sat under an Aswattha tree and recited Garuda Mantram for a considerable time in intense concentration. Garuda Bhagavaan was pleased with the devotion of Sri Desikan and appeared before him and blessed Sri Desikan. Sri Garuda Bhagavan also gave an archa murthy of Yogaasika Hayagrivan to Sri Desikan to use in his daily Aaraadhanam. Sri Garuda also initiated Swami Desikan into the recitation of Sri Hayagreeva Mantram. The enormous achievements of Swami Desikan came out of the Anugraham of Sri Garuda Bhagavaan, who is generally recognized in Sri Vaishnava Sampradhaya as Veda Swaroopi. Swami Desikan Composed Garuda Panchaasat to record his gratefulness to Sri Garuda Bhagavaan and incorporated the Garuda Mantram in one of the 50 slokas of that Panchasat. He then recited Sri Hayagreeva mantram and had the good fortune of seeing Sri Hayagreevan and received His blessings as well. Swami composed the Hayagreeva Stotram and incorporated the Mantra of Sri Hayagreevan in this stotram.
All the achievements of Swami Desikan as a Great Acharya arose from the blessings conferred by Both Garuda Bhagavaan and His Lord Sri Hayagreevan at Thiruvahindrapuram. The archa murthy of the Yogaasika Hayagreeva presented by Garuda Bhagavaan can be seen even today, next to the Vigraha of Swami Desikan sculpted by his own hands, when he was challenged by a sculptor, who wanted to defeat Swami in a vigraha nirmAnam contest.
Sri Garuda Dhandakam was composed on a later occasion, when a Snake charmer challenged Swami Desikan's title as Sarvatantra Swatantrar and sent some poisonous snakes towards Swami to test his power in handling those poisonous snakes. Swami Desikan recited the Garuda Mantra and the snakes were carried away by Garuda Bhagavaan. The snake charmer lost thus his snakes and his livelihood. He fell at the feet of Swami and asked for forgiveness. Swami forgave him and requested Sri Garuda Bhagavaan to return the snakes and composed the Garuda Dhandakam to thank Sri Garuda Bhagavaan for his intervention. This stotra was composed at Kanchipuram.
Thus, the Stotras associated with Garuda Bhagavaan and Sri Hayageevan, the Lord of Learning occupies a special place among the 28 stotras of Swami Desikan. Sri Garuda Dhandakam, is a marvelous composition as seen from its Dhandakam structure.
In this stotram, Swami Desikan covers the FOLLOWING topics to illustrate the glory, power and status of Garudan as one of the foremost Nitya Sooris serving Sriman NaarayaNan in Sri Vaikuntam:
Vedas praising Garuda Bhagavaan.
Garuda"s service to Sriman NaarayaNa as His Vehicle and Flag
His matrimonial status with his two wives (Rudrai and Sukeerthi)
His adornment of great serpents as his jewellery on his limbs.
His heroic deed in bringing nectar from IndraLoka
His other heroic deeds in battles on behalf of his Lord
His splendour as the Amsa (aspect) of Para Vasudeva (i-e) his Sankarshana Swaroopam.
His manifestion in five individual forms
His conferral of Vedhanta Vidya to his aspiring devotees(i-e) his status as an Acharya.
The worship of Lord Garudan by learned scholars and saints
His power as the Garuda Mantra Moorthy
His power to bless one with the 4 Purusharthas (goals) of Life
His incarnation as Garudan as a result of the prayers of the Vaalakilya sages.
His power to bless one with the true knowledge or Brahma Vidya
It is generally believed that the recitation of this Dhandakam daily would protect one from the harms caused by poisonous animals such as snakes, scorpions et al.