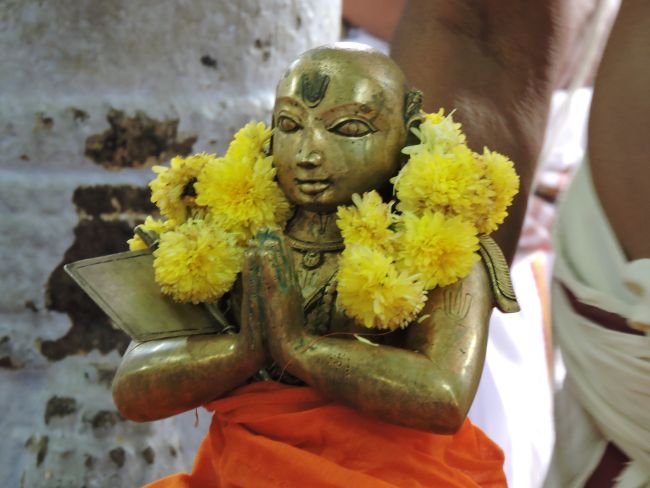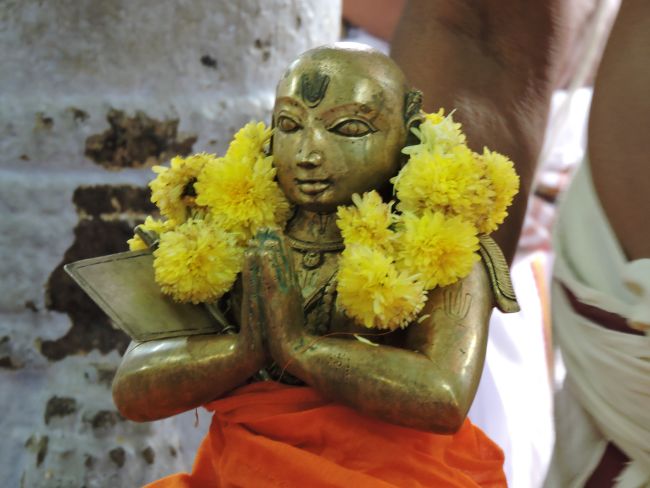 121st Tirunakshatram celebrations of Mukkur Srimadh Azhaghiasingar at Srirangam
 The 121st Tirunakshatram of 44th Srimadh Azhaghiasingar(Srivan Sathakopa Sri Vedantha Desika Yathindra Mahadesikan) was celebrated with devotion at Srirangam Dasavathara Sannidhi from 31.08.2016 with Veda parayanam and Divya prabhandha parayanam culminating on 04.09.2016.
 04.09.2016 Avani Hastham started with Tirumanjanam at swami's Brindavanam . Then there was Tirumanjanam for Lakshmi Narayana and Laksmi Nrisimha and utsavar Mukkur Srimad Azhaghiasingar infront of Dasavathara sannidhi. This was followed by an upanyasam by Ubha Ve. Vaduvur Govindan swami on Srimad Azhaghiasingar's atmagunams. Swami has been part of Sri Ahobila Muth family and shared his experiences with us. He recalled Srimadh Azhaghiasingar's  concern for kainkaryaparas, shishyas and for every human being he came across. His generosity was phenomenal and his determination was very strong.
 Because swami Desikan was not accorded maryadhai at SriRangam temple Srimadh Azhaghiasingar  did not do mangalasasnams at Sri Ranganatha sannidhi during one of his visits to Srirangam. But the same night Ranganatha commanded Azhaghiasingar to construct the 'Mottai-Gopuram'. Swami was in Mukkur at that time and was 84 years old. He obeyed Ranganatha's commanded and achieved the impossible. He completed and did the samprokshanam for Srirangam Rajagopuram which is the tallest temple tower in Asia.  Financial constraints, opposition of various kinds did not stop him. He won the hearts of everyone involved in the 'Mega Kainkaryam'.
 Even today everyone from the aradhakar swami to the watchman wholeheartedly participate in the function and make it a successful offering to the Mukkur Mahan.
 The evening 'purappadu'  stopped inside  Sri Ahobila Muth on Uthira Veedhi and at Sri Tirukuralappan sannidhi near the Rajagopuram. Ofcourse there were stops outside the houses of shishyas and abhimanis who offered their trays of 'patram/pushpam' before Srimadh Azhaghiasingar came back to Brindavanam. The women-devotees performed 'kummi' and the nadhaswaram players played popular notes and beats. The Thadeearadhanai in the afternoon was well attended and enjoyed by all. Everyone was happy at the successful conducting of Srimadh Azhaghiasingar's Tirunakshatram.
These are some of the photos taken during the occasion….
Write up: Vyjayanthi Rajan