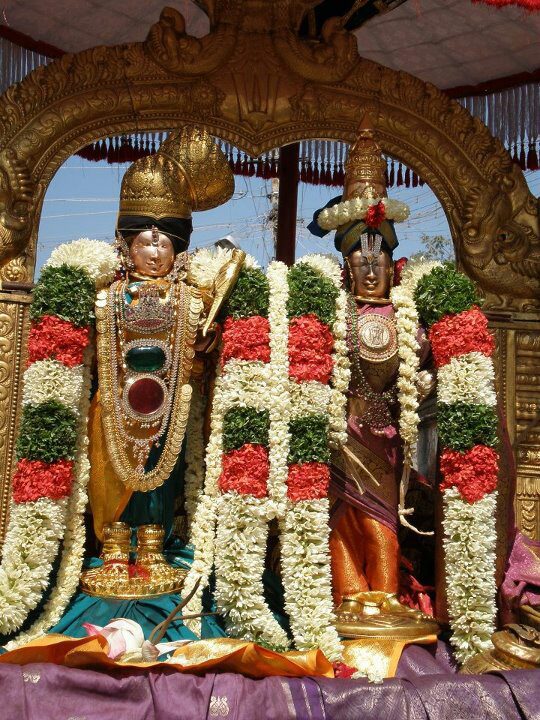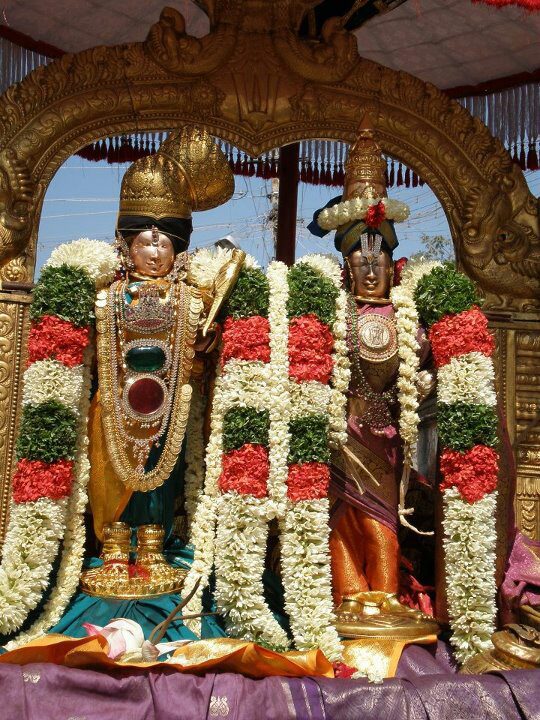 Today, December 24, 2016 is Day 9 of Margazhi masam. The ninth pasuram of Thiruppavai, Thoomani Madathu Sutrum, is to be recited today.
Margazhi month assumes special significance for Srivaishnavas. Lord Krishna in Bhagavad Gita says masanam margashirso aham (of months, I am Margazhi). Of the 12 sub-Vyuhas which are representative of the 12 months beginning from the Tamil month of Margazhi, Kesava is the lord for the month of Margazhi.
Most importantly, the month derives its auspiciousness primarily due to its association with ThiruppAvai. It was during Margazhi that Sri Andal observed the pious Pavai Nombu for Sriman Narayanan and composed the 30 pasurams of Thiruppavai for  the ujjeevanam (upliftment) of jeevatmas like us. Thiruppavai is very sacred and all our Acharyas have given commentaries on this prabhandam. The very fact that Swami Ramanuja was called 'ThiruppAvai Jeeyar' because of his deep attachment to this, illustrates the special place Thiruppavai had with Swami Ramanuja. In this Dhurmuki Varusham, the Margazhi month began on December 16, 2016.
For the benefit of Anudinam readers, we bring detailed Tamil commentary, musical recitation and detailed upanyasam audio by various vidwans (scholars) for each pasuram. It may be noted that the audio files are also available at www.sravanam.org
The following is an article about the ninth pasuram (Thoomani Madathu Sutrum)…
In this Paasuram the bed of a devotee is described. Her bedroom is embedded with gems and lamps are lit all around the room and is filled with the fragrance of agarbathis. The bed on which she is sleeping has all the qualities needed to induce sleep. But says Andal addressing the girl as mama's daughter, it is time to wake up, to open the door. They plead with the girl's mother, (mami) to wake up her daughter who seems to be both deaf and dumb .She seems to be drugged. The time to chant Mamaayan, Maadhavan, Vaikuntan had come. Thus Andal entreats this girl to join them.
தூமணி மாடத்துச், சுற்றும் விளக்கெரியத்*
தூபம் கமழத் துயிலணை மேல் கண் வளரும்*
மாமான் மகளே! மணிக் கதவம் தாள் திறவாய்*
மாமீர்! அவளை எழுப்பீரோ? ** உன்மகள் தான்
ஊமையோ?, அன்றிச் செவிடோ? அனந்தலோ?*
ஏமப் பெருந்துயில் மந்திரப் பட்டாளோ?*
மாமாயன் மாதவன் வைகுந்தன் என்றென்று*
நாமம் பலவும் நவின்றேலோர் எம்பாவாய்  (௯)
tUmaNi maaDattuch, SuRRuM viLakkeriyat*
dUpam kamazhat tuyilaNai mEl kaN vaLarum*
maamaan magaLE! maNik kadavam taaL tiRavaay*
maamIr! avaLai ezhuppIrO? ** unmagaL taan
UmaiyO?, anRich SeviDO? anandalO?*
Emap peruMtuyil mandirap paTTALO?*
maamaayan maadhavan vaikundan enRenRu*
naamam palavum navinRElOr empaavaay  (9)
తూమణి మాడత్తుచ్, శుఱ్ఱుం విళక్కెరియత్*
దూపం కమళత్ తుయిలణై మేల్ కణ్ వళరుం*
మామాన్ మగళే! మణిక్ కదవమ్ తాళ్ తిఱవాయ్*
మామీర్! అవళై ఎళుప్పీరో? ** ఉన్మగళ్ తాన్
ఊమైయో?, అన్ఱిచ్ శెవిడో? అనందలో?*
ఏమప్ పెరుంతుయిల్ మందిరప్ పట్టాళో?*
మామాయన్ మాధవన్ వైకుందన్ ఎన్ఱెన్ఱు*
నామం పలవుం నవిన్ఱేలోర్ ఎమ్పావాయ్  (౯)
ತೂಮಣಿ ಮಾಡತ್ತುಚ್, ಶುಱ್ಱುಂ ವಿಳಕ್ಕೆರಿಯತ್*
ದೂಪಂ ಕಮಳತ್ ತುಯಿಲಣೈ ಮೇಲ್ ಕಣ್ ವಳರುಂ*
ಮಾಮಾನ್ ಮಗಳೇ! ಮಣಿಕ್ ಕದವಮ್ ತಾಳ್ ತಿಱವಾಯ್*
ಮಾಮೀರ್! ಅವಳೈ ಎಳುಪ್ಪೀರೋ? ** ಉನ್ಮಗಳ್ ತಾನ್
ಊಮೈಯೋ?, ಅನ್ಱಿಚ್ ಶೆವಿಡೋ? ಅನಂದಲೋ?*
ಏಮಪ್ ಪೆರುಂತುಯಿಲ್ ಮಂದಿರಪ್ ಪಟ್ಟಾಳೋ?*
ಮಾಮಾಯನ್ ಮಾಧವನ್ ವೈಕುಂದನ್ ಎನ್ಱೆನ್ಱು*
ನಾಮಂ ಪಲವುಂ ನವಿನ್ಱೇಲೋರ್ ಎಮ್ಪಾವಾಯ್  (೯)
Thiruppavai Pasuram 9 Musical/Recitation
Thiruppavai Pasuram 9 Upanyasams
Tamil Upanyasams
HH 45th Srimath Azhagiyasingar


HH Thirukkudanthai Andavan


Sri U.Ve. Madhavachar

Oragadam Sri U.­Ve. Lakshmi Nar­asimhachariar

Sri U.Ve. Velukkudi Krishnan

Sri U.Ve. Kuruchi Narayanan

Sri U.Ve. M.V. Ananthapadmanabhachar

Sri U.Ve.M.A Venkatakrishnan

Sri U.Ve. P.B. Annangarachariar



Sri U.Ve. K.B. Devarajan

Sri U.Ve. E.S.Boovarahachar

Telugu Upanyasams
Sri U.Ve. Aachi Srinivasacharya

Sri U.Ve. Sribashyam Appalacharya

Sri U.Ve. Santhana Gopalacharya