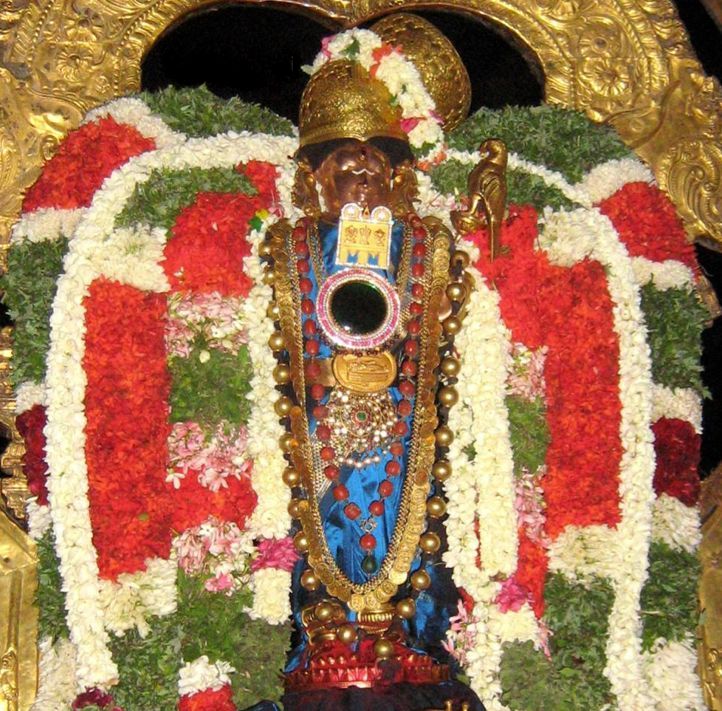 Today, December 27, 2016 is Day 12 of Margazhi masam. The twelfth pasuram of Thiruppavai, KanaithIllam Katruerumai, is to be recited today.
Margazhi month assumes special significance for Srivaishnavas. Lord Krishna in Bhagavad Gita says masanam margashirso aham (of months, I am Margazhi). Of the 12 sub-Vyuhas which are representative of the 12 months beginning from the Tamil month of Margazhi, Kesava is the lord for the month of Margazhi.
Most importantly, the month derives its auspiciousness primarily due to its association with ThiruppAvai. It was during Margazhi that Sri Andal observed the pious Pavai Nombu for Sriman Narayanan and composed the 30 pasurams of Thiruppavai for  the ujjeevanam (upliftment) of jeevatmas like us. Thiruppavai is very sacred and all our Acharyas have given commentaries on this prabhandam. The very fact that Swami Ramanuja was called 'ThiruppAvai Jeeyar' because of his deep attachment to this, illustrates the special place Thiruppavai had with Swami Ramanuja. In this Dhurmuki Varusham, the Margazhi month began on December 16, 2016.
For the benefit of Anudinam readers, we bring detailed Tamil commentary, musical recitation and detailed upanyasam audio by various vidwans (scholars) for each pasuram. It may be noted that the audio files are also available at www.sravanam.org
The following is an article about the twelfth pasuram (KanaithIllam Katruerumai)…
In this pasuram there is reference to a buffalo separated from its calf. When the mother thinks about its calf, milk pours out of its udders and makes the mud slushy. The girl being woken up is the younger sister of Krishna's close friend who is a wealthy person. Andal says that braving the dew-drops falling on their heads they have come to wake her up. She asks her to join them in singing the praises of the well-beloved SriRama the destroyer of Lanka's mighty king Ravana. They urge the girl to respond and join them in their Pavai Nonbu.
கனைத்திளங்கற்றெருமை, கன்றுக்கு இரங்கி*
நினைத்து முலை வழியே நின்று பால் சோர*
நனைத்தில்லம் சேறாக்கும் நற்செல்வன் தங்காய்!*
பனித்தலை வீழ நின் வாசற் கடை பற்றிச்**
சினத்தினால் தென்னிலங்கைக், கோமானைச் செற்ற*
மனத்துக்கினியானைப் பாடவும் நீ வாய் திறவாய்*
இனித்தான் எழுந்திராய் ஈதென்ன பேருறக்கம்!*
அனைத்தில்லத்தாரும் அறிந்தேலோரெம்பாவாய்  (௧௨)
kanaittiLangkaRRerumai, kanRukku irangki*
ninaittu mulai vazhiyE ninRu paal SOra*
nanaittillaM SERaakkum naRselvan tangkaay!*
panittalai vIzha nin vaaSaR kaDai paRRich**
Sinattinaal tennilangkaik, kOmaanaich SeRRa*
manattukkiniyaanaip paaDavum nI vaay tiRavaay*
inittaan ezhundiraay Idenna pEruRakkam!*
anaittillattaarum aRindElOrempaavaay  (12)
కనైత్తిళం కఱ్ఱెరుమై, కన్ఱుక్కు ఇరఙ్కి*
నినైత్తు ములై వళియే నిన్ఱు పాల్ శోర*
ననైత్తిల్లం శేఱాక్కుం నఱ్సెల్వన్ తఙ్కాయ్!*
పనిత్తలై వీళ నిన్ వాశఱ్ కడై పఱ్ఱిచ్**
శినత్తినాల్ తెన్నిలఙ్కైక్, కోమానైచ్ శెఱ్ఱ*
మనత్తుక్కినియానైప్ పాడవుం నీ వాయ్ తిఱవాయ్*
ఇనిత్తాన్ ఎళుందిరాయ్ ఈదెన్న పేరుఱక్కమ్!*
అనైత్తిల్లత్తారుం అఱిన్దేలోరెమ్పావాయ్  (౧౨)
ಕನೈತ್ತಿಳಂ ಕಱ್ಱೆರುಮೈ, ಕನ್ಱುಕ್ಕು ಇರಙ್ಕಿ*
ನಿನೈತ್ತು ಮುಲೈ ವಳಿಯೇ ನಿನ್ಱು ಪಾಲ್ ಶೋರ*
ನನೈತ್ತಿಲ್ಲಂ ಶೇಱಾಕ್ಕುಂ ನಱ್ಸೆಲ್ವನ್ ತಙ್ಕಾಯ್!*
ಪನಿತ್ತಲೈ ವೀಳ ನಿನ್ ವಾಶಱ್ ಕಡೈ ಪಱ್ಱಿಚ್**
ಶಿನತ್ತಿನಾಲ್ ತೆನ್ನಿಲಙ್ಕೈಕ್, ಕೋಮಾನೈಚ್ ಶೆಱ್ಱ*
ಮನತ್ತುಕ್ಕಿನಿಯಾನೈಪ್ ಪಾಡವುಂ ನೀ ವಾಯ್ ತಿಱವಾಯ್*
ಇನಿತ್ತಾನ್ ಎಳುಂದಿರಾಯ್ ಈದೆನ್ನ ಪೇರುಱಕ್ಕಮ್!*
ಅನೈತ್ತಿಲ್ಲತ್ತಾರುಂ ಅಱಿನ್ದೇಲೋರೆಮ್ಪಾವಾಯ್  (೧೨)
Thiruppavai Pasuram 12 Musical/Recitation
Thiruppavai Pasuram 12 Upanyasams
Tamil Upanyasams
HH 45th Srimath Azhagiyasingar
iframe src="https://w.soundcloud.com/player/?url=https%3A//api.soundcloud.com/tracks/119990349%3Fsecret_token%3Ds-RLnPi" height="166″ width="100%" frameborder="no" scrolling="no">


HH Thirukkudanthai Andavan


Sri U.Ve. Madhavachar

Oragadam Sri U.­Ve. Lakshmi Nar­asimhachariar

Sri U.Ve. Velukkudi Krishnan

Sri U.Ve. Kuruchi Narayanan
Sri U.Ve. M.V. Ananthapadmanabhachar

Sri U.Ve.M.A Venkatakrishnan

Sri U.Ve. P.B. Annangarachariar




Sri U.Ve. K.B. Devarajan

Sri U.Ve. E.S.Boovarahachar

Telugu Upanyasams
Sri U.Ve. Aachi Srinivasacharya

Sri U.Ve. Sribashyam Appalacharya

Sri U.Ve. Santhana Gopalacharya