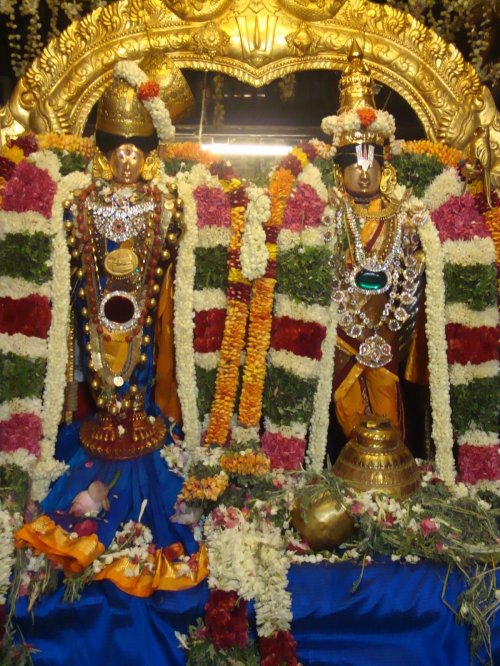 The thirteenth pasuram of Thiruppavai, Pullin Vay Keendanai, is to be recited today.
Margazhi month assumes special significance for Srivaishnavas. Lord Krishna in Bhagavad Gita says masanam margashirso aham (of months, I am Margazhi). Of the 12 sub-Vyuhas which are representative of the 12 months beginning from the Tamil month of Margazhi, Kesava is the lord for the month of Margazhi.
Most importantly, the month derives its auspiciousness primarily due to its association with ThiruppAvai. It was during Margazhi that Sri Andal observed the pious Pavai Nombu for Sriman Narayanan and composed the 30 pasurams of Thiruppavai for  the ujjeevanam (upliftment) of jeevatmas like us. Thiruppavai is very sacred and all our Acharyas have given commentaries on this prabhandam. The very fact that Swami Ramanuja was called 'ThiruppAvai Jeeyar' because of his deep attachment to this, illustrates the special place Thiruppavai had with Swami Ramanuja.
The following is an article about the thirteenth pasuram (Pullin Vay Keendanai)…
In this pasuram a gopi with beautiful eyes is woken up. Wake up to sing about the slayer of Bakasuran, of The One who pinched off the heads of the wicked rakshasa Ravana. Look at the skies, Jupiter has faded and, Venus is ascending. All the birds have flown out of their nests. Isn't it time for you to join us in Krishnanubhavam? SriVaishnavas do not enjoy Perumal alone. So wake up and let us enjoy Him together.
புள்ளின் வாய் கீண்டானைப், பொல்லா அரக்கனை*
கிள்ளிக் களைந்தானைக் கீர்த்திமை பாடிப் போய்ப்*
பிள்ளைகல் எல்லாரும் பாவைக் களம் புக்கார்*
வெள்ளி எழுந்து வியாழம் உறங்கிற்று**
புள்ளும் சிலம்பின காண், போதரிக் கண்ணினாய்!*
குள்ளக் குளிரக் குடைந்து நீராடாதே*
பள்ளிக் கிடத்தியோ? பாவாய்! நீ நன்னாளால்*
கள்ளம் தவிர்ந்து கலம்தேலோரெம்பாவாய்  (௧௩)
puLLin vaay kINDaanaip, pollaa arakkanai*
kiLLik kaLaindaanaikkIrttimai paaDip pOyp*
piLLaigal ellArum paavaik kaLam pukkaar*
veLLi ezhundu viyaaLam uRangkiRRu**
puLLum Silambina kaaN, pOdarik kaNNinaay!*
kuLLak kuLirak kuDaindu nIraaDaadE*
paLLik kiDattiyO? paavaay! nI nannaaLaal*
kaLLam tavirndu kalandElOrempaavaay  (13)
పుళ్ళిన్ వాయ్ కీణ్డానైప్, పొల్లా అరక్కనై*
కిళ్ళిక్ కళైన్దానైక్కీర్త్తిమై పాడిప్ పోయ్ప్*
పిళ్ళైగల్ ఎల్లారుం పావైక్ కళం పుక్కార్*
వెళ్ళి ఎళున్దు వియాళం ఉఱఙ్కిఱ్ఱు**
పుళ్ళుం శిలమ్బిన కాణ్, పోదరిక్ కణ్ణినాయ్!*
కుళ్ళక్ కుళిరక్ కుడైందు నీరాడాదే*
పళ్ళిక్ కిడత్తియో? పావాయ్! నీ నన్నాళాల్*
కళ్ళం తవిర్న్దు కలందేలోరెమ్పావాయ్  (౧౩)
ಪುಳ್ಳಿನ್ ವಾಯ್ ಕೀಣ್ಡಾನೈಪ್, ಪೊಲ್ಲಾ ಅರಕ್ಕನೈ*
ಕಿಳ್ಳಿಕ್ ಕಳೈನ್ದಾನೈಕ್ಕೀರ್ತ್ತಿಮೈ ಪಾಡಿಪ್ ಪೋಯ್ಪ್*
ಪಿಳ್ಳೈಗಲ್ ಎಲ್ಲಾರುಂ ಪಾವೈಕ್ ಕಳಂ ಪುಕ್ಕಾರ್*
ವೆಳ್ಳಿ ಎಳುನ್ದು ವಿಯಾಳಂ ಉಱಙ್ಕಿಱ್ಱು**
ಪುಳ್ಳುಂ ಶಿಲಮ್ಬಿನ ಕಾಣ್, ಪೋದರಿಕ್ ಕಣ್ಣಿನಾಯ್!*
ಕುಳ್ಳಕ್ ಕುಳಿರಕ್ ಕುಡೈಂದು ನೀರಾಡಾದೇ*
ಪಳ್ಳಿಕ್ ಕಿಡತ್ತಿಯೋ? ಪಾವಾಯ್! ನೀ ನನ್ನಾಳಾಲ್*
ಕಳ್ಳಂ ತವಿರ್ನ್ದು ಕಲಂದೇಲೋರೆಮ್ಪಾವಾಯ್  (೧೩)
Courtesy: Smt Vyjayanthi Rajan