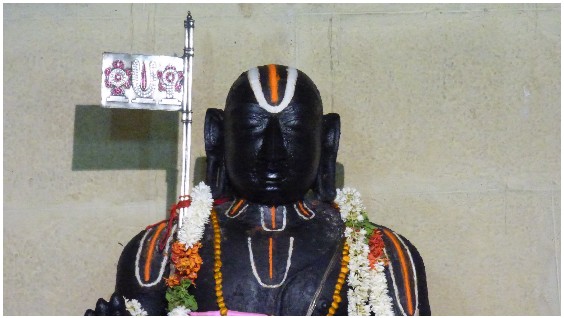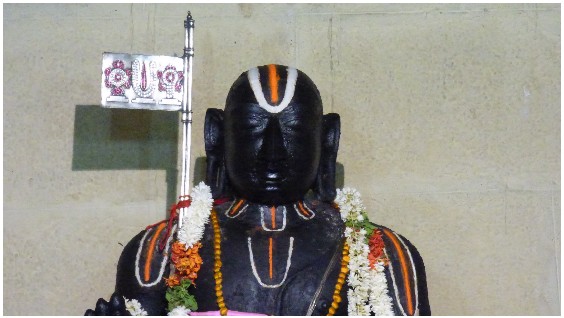 Avatharam and Early years
Thousand years ago in a small village called SriPerumpudur lived a devoted srivaishnava couple – Aasuri Kesava perumal and Bhumi piratti who lived their life in the dharmic mode. Being childless they prayed at Parthasarathi temple in Tiruvallikeni and were blessed with an exceptional son in the Tamil year Pingala in the month of Chitra under the nakshatram-Tiruvadhirai.
Sri Alavandar's shishya Srisailapoorna (Periya Tirumalai nambi) had two sisters – Bhumi piratti and Periya piratti. Periya piratti was married to Kamalanatha Bhattar of Maduramangalam and Bhumipiratti to Aasuri Kesavaperumal of Sriperumpudur. Periya Tirumalai nambi came to Sriperumpudur to see his nephew and was thoroughly delighted for he saw no ordinary child. This baby was divine and bore resemblance to Lakshmana. So he was named Ramanuja (younger brother of Rama) and Ilayazhwar. In the Tamil year Kurodhan a boy was born to the Maduramangalam couple. Periya Tirumalai nambi named this nephew Govindan. All the samskaras like annaprasanam, choulam, aksharabhyasam and upanayanam were performed at the proper age. Ramanuja did 'vedha adhyayanam' (learning the vedas) and proved to be of extraordinary intelligence. At the age of sixteen he entered grihasthasrama by marrying Rakshambal He then went to Kanchipuram to study Vedantha under the tutlege of Yadavaprakasa a well known advaithic scholar. Govindan also joined him. Tiruputtkuzhi and the area near KarimanikaVaradan sannidhi in Varadaraja Perumal koil were the places where classes took place.
At the gurukulam Ramanuja was not convinced with Yadavaprakasa's interpretation of 'satyam, gnanam, anantham' in the upanishads. Again when Ramanuja was giving his guru an oil-massage he was explaining 'kaapyasam pundarikaksham'. The comparison of Perumal's eyes with the derriere of a monkey pained Ramanuja and brought tears in his eyes and they fell on the teacher. Yadava prakasa wanted to know the reason and Ramanuja explained that the low comparison pained him. Ramanuja then went on to explain that Perumal's Eyes were compared to a lotus which blooms at sunrise.
Yadava prakasa felt threatened by Ramanuja and hatched a plot to kill him. A pilgrimage was planned to Kasi and there was a scheme to do away with Ramanuja. Somehow Govinda got to know of this and asked Ramanuja to escape. Inorder to ward off suspicion Govinda joined Yadava prakasa's group. Ramanuja thus found himself alone in the dense forests of The Vindhyas perplexed and lost. Night had fallen and an eerie silence surrounded the place. As Ramanuja leaned on a tree not knowing what to do he spied a hunter couple and approached them. They belonged to the Vindhya region and were on their way to Kanchipuram. They asked Ramanuja to accompany them. At night Ramanuja heard the hunter's wife ask her husband for water to quench her thirst. Ramanuja got up early morning and brought water for the couple who showed him the 'punyakoti-vimanam' and disappeared from sight. Ramanuja realized that this was no ordinary couple. The 'Divine-Duo' Varadan and Perundevi Thayar had rescued him. This realization made him lose consciousness. After gaining consciousness he went to the temple to have darsan of Perundevi Thayar and Perarulalan. From that day onwards well which is known as salai kinaru for Perumal.
Yadavaprakasa and his group searched for Ramanuja and concluded that he was devoured by some wild animal and proceeded to Benares feigning grief. While bathing in the Ganga Govinda found a shivalingam and on the advise of his guru  started worship everyday. The troupe while returning to Kanchi visited several holy places. Govinda decided o stay back at Kalahasthi and worship Shiva.
When Yadavaprakasa reached Kanchi he was in for a surprise – Ramanuja who they had assumed dead was doing 'Theertha-kainkaryam" for Varadan. Ramanuja told his guru about the hunter couple who brought him back safely to Kanchi. Realizing that Ramanuja was not only intelligent but also blessed, Yadavaprakasa invited him to study Vedantha.
News of Ramanuja's prowess, intellect and the manner in which he was protected by Perarulalan and Perundevi Thayar reached the ears of Sri Alavandar who resided in Srirangam. Wishing to see Ramanuja he came to Kanchipuram via Tirukovilur and after worshipping Perundevi Thayar and Varadan as he was doing pradakshinam along the madapalli prakaram he saw Yadavaprakasa and his shishyas near 'Karimaanika varadar sannidhi.' Tirukkacchi nambi (Kanchipurna) pointed out to a tall, fair youth full of tejas and showed Ramanuja to Sri Alavandar. Alavandar bestowed his benevolent kataksham on the youth and prayed to Perundevi and Perarulalan to make Ramanuja the beacon of Srivishistadvaitha sampradaya. He however did not talk to Ramanuja and returned to Srirangam. This madapalli prakaram is now known as 'Alavandar Tiruchuttru'.
At Kanchi while Ramanuja was still under the tutelage of Yadavaprakasa there arose a situation whence Ramanuja accompanied his teacher who had been summoned by the king ruling Kanchi at that time to see his child who was possessed by a brahmarakshas. The brahmaraksas on seeing Yadavaprakasa laughed loudly and refused to leave unless he was commanded by Ramanuja. The brahmarakshas then revealed the 'poorvajanma' of Yadavaprakasa. In his previous birth Yadavaprakasa was a 'udumbu' ( monitor lizard) who lived on a shady tree in Madurantakam. One day a group of srivaishnavas on their way to Tirumala after taking their bath in the Madurantakam lake and after completing their anushtanam offered food to Perumal sat under this tree and had their lunch. After they left the monitor lizard ate the scattered remnants. As a result of having Srivaishnava prasadam he was born as a brahmana teacher of repute in Kanchipuram. Ramanuja requested the brahmarakshas to leave and the king's child was relieved. Once again a difference of opinion arose between the teacher and Ramanuja about the upanishad 'sarvam kalu idam brahmam'. Yadavaprakasa flew into a rage and asked Ramanuja to leave his class for good. On the advise of his mother Ramanuja got involved in kainkaryams (service) at Perumal koil.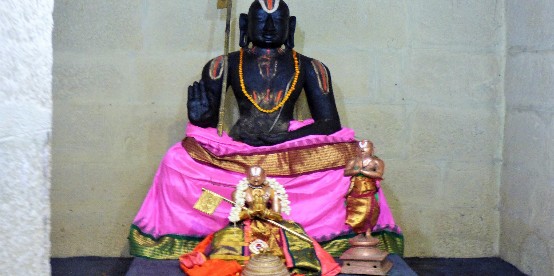 (to be continued….)
Write – up: Smt Vyjayanthi Rajan