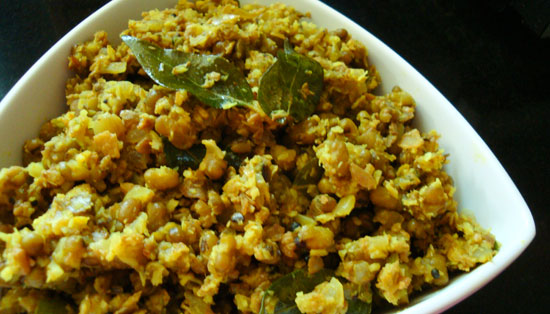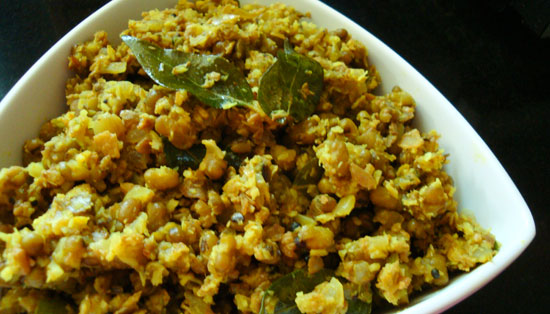 In Kerala, both banana and coconut plant is used at its maximum. Whether fruit, leaves, root, anything from both plants is used. After I made Banana chips, I kept the banana skin in my refrigerator. The next day I made this thoran for lunch.
Ingredients:
Nendran Banana skin (finely chopped) – 4 cups
Moong dal – ¼ cup
Grated coconut – ¼ cup
Grated ginger – 1 tsp
Green chillies – 5 nos
Cumin seeds (Jeerakam) – ¼ tsp
Turmeric powder – ½ tsp
Dry red chillies– 2 nos (broken into pieces)
Coconut oil – 3 tbsp
Mustard seeds – 1 tsp
Curry leaves – A few
Salt – to taste
Method:
Wash the chopped banana skin and keep aside.
 Wash the Moong dal well and cook it separately in a pressure cooker. Make sure you don't overcook it. Drain the extra water from the dal. We need a thick dal only.
Place together the grated coconut, green chillies, turmeric powder, ginger, curry leaves and cumin seeds in a mixer bowl and run it once to make it into a coarse form.
Mix together the finely chopped plantain skin, the coconut mixture, turmeric powder and salt.
Heat a oil in a pan. Splutter mustard seeds and sauté dry red chillies, and curry leaves.
Add the plantain skin-coconut mixture and mix well. Cover and cook for about five minutes on a low flame.
Remove the lid and add the cooked moong dal and mix well. Continue cooking, till done.
Source: Sadhana's kitchen
General guidelines for healthier food for both body and mind:
One should be thinking about Perumal (Nama Smaranam) while cooking, and the purpose should be to offer the preparation to Him.
Once the food is prepared, it should be offered to Perumal first. While offering, one should make sure that the food is neither too hot nor cold. It should be offered with love and affection.
Please do not offer either pre-cooked food bought from outside or any pre-consumed food.
Please follow thiruvaradanam kramam as instructed by your respective acharya. (http://anudinam.org/2012/03/08/bhagavad-tiruvaradhanam/)
Follow ahara niyamam as much as possible. Atleast make sure that onion and garlic are not used at all.(http://anudinam.org/2012/06/11/srivaishnava-ahara-niyamam/)
Please ensure that food which are not prasadams are not consumed.