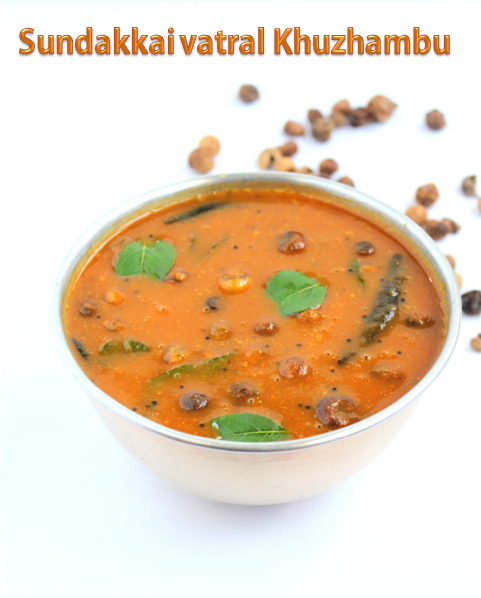 Ingredients
One handful of Sundakkai vatral
One gooseberry size Tamarind
2tbs of Sambhar Powder
3tbs of Gingelly Oil
A pinch of Turmeric powder
One tsp of Powdered Jaggery
Salt to taste
One tsp of Mustard seeds
One tsp Tur dhal
Half tsp Fenugreek seeds
Few Curry Leaves
Few Red Chillies
One tsp of Rice Flour
Method
Soak Tamarind in hot water for half to one hour.Extract the pulp three times adding water.
Heat Oil in a Thick sauce pan crackle mustard seeds,add fenugreek,turdhal and red chillies.
Add curry leaves,asafoetida and the sundaikkai vatral and fry till crisp and dark in colour.
Add the Tamarind pulp and allow it to boil.Add salt,turmeric and sambhar powder.
Let it boil till it thickens.dissolve one tsp of rice flour in little water and add to the kozhambu.
Notes
Adding jaggery is purely optional.If you are adding add it once it thickens.
Using gingelly oil is important to get the best taste of the kozhambu.
You can use vathakozhambu powder instead of sambhar powder.
Thanks to Jaya's Recipes
General guidelines for healthier food – Both body and mind:

One should be thinking about Perumal (Nama Smaranam) while cooking, and the purpose should be to offer the preparation to Him.
Once the food is prepared, it should be offered to Perumal first. While offering, one should make sure that the food is neither too hot nor cold. It should be offered with love and affection.
Please do not offer either pre-cooked food bought from outside or any pre-consumed food.
Please follow thiruvaradanam kramam as instructed by your respective acharya. (http://anudinam.org/2012/03/08/bhagavad-tiruvaradhanam/)
Follow ahara niyamam as much as possible. Atleast make sure that onion and garlic are not used at all.(http://anudinam.org/2012/06/11/srivaishnava-ahara-niyamam/)
Please ensure that food which are not prasadams are not consumed.