Periya Nambhi took avatharam at Srirangam in the Tamil year Hevilambhi (998AD) in the month of Margazhi under the constellation Jyesta (Kettai) Margazhi Kettai .He was an amsam of Kumudhakshara a Nityasuri. .He was known as Mahapoorna, Paranakusadasar and Purnacharyar.  He was the shishya of Alavandar and the acharya of Ramanujacharya. He was full of atmagunas and played a major role in the establishing SriVaishnavam on a firm footing. It was to Him that Alavandar who was about to shed his mortal coils entrusted the mission of bringing Ramanuja to SriRangam. Periya Nambi left atonce and found Ramanuja at the Salai Kinaru getting water for Varadaraja Perumal's Tirumanjanam. Periya Nambi started reciting the "Stotra Ratna" of His guru Alavandar. Hearing the exquisite verses Ramanujacharya stood transfixed. He prostrated Periya Nambi and expressed his desire to know about the creator of these verses. Periya Nambi revealed that Alavandar His guru was the composer and he had come to summon Ramanuja to SriRangam at the behest of His acharya. Ramanujacharya immediately accompanied Him but could only have darshan of Alavandar's charama tirumeni (mortal remains).
Ramanuja left for Kanchipuram without having darshan of Ranganatha. It was again Periya Nambi who was asked by the shishyas of Alavandar to bring Ramanuja to SriRangam and anoint him as Alavandar's successor. Periya Nambi and His wife proceeded to Kanchipuram from SriRangam. Meanwhile Varadaraja Perumal instructed Ramanujacharya through Tirukachi Nambi to take Mahapoorna as his acharya. Wasting no time Ramanujacharya started for SriRangam .It so happened that Periya Nambi met Ramanujacharya at Madhurantakam. It was the Tamil month of Avani, a Sukla Panchami day. Ramanujacharya asked Periya Nambi to do samashrayanam for him, he wanted it done immediately. Ramanujacharya wanted no delay as he did not want to postpone this important samskaram .So it was that Periya Nambi did Panchasamskaram to Ramanjacharya under a Vakula(Magizha) tree. We can still worship the Shankhu Chakra emblems that adorned none other than Ramanujacharya here. Maduranthakam has thus acquired the fame as The Tirupathi that nurtured the Dwayam. Dwayam is  known as Mantra Ratnam, Vishnu Puranam as Purana Ratnam and Alavandar's stotram as Stotra Ratnam. In Madurantakam  we can see Ramanuja as a grihastha along with his acharya. This holiest of holy days is commemorated every Avani Shukla Panchami and one should make a sankalpam to be part of the divine ceremony which is enacted every year reminding us about the greatness of samashrayanam.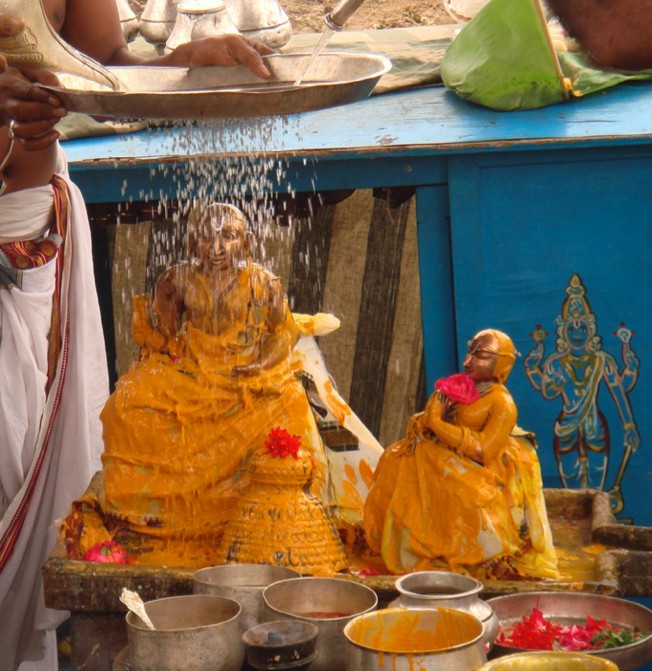 Having performed samashrayanam Periya Nambi and His devigal proceeded to Kanchipuram  to Ramanuja's Tirumaligai (residence) to impart rahasyarthams to Ramanuja .Unfortunately a tiff aroused between Rakshambal (Ramanuja's devigal) and Periya Nambu's devigal. Periya Nambi was saddened and left for SriRangam without informing Ramanuja. This was one of the three incidents which was responsible for Ramanuja taking sanyasam.
Ramanuja moved to SriRangam as Alavandar's successor. Though Periya Nambi was Ramanuja's acharya, He venerated Ramanuja and even prostrated before Ramanuja. When asked the reason He said He saw His acharya Alavandar in Ramanuja. Even for mundane problems He looked upto Ramanuja. When His daughter Atthuzhai came to her father with her domestic problems He directed her to Ramanuja.
There was a disciple of Alavandar named Maraneri Nambi who belonged to the lower caste. When Maraneri Nambi shed his mortal coils it was Periya Nambi who performed his antima samskaras(funeral rites). Outraged by this act the local Srivaishnavas boycotted Him and took up the matter with Ramanuja. When questioned by Ramanuja  He replied that His act was in accordance with the Tiruvullam of Azhwars and He was definitely not superior to SriRamachandra who performed the last rites for Jatayu.
The ultimate service He did to SriVaishnavam was the mission He undertook with Kurathazhwan to the court of Kirmikanta Chozan. Kirmikanta Chozhan summoned Ramanuja to his court to sign a letter that said Shiva was the Ultimate. Kurathazhwan on knowing this exchanged his white clothes for Ramanuja's saffron robes and set forth for the king's court in the company of Periya Nambi. When the duo refused to acknowledge their eyes were ordered to be gorged out. Periya Nambi was at the ripe old age of 105 at that time. Unable to bear the torture He shed His mortal coils  in Chozha territory itself. When His daughter told Him that SriRangam was not far away and they should reach there Periya Nambi made a very important fact that is to be noted by all Prappanas.: The place where a Srivaishnava lives always thinking of Perumal becomes Sri Vaikuntam itself. Shedding one's mortal coils in a Divya Desam is not essential for a Prappanan.  Inorder to reveal this Truth  Periya Nambi attained Paramapadham at Pasupathikoil itself. Let us remember this Mahaan who practiced what Ramanuja preached and chant Swami Desikan's tribute in Yathiraja Sapthathi:
 Daya nignam Yatheendrasya Desikam Poornam Ashraye
Yena Vishvasruja Vishnor Apooryatha Manoratha
 Write Up By : Smt Vyjayanthi Sundararajan