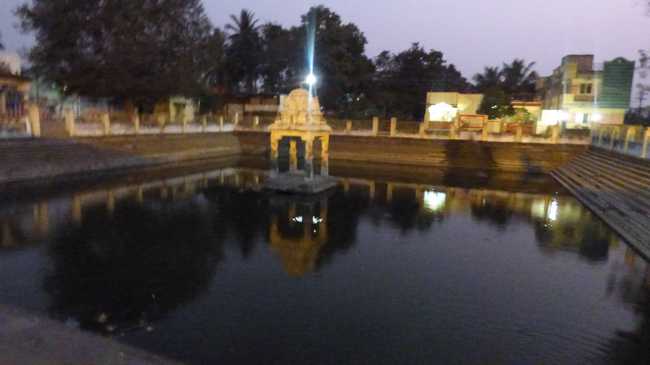 Who has not been moved by the valiant fight Jatayu put up with Ravana when he abducted Seetha and was taking Her to Lanka? When Seetha-Rama and Lakshmana came to the forest (vanavasam) a vulture king by name Jatayu introduced himself as Dasaratha's friend and voluntarily offered to take care of Seetha when She was alone. It so happened that Seetha one day spotted a golden deer and sent Rama and later on Lakshmana to save Rama. Ravana made use of this opportunity and seized Seetha. Jatayu heard Her cries and fought Ravana fully knowing he was no match for him. Ravana cut his wings and the brave bird fell down helplessly. Seetha caressed Jatayu and the bird kept saying "Rama-Rama" so that Rama and Lakshamana would follow the sound and reach the spot. Jatayu conveyed the message to Rama and departed. Overcome with grief Rama cremated Jatayu and did all the final rites considering him as his father.
The Father of the Universe made a bird His father and granted him moksham. The spot where this incident took place is said to Takheth near Nasik but there are several spots in India connected with Jatayu moksham and probably the happenings were revealed to some devotee or rishi. Lepakshi in Andhra and Kollam district in Kerala claim to be the spot where this incident took place.
Among the 108 divyadesams itself Tiruputtkuzhi in Kanchipuram and Pullumbhuthamgudi near Kumbakkonam are associated with Jatayu moksham. Tiruputkuzhi lies 12 km west of Kanchipuram on the Chennai Bangalore Highway close to Balu Chetty Chatram. One can take a bus from Kanchipuram bus stand going to Vellore and get down at Balu Chetty Chatram.
Perumal is Vijayaraghavan and Thayar is Maragathavalli. Vijayarahava Perumal is seated with Jatayu on His Lap flanked by Bhudevi and Sridevi. But Sridevi and Bhudevi have swapped positions and Sridevi's Tirumukhamandalam is slanted as She cannot bear the smell coming out of the pyre. So to Perumal's right is Bhu devi and to His left we have Sridevi. Maragathavalli Thayar sannidhi is also to the left of Perumal sannidhi.
This Perumal has been addressed as 'Poreru' by the azhwars and as 'Ranapungava', 'Ahavapungava' and 'Samarapungava' by swami Desikan in "Sri Paramartha Sthuthi." All these epithets mean the supreme hero in war. However greatness is combined with goodness in SriRama. Vijayaraghava – the ever Victorious scion of the Raghu Race offers 'abhaya' to any seeker be it an animal, a bird, a human, a rakshasa(Vibhishana) and even Ravana would be protected if he surrendered.
Merciful Piratti who goes by the name Maragathavalli is reknowned for blessing the childless. On a new-moon day women obtain a fried green gram(payaru) from the madapalli and after taking a dip in Jatayu Theertham tie it at the end of their saree (thallapu) and sleep within the temple premises. The gram sprouts in many instances the next morning and many have been blessed with kids after this.
Another uniqueness of this temple is the 'kudhirai vahanam'(horse mount). It appears so real that one feels Perumal is actually riding a horse. The story goes that the master craftsman would not make another vahanam for any other deity. Vijayaraghava the epitome of gratitude visits the home of the vahanam maker when He goes in purappadu.
At the entrance of the temple we spot a pushkarni which is called Jatayu Theertham. SriRama aimed His arrows on earth and waters from holy rivers rose up to bathe Jatayu. This formed a pit(kuzhi) filled with water. Since this kuzhi was for a 'pul' (bird) the place got the name Tiruputtkuzhi. There is a sannidhi for Jatayu on the banks of the pushkarni. Vijayaraghava visits this sannidhi before proceeding in 'purappadu'.
Tiruputkuzhi was the place where Bhaghavadh Ramanuja studied under Yadavaprakasa. Swami Desikan's Sudarasanashtakam and Shodasayudha stotram are believed to have been created when there was an epidemic in Tiruputtkuzhi. The place around the temple must have been a sprawling agraharam during those times.
The temple has sannidhis for Azhwars, Andal, Bhaghavadh Ramanuja and Swami Desikan and is neatly maintained with colourful kolams painted on the floors. Pilgrims visiting Kanchipuram should plan a visit to this holy place and be blessed.
Photos & Videos: Sri Sundararajan & Write – up: Smt Vyjayanthi Rajan