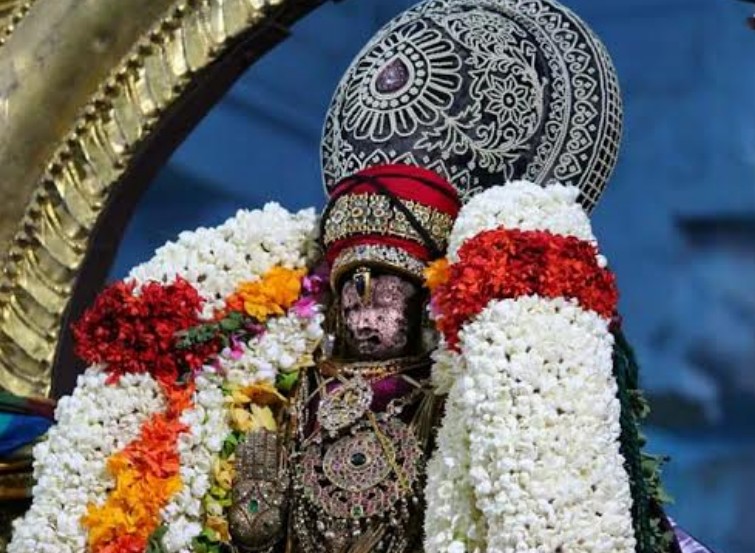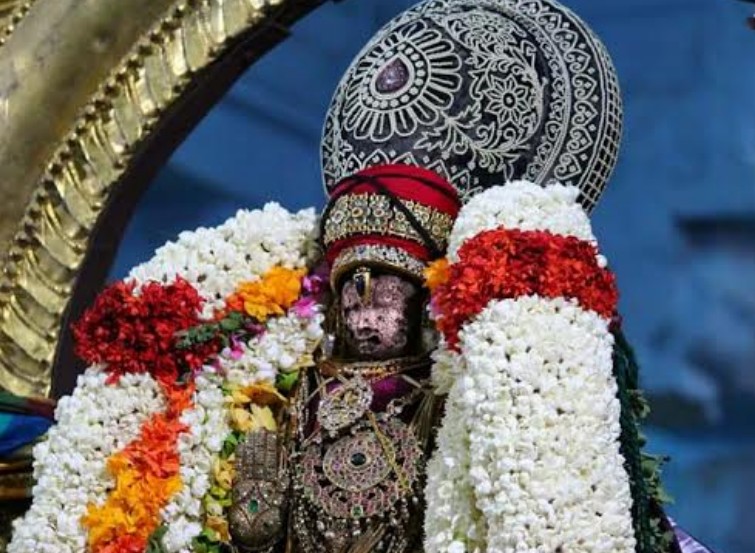 Durmukhi Aani Swathi (July 13th 2016)Varadaraja Perumal came on His Garuda mount to bless Periazhwar and his sons and daughters(us). He mounted on Garuda clad in yellow silk with broad red border. Incidentally Aani Swathi happens to be Vainatheya Jayanthi. Vainatheya is another name for Garudazhwar. He is 'Vedatma' the soul of the Vedas. Kanchi Varadan's Vaikasi Garudasevai takes place on Nammazhwar Tirunakshatram, Vaikasi Visakham. Ani Garudan takes place on Periazhwar Tirunakshatram, Aani Swathi. Vishnuchitha was sent by Srivilliputhur Vatapatrasayee to Madurai to do 'Paratatva nishkarshanam.' The Pandian king had invited scholars of repute from far and wide to establish 'The Supreme Truth'. Periazhwar showed that 'Perumal and Piratti' together constitute 'Paratvam'. His arguments were logical and accepted by the king. Vishnuchitha was awarded the golden parrot and taken in a procession along the streets of Madurai. Perumal and Piraati eager to see Their devotee came along on Garuda. On spotting the 'Divya Dampatis' Vishnuchitha was mesmerised by Their Soundaryam and sang 'pallandu'. A 'Deva Perumal dressed in a green vastram with colourful designs all over emeged with a similar cloth put up like wings at the back on Garudazhwar. The devotees of Kanchi sang 'pallandu'(silently) for their beloved Varadan, for Garudazhwar, for the Bhattars, for the Veda parayana goshti, for the arulicheyal goshti, for the musicians, lamp holders, the temple horse and for the hundreds of kainkaryaparas like the garland makers, the kolam makers etc.
After ascending the Garuda vahanam Perumal does not take the usual purappadu route but goes around 'Azhwar Tiruchutru' to show His Garuda vahana Tirukolam to Periazhwar. He blesses the residents and visitors on Sannidhi Street and the Mada veedhis before returning to vahana mandapam where the purappadu ends with Arulicheyal and Veda parayanam. As the screen was drawn everybody felt relieved for the safe return of Varadan and His parivaram.
Durmukhi Aani Swathi (July13th 2016) Periazhwar Tirunakshatram was celebrated with grandeur at Kanchi Varadaraja Perumal koil.
Actually the celebrations are for ten days. Periazhwar is adorned with different alankarams and sevakalam takes place in the morning and at night. Periazhwar is housed in Sri Bashyakara sannidhi. attention by his slender tirumeni.
At about 4.00pm on Aani Swathi day vishesha tirumanjanam took place for Periazhwar. He was first garlanded with jasmines followed by a thick garland of roses. The tirumanjanam began with water followed by milk, curds, honey, raw coconut water, sandal paste etc. Sahasradhara tirumanjanam was a delight to behold and the kattiyam was a treat for the ears. After alankaram Periazhwar looked amazing in the aaru varthai malai and waited for Varadan's arrival. Varadan makes sure He attends the tirunakshatram of every azhwar and acharya.
Varadan came on Garuda vahanam along Azhwar Tiruchutru to let Periazhwar see His Form and to hear his 'pallandu'. After this He did purapadu on the Mada veedhis and returned by 8.30p.m. After dismounting from Garuda Deva Perumal proceeded to Periazhwar sannidhi housed inside Bhaghavadh Bashyakarar Sannidhi to the accompaniment of music and fireworks.
Periazhwar received Varadan and 'kshema-thaligai' was offered. The festivities commenced afterwards and concluded late night.
The following are the photos taken during the occasion:
Photos: Sri Krishna Durai, Sri AS Santhosh, Write – up: Smt Vyjayanthi Rajan