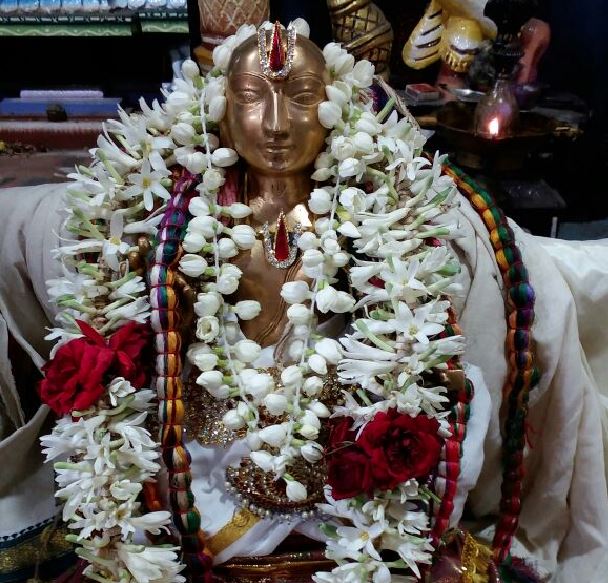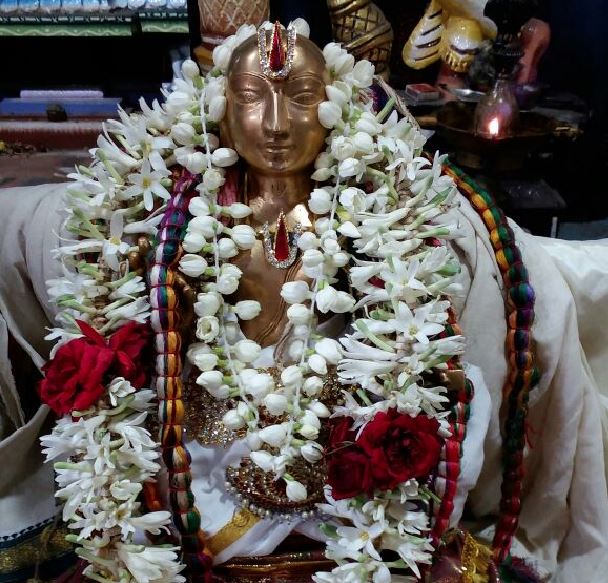 Swami Desikan's 748th thirunakshatra uthsavam was celebrated in a befitting manner at Mani Mandapam, Villivakkam, Chennai. The Uthsavam was conducted with fervour as guided by Sri Seva Swamy with additional features this year. The 10-day long uthsavam was a grand affair with vishesha aradhanam, veda, prabhanda, Desika srirookthi parayanam, laksharchanai, upanyasam, mangalasasanam and sattrumurai, vahana purppadu and so on.
Swami Desikan thirunakshatra uthsavam had started with veda, prabhanda parayanam with visesha aradhanam on the morning of Oct 2, 2016. As the uthsavam coincided with Navarathri celebrations, the evening session had sangeetha aradhanam on all days. Many prasadams were prepared and distributed to sevarthis who turned in large numbers every day.
There were special occasions during some of the uthsavam days. On Oct 7, 2016 Srimad Aadhivan Satagopa Yateendra Mahadesikan's thirunakshatra uthsavam was performed in a grand manner with acharya sambhavanai. Similarly on Oct 9, 2016 Sri Thirukudandhai Desikan thirunakshatra uthsavam was conducted in a befitting manner. Goshti sambhavanai was given to bhagavathas on both the occasions.
Adding to the glory of Swami Desikan Uthsavam, Navarathri celebrations witnessed musical feast on all days. Reputed singers, instrument players, upcoming artistes graced the occasions and offered their sangeetha aradhanams with devotion. Singers like Sri Gururmurthy, Sri Hyderabad Siva enthralled the audience with their performances. On each day, upcoming artistes performed with devotion.  On the day of Saraswati Pooja (Oct 10, 2016), special laksharchanai was performed for Sri Ananda Lakshmi Thayar. The laksharchanai was done with different flowers and chanting of lakshmi sahasra namavali by many devotees.
The last three days were unique during this year as for the first time vahana purappadu was arranged on all these days. On Oct 9, 2016 Swami desikan had thiruveedhi purappadu in Hamsa vahanam, followed by Yanai vahanam on Oct 10, 2016. On sattrumurai day,  guthirai vahanam was arranged.
The concluding day witnessed grand celebrations. In the morning, mangalasasana uthsavam was performed as guided by Sri Seva Swamy. Swami Desikan's divya mangala vigraham was placed opposite to divya dhampathis and slokas from his stotras on different divyadesams / deities / acharyas were chanted with anugraha maalai from each divyadesam to Swami. The mangalasasanam started with Srirangam and ended with Appullar. Theertha prasadams were distributed after mangalasasanam.
During the mangalasasana uthsavam, Dayasathakam with a short commentary by Smt. Amirthavalli Sadagopan was released. The commentary is based on Sri N.S. Rajagopalachariar's discourse in mani mandapam.
Thirumanjam was performed in the afternoon for deities / acharyas. With chanting of taitareeya upanishad and purusha suktham, the session was adding colour to the already divine atmosphere. The fusion music in the evening (Oct 11, 2016) by Sri Raghuraman (violin) and Sri R.S. Jagannathan (Flute), Sri Murthy (Veena) with their group was a musical feast electrifying the atmosphere.
With purappadu and pathi-ulathal, the grand celebrations concluded with sattrumurai. Suitable Sambhavanai to Veda, Prabhanda, kainkarya goshti was given during sattrumurai. The uthsavam concluded with theertha prasadams to devotees.
These are some of the photos taken during the occasion…
Courtesy : Sri Gandamani NS