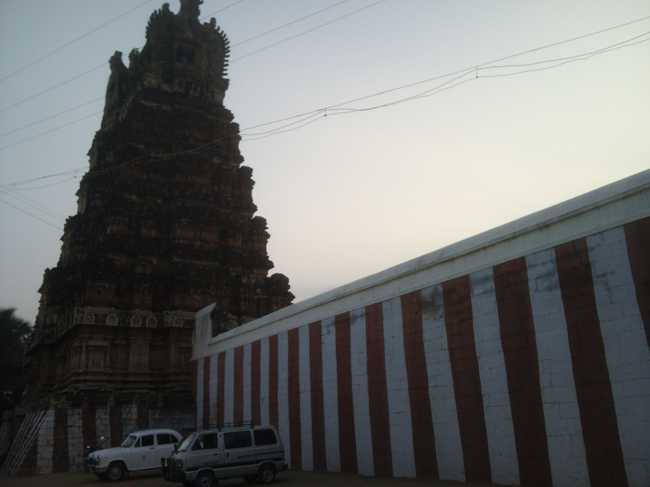 Here is a writeup of Stalapuranam about Thirukurungudi, one among the 108 Divya Desams, written by Sri U.Ve.Vidwan Egai VedantaDesika Thatacharya Swami
Thirukurungudi Divyadesam is located about 40kms from Tirunelveli (and about 15kms from Nanguneri) off the Nagercoil highway at the foot of the Mahendra hill on the Western Ghat. The Lord here is seen 5 different Kolams- Ninra Kolam, Iruntha Kolam, Sayana(Sleeping) Kolam, Thirupaarkadal Nambi and Thirumalai Nambi(on top of the Mahendra hill). While Lord Narayana, at Badri, lectured Ramanuja, at Thirukurungkudi, he took the role of a disciple and obtained Vaishnava Initiation from Ramanuja. Hence the Lord here is called Vaishnava Nambi.
The Lord here has 39 different names including Kurungkudi Nambi, Tirupparkadal Nambi and Malai Mel Nambi. Lord Nambi answered the prayers of a childless couple and was born as Nammazhvaar at Azhvaar Thirunagari.
Quick Facts
Moolavar :Ninra Nambi, Kurungudi Nambi, Vaishnava Nambi East Facing Standing Posture
Thaayar  : Kurungkudi Valli
Azhvaar : Peri Azhvaar (1), Thirumazhisai Azhvaar(1), Thirumangai Azhvaar (25) and NamAzhvaar(13)
Temple Timing : 8am-12noon and 5pm-9pm
Priest Contact : N.Krishnan( Murali) Bhattar@ 94432 05739
Festivals
Onam is celebrated in this Divya Desam
Garuda Sevai on the 5th day of Panguni is a special occasion
Kaisika Ekadesi is one of the big highlights at this temple
How to reach Thiru Kurungkudi
It is best to take a train and get down at Valliyoor- about 40 kms from Tirunelveli – Kanniyakumari Express and Ananthapuri Express stop at Valliyoor. From here, one can reach Thirukurungkudi in 20 minutes by taking the Papanasam bound bus. One can also take a bus(infrequent service) from Nanguneri, but this is not recommended.
By car, one can reach Thirukurungudi in 45 minutes from Tirunelveli.