Srimad Andavan Poundarikapuram Swami Mangalasasanam At Bangalore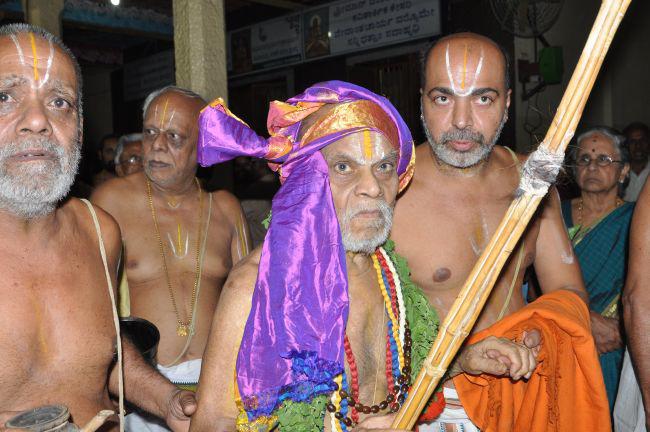 Srimad Andavan Poundarikapuram Swami performed Mangalasasanam at Bangalore Sri Venugopalaswami Temple. On March 18th 2016, in the evening Srimad Andavan received Poorna Kumbha Mariyadhai at the entrance of the temple and performed mangalasasanam. Then Srimad Andavan witnessed the Pushpa Yagam for Utsavar Sri Venugopala swami and received theertham and satari. Many Bakthas participated in the mangalasasanam and Pushpa Yagam and received the blessings of Divyadampathis and Srimad Andavan.
18th  mar 16 அன்று ஸ்ரீமத் பவுண்ட்ரிகபுரம் ஆச்சார்ய ஸ்வாமிகள், பெங்களூர் ஸ்ரீ வேணுகோபால ஸ்வாமி திருகோயிலில் எழுந்தருளியிருக்கும் ஸ்ரீ வேணுகோபால ஸ்வாமியை மங்களாசாசனம் செய்தருளினார். முன்னதாக தலைமை அர்ச்சகர் ஸ்ரீ ஆச்சார்ய ஸ்வாமிகளை பூர்ண கும்ப மரியாதையுடன் வரவேற்று, மூலஸ்தானத்தில் அர்ச்சனை ஆரத்தியுடன் ஸ்வாமிக்கு சடாரி சமர்பித்தார்.
ஸ்ரீ ஸ்வாமி எழுந்தருளிய விசேஷ நன்னாளில் உற்சவர் ஆச்சர்யமாக புஷ்பயாகம் செய்துக்கொண்டு திரளான சேவார்த்திகளை அனுக்ரஹித்து கொண்டிருந்தார். ஸ்ரீ ஆச்சார்ய ஸ்வாமிகளும் புஷ்பயாகத்தில் கலந்துக்கொண்டு பெருமாளுடன் சேர்ந்து சேவார்த்திகளை  அனுக்ரஹித்தருளினார்.
The following are the photos taken during the Utsavam: