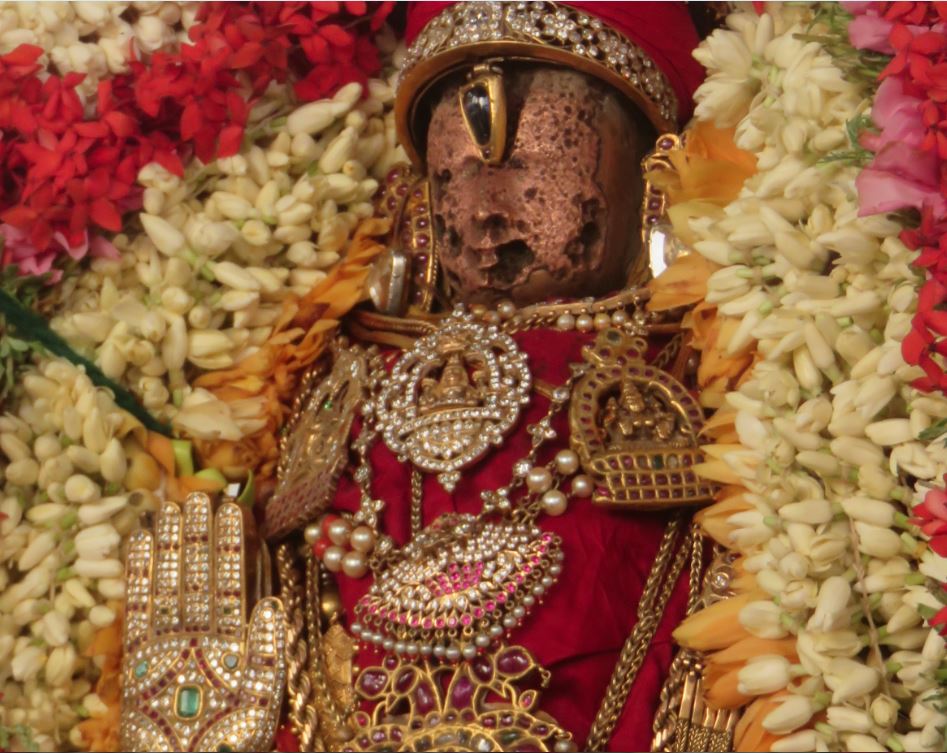 (A Day with Varadan)
A Typical Day at Kanchi Sri Devaraja Perumal Koil Part-7
At Kanchi Sri Varadaraja Perumal a typical day begins at about 6.00 a.m. Even before that devotees wait outside Tondaradipodi ,the corridor at the entrance after crossing the dwaja sthambam.At about 5.45a.m. a swami belonging to the Thathachariar lineage takes the silver kudam (water-pot) to the Anatha saras and washes it properly. Then he sets to fetch water for the day's tirumanjanam. This water is brought from a well in swami Desikan temple in SriRangaraja veedhi.After drawing the water the swami puts it on his head and walks to the temple to the accompaniment of drums. He carries it to Sri Varadaraja Perumal sannidhi on the Hasthigiri Hillock. Vishvaroopam starts immediately afterwards and only a certain number of devotees are allowed. Women devotees can be seen making rice flour kolams at different spots and lighting deepams.Sri Devaraja Suprabatham can be heard on the streets surrounding the temple.
After Vishvaroopam nitya aradhana(daily worship) takes place on the Malai(Hill) followed by offering of 'Thaligai'(prasadam).Theertham and Srisathari is given.Then 'Selvar'or 'Baliberar' is taken in a small pallaku(palanquin) and 'Bali'(cooked rice) is offered at 'Bali-peetam' and other spots in Azhwar Praakaram.
Aradhana takes place at Perundevi Thayar sannidhi , followed by Nrisimha sannidhi aradhanai. After "Thaligai' is offered at the temple ,'thaligai' is taken to the accompaniment of drums to 'Tiruvadi-koil' at the end of 'sannidhi Street' and offered to Hanuman.
At about 10.00 a.m. the second puja takes place and goes by the name 'Alankaram'. Kadambam(sambar rice with plenty vegetables) and Dadhiyannam(curd rice) are offered and distributed to devotees.
The temple closes between 12.00 p.m. and 4.00 p.m. Darsan begins at 4.00 p.m. At about 6.00 p.m. we have'sandhi-kottu' or the playing of drums outside Swami Desikan sannidhi. After the musicians have played for about ten minutes Garlands for Perumal are taken to Malai(Hill). Evening puja takes place and the arulicheyal goshti offers divyaprabhandham. After this nivedanam of 'dosai, vadai and sundal ' is done. After Theerthamand Srisathari prasadam distribution takes place.
At 7.00 p.m. Tiruaradhana (evening worship) takes place and the offerings for this worship is 'Shuddha annam(plain cooked rice ) and dadhiannam(curd rice). Bali is offered again at Balipeetam and other spots by Selvar who is taken in pallaku.
At about 8.00 p.m. sayanautsavam takes place and the offering is warm milk spiced with almonds, cardamon, saffron etc.
 Photos & Video:  Sundararajan
Writeup: Vyjayanthi Rajan
 Continued…