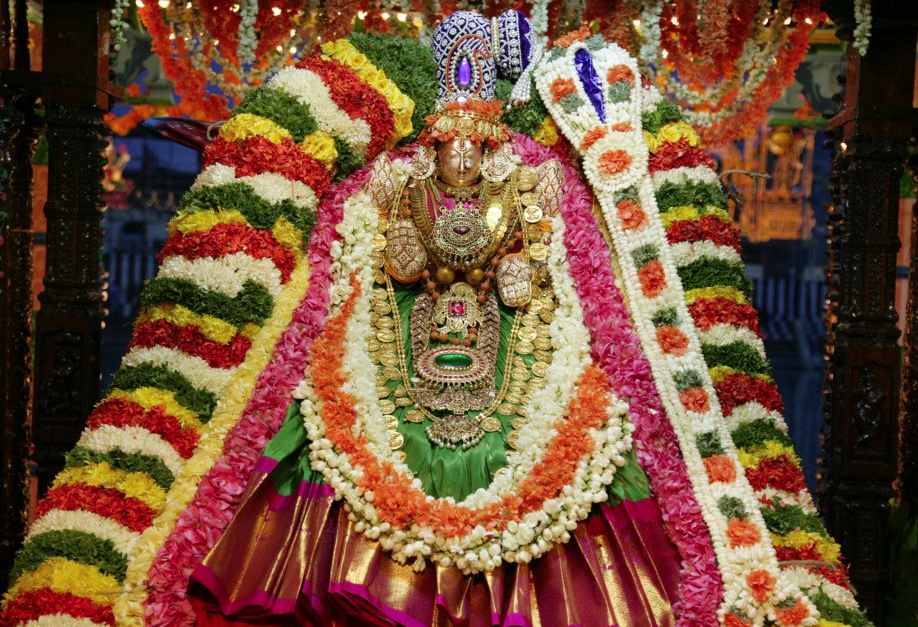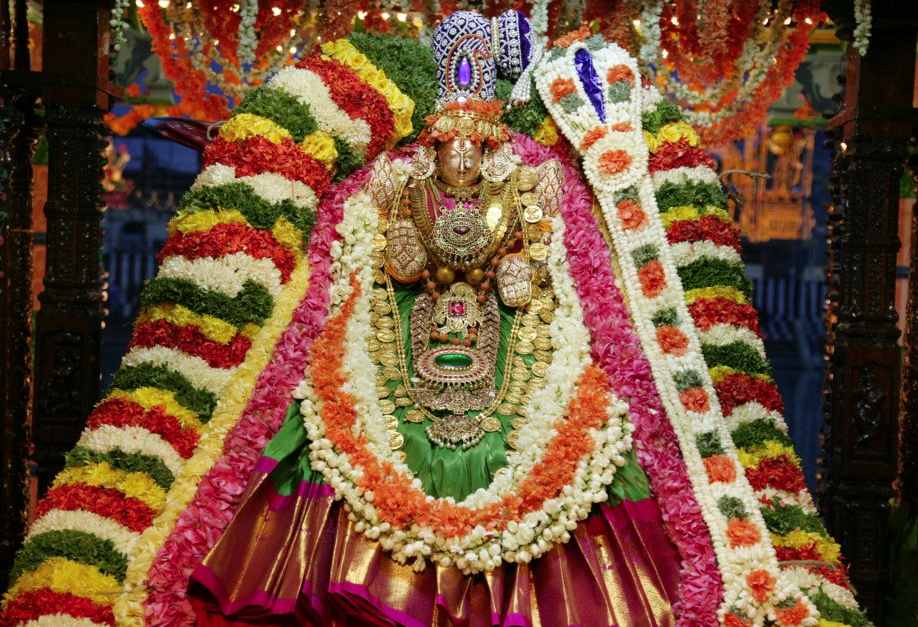 This article – 'Lakshmi kataksham' explains a part of Stri Dharmam. Its written by SrI.U.Ve.R.N.RanganAthAchAriyAr, RAjenthiram in Tamil and the translation in English is done by Smt. Jayashree Muralidharan.
SrI:
LAKSHMII KATAAKSHAM
(SrI.U.Ve.R.N.RanganAthAchAriyAr, RAjenthiram)
****
Narasimhan looked at Lakshmi who stood by the threshold.  Her eyes began to fill with tears.  She abruptly turned to go inside.  The children stood obediently nearby witnessing the anguish of their parents. Drying her eyes with the end of her saree (traditional dress worn by Indian women), Lakshmi suddenly went into the kitchen as if suddenly remembering something, and returned back shortly with a small mud-pot in her hand.  It was a small mud-pot.  It was filled with flattened rice.  It had been offered to Lord Krishna on SrI Jayanthi, which she had kept aside, so that she could feed the children with the same, should they cry.
She gave that mud-put to her husband.  Both their eyes became moist with tears.  Drying their eyes, they came to the entrance of their house.
The Male Guest was resting on the front porch of the house.  The Elderly Lady with Him was softly pressing his legs.
"Swami, here is a little quantity of flattened rice.  Please accept this. Please accept this and bless us", so saying Narasimhan went forward to offer the vessel to The Guest.  The Supreme Lord, Who provides sustenance to all living beings, spread His upper cloth with both His hands, much like an ordinary person seeking alms and accepted the food. Tying it up in one end of the cloth, He told the couple who were prostrating before Him,
"Oh noble souls!  It appears that both of you have not eaten anything till now.  Please go and have your meal and I will bless you prior to my departure."
"Swami, aDiyEn is not used to speaking falsehood, So I will tell you the truth.  We consume the food that is leftover after our children have eaten.  Today we have offered only that food to you both.  Now we will have to cook afresh for the children for tonight and then eat ourselves.  Such being the case, how can we go and have our food now?" – said Narasimhan with tears in his eyes and his voice choking.
"Oh! Is that the situation? Could you not have told me before-hand? We could have eaten a little and so could you both have too.  So what now! If you can light the stove and ready the rice, we can have food in a minute.  We can all have rice with butter-milk atleast." – said the Guest.
"Swami! You are not aware of our plight!  If we prepare food now, then we will not have enough rice left to cook for the night.  We will pass this afternoon by just consuming water.  Please bless us without being offended." So saying Narasimhan prostrated before The Guest.  Lakshmi and the children too followed suit.
"Oh exalted Brahmin! This evening the Goddess of Wealth and Her Elder sister who is the embodiment of all inauspiciousness will both pay you a visit.  Use your wit to make SrI Devi (Goddess Mahalakshmi) stay and The Elder Sister depart.  Even the slightest slip, will cause the good fortune coming your way to change course, so be warned" said The Guest.
"Swami, if the Grace of God be there with me, then everything will turn out well.  What are we to do?" Said Narasimhan.
In the evening, Lakshmi and the kids were reciting sloka-s after lighting the lamp.  After finishing his daily evening prayers (sandhya-vandana) Narasimhan sat on the porch and thought of the conversation that he had had with the Elderly Brahmin Guest in the morning.  As he sat there lost in thoughts, he heard the sounds of a lady walking past him into the house, by the rustle of a fresh silk saree, the sound of toe-rings and the tinkling of bangles.  He rubbed his eyes to see clearly.  But he could see no one.  But he firmly believed that based on the pleasant sounds he heard, it was clearly a very auspicious lady who has entered his house. "Oh Lord Narasimha! It is all Your Divine Play." – he thought as he entered the house
As soon as he entered inside he checked first to see if the back-door to the house was closed shut on that evening.  It was closed.  Scriptures say, "Whether it is SrI Devi or Her Elder sister, when They enter a house, They wait for a while to see who is being welcomed.  Whoever finds favour in that house, that Devi stays!  Especially in any house where the back-door is not closed or the lamp is not lit, SrI Devi quickly leaves through the open doors as She finds such a place better suited rather for Her Elder sister to reside."
Narasimhan kindled the flame of the lamp in the hall, with the wooden stick lying nearby, and prayed to the Deepa Lakshmi, "Oh Mother! Oh Jyothi Lakshmi! Please help us by burning bright and not becoming dull or flickering out, so that SrI Devi Who has now visited our house should permanently stay here." Just then he was startled by thunderous footsteps approaching through the front of the house and wondered if it was the Elder Sister of SrI Devi coming in?  Was the fluttering flame in the lamp that was burning bright till moments ago, an indication of this lady's presence?
"Oh Lord! PrahlAda Narasimha" prayed the Brahimn as he once again kindled the flame on the lamp.  He began reciting SrI Lakshmi stotra with palms folded in prayer.
Seeing her husband reciting the stotra, his wife Lakshmi and their children too joined in and in unison with mellifluous voice and perfect tune, they beautifully recited the stotra without any error in pronunciation.
After recitation, Narasimhan said, "SrI Devi! Have we not suffered enough? Please do not test us anymore! Oh Mother! Please permanently reside here with us, blessing us with Your loving grace.  There is no longer any place in this house for the lady who came behind you.  So I will slightly open the back-door and stand guard there and she can go out that way!" So saying he moved towards the back-door!
The Elder Sister, full of remorse, left his house through the open door, searching for another house to stay.
From that day, that family was blessed with the Grace of Goddess Mahalakshmi and performed daily prayers to SrI Prahlada Narasimhan. Therefore ladies of the house must be supportive of their spouses during lean periods and at evening hours must light the lamps in their houses as well as keep the back doors of their homes closed.  In households following this practice, SrI Mahalakshmi will reside permanently.
Our Special Thanks to Smt. Jayashree Muralidharan for translating this article in English.