Thiruvarangam Viruppan Thirunaal Chitrai Brahmotsavam, which commenced on April 29, 2013, concluded yesterday with Aalum Pallakku. Yesterday was Day 11 and final day of the utsavam.
The following is a write-up by Sri Narasimha Bhattar on the last two days of the Chitrai Brahmotsavam…
After Theertha Vari in the holy Chandra Pushkarani, Perumal goes to Chandana Mandapam. Then, He leaves by evening and goes around the Chitra streets, listening to Divya prabandham and Vedas, without much pomp and celebration. Since He is tired because of 10 days of festival along with many musical instruments playing all the time, in order to take a break from much of this, he has just one drum playing as he marches silently, in Sapthaa Varnam, in the middle sabda prakaram on Chitra streets. He then goes to Ramanujar's sannidhi where they offer tender coconut to Perumal on Ramanujar's behalf, in return our Azhagiya Manavaln gives his blessings to Ramanujar via Sri Sadakobam (Shaddari). After naivedyam, He comes to Dhwaja Sthambam and see off all the devathaas that came to Sri Rangam for the festival and asks them to resume their duties. Then He goes back in and has Rakshabandhana Visarjanam(the removal of the Rakshabandhanam) after which, He goes back to Moola Sthanam directly.
Now, after these blissful days of Bramhotsavam celebrations, my appeal to devotees is to at least, consider visiting the temple in your locality. It is often said, "Iruppidam Vaikuntham". So please consider any Perumal temple in your locality as Vaikuntham and visit every weekend without fail.
SriRangam is a Divya kshetram where there is a festival for our AzhagiyaManavalan every month of the year –
Chitthirai masam – Bramhotsavam
Vaigasi masam – Vasanthotsavam
Aani masam – Jeshtabhishekham
Aadi masam – Adi 18 utthsavam.
Aavani masam – pavitrotsavam
Purattasi masam – Navarattri Utsavam
Aipasi masam – Dolotsavam
Karthikai masam – Deepotsavam
Margazhi masam – Adhyanotsavam
Thai masam – Bramhotsavam
Masi masam – Theppotsavam
Panguni masam bramhotsavam
The following are some of the photographs taken during the utsavam yesterday…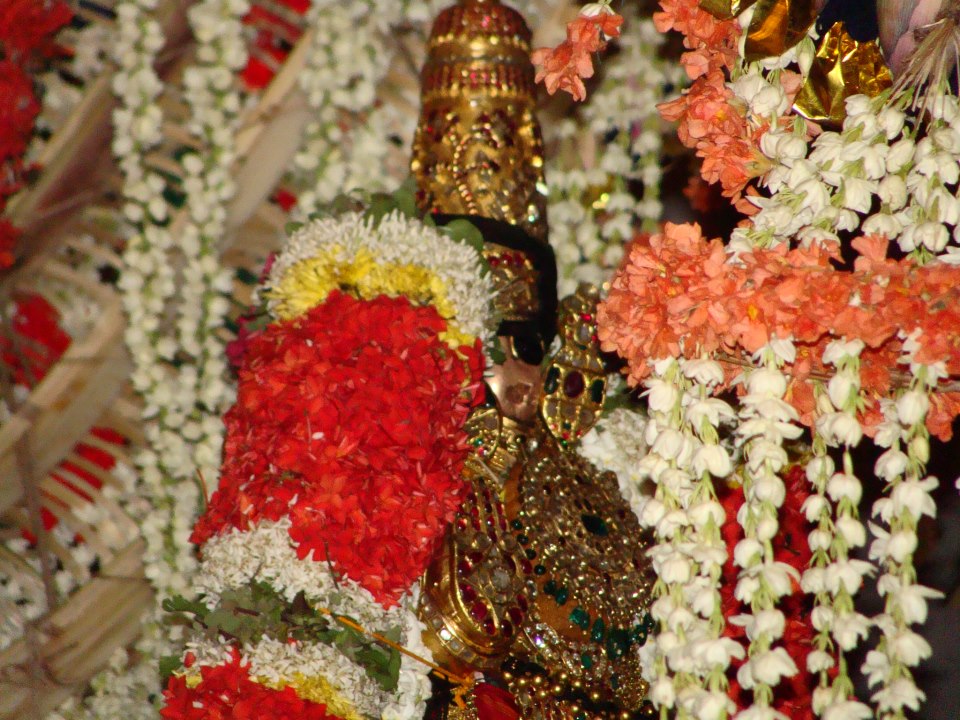 Photo Courtesy: Sri Prasanth Rajagopal
For previous days' utsavams, please visit http://anudinam.org/2013/05/01/thiruvarangam-viruppan-thirunaal-chitrai-brahmotsavam-days-12/
http://anudinam.org/2013/05/02/thiruvarangam-viruppan-thirunaal-chitrai-brahmotsavam-day-3/
http://anudinam.org/2013/05/03/thiruvarangam-viruppan-thirunaal-chitrai-brahmotsavam-days-4-5/
http://anudinam.org/2013/05/05/thiruvarangam-viruppan-thirunaal-chitrai-brahmotsavam-day-6/
http://anudinam.org/2013/05/07/thiruvarangam-viruppan-thirunaal-chitrai-brahmotsavam-day-7/
http://anudinam.org/2013/05/07/thiruvarangam-viruppan-thirunaal-chitrai-brahmotsavam-day-8/
http://anudinam.org/2013/05/08/thiruvrangam-viruppan-thirunaal-chitrai-brahmotsavam-thiruther/
http://anudinam.org/2013/05/09/thiruvarangam-viruppan-thirunaal-chitrai-brahmotsavam-day-10-sapthaavaranam/
For detailed schedule of the utsavam, please visit http://anudinam.org/2013/05/01/thiruvarangam-viruppan-thirunaal-chitrai-brahmotsavam-commences/