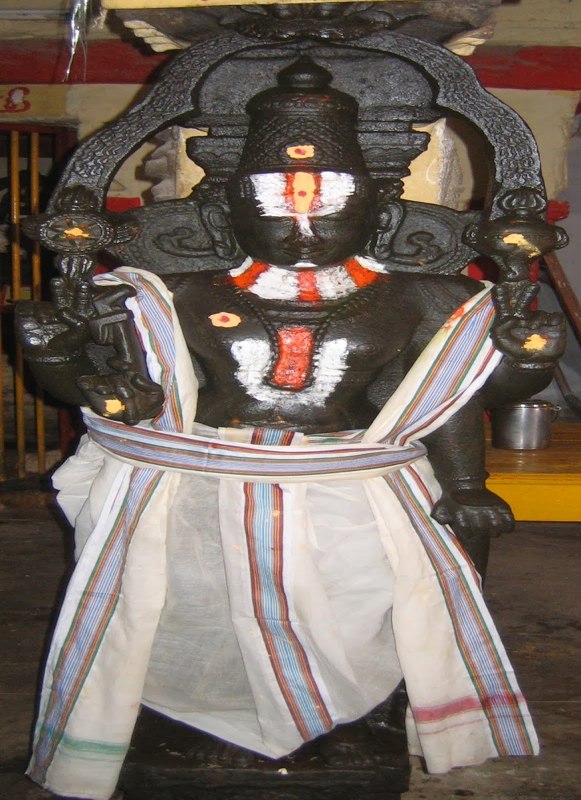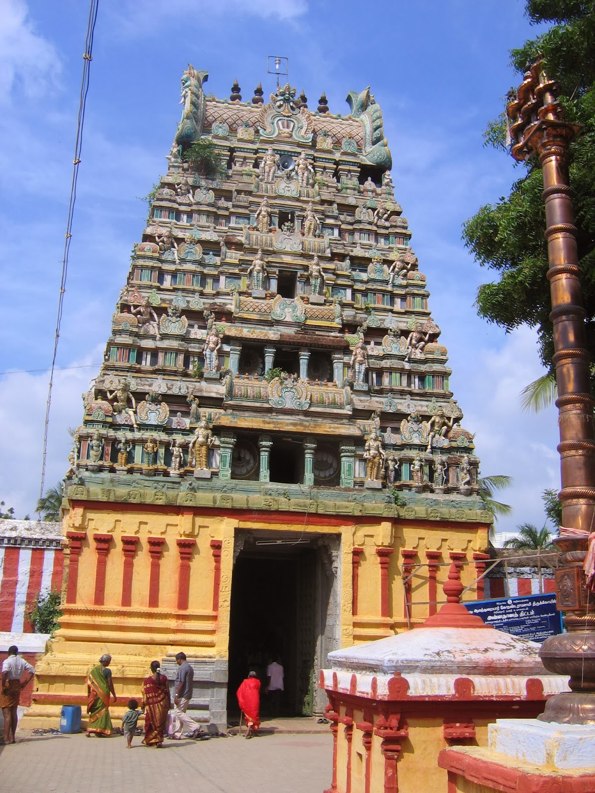 Located in the heart of Ariyalur 1km west of the bus stand is the Kothandarama Temple, where the bronze moorthy of the handsome South Facing Rama is believed to date back over 1000years to the Pallava period with later renovation during the Chozha rule. The East facing Venkatesa Perumal, a later creation, is now the main Moolavar moorthy at this temple.
However, to this day, the temple continues to be known after the original moorthy as the Kothandarama Temple of Ariyalur. Rama is seen along with Sita and Lakshmana in a single peedam.
An interesting feature at the temple is the exquisite over 6 feet tall Dasavaratha moorthy on either side of the Dasavathara Mandapa, one that was constructed by Vijaya Oppila Mazhava Raya. In recognition of this, one finds his moorthy at the entrance of the mandapa.
North Facing Lord Narasimha is seen in four forms inside the Dasavathara Mandapa- Lakshmi Narasimha, Yoga Narasimha, Hiranyavatha Narasimha and Prahalada Narasimha. One finds Lord Narasimha with sharp finger nails that tore apart the Asura, while his foot is placed on the slain Asura King Hiranyakashipu whose son Prahalada is seen in a calm, devoted standing posture.
The Name
Ariyalur also bears its name from the presence of Lord Vishnu here. 'Hari Iruntha Oor', the place where Lord Vishnu resides, in course of time became 'Ari' yalur.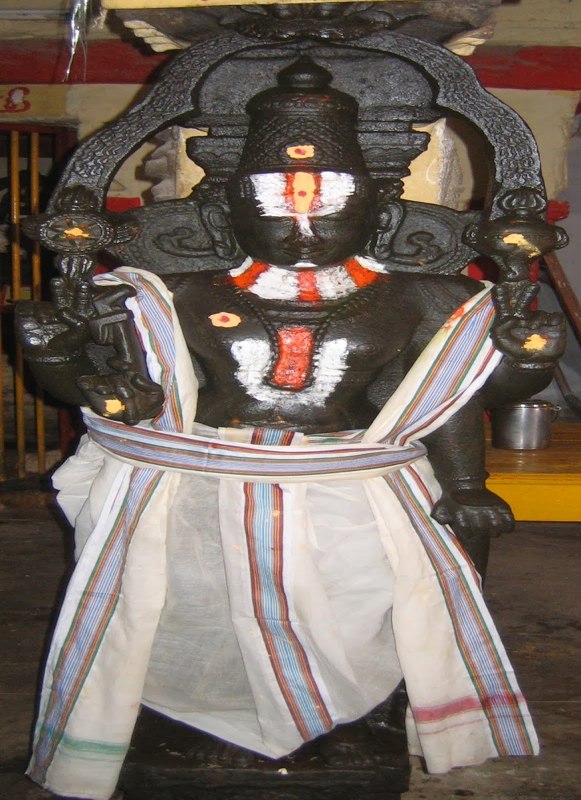 Festivals
Vaikunta Ekadesi with Swarga Vaasal opening
Rama Navami
Garuda Sevai Procession on Vaikasi Visakam day is a big highlight at the temple
Plans are to revive the Brahmotsavam and Theppotsavam
Chariot Festival on Shravanam Vaikasi
Quick Facts
Moolavar: Venkatesa Perumal East Facing Standing Posture
Thaayar : Alarmel Mangai Thaayar (Separate Sannidhi)
Time : 730am-1030am and 5pm-830pm
Contact : Krishna Kumar Bhattar @ 97501 31328
How to reach Ariyalur?
Ariyalur is on the Chennai- Tiruchirapalli rail route. Auto from Ariyalur Railway Station to the temple will cost Rs. 40/-.
Sri Kaliyuga Varadaraja Perumal temple at Kallankurichi is 6kms East of this temple.