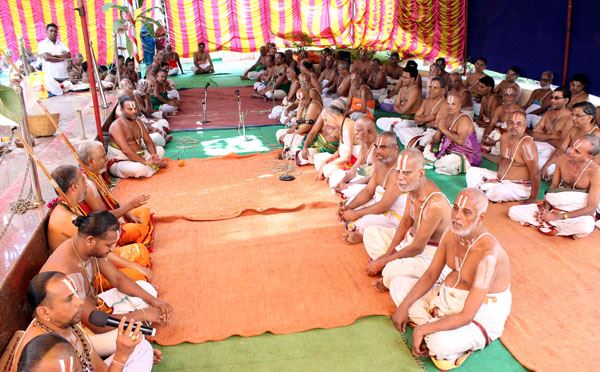 Yesterday 96oth avatharotsavam of Sri Ananthazhwan was celebrated in great manner. Ananthazhwan was a great disciple who followed the aacharyan's words and performed pushpa kainkaryam for perumal at Tirumal with at most devotion. He was fondly called by Swami Ramanujar as " Aan Pillai" , so he was known as Sri AnanthaanPillai.
As a tribute on the 960th Avatarotsavam of Sri Anantazhwar, Purusaivari Thototsavam has been observed in Tirumala on Sunday.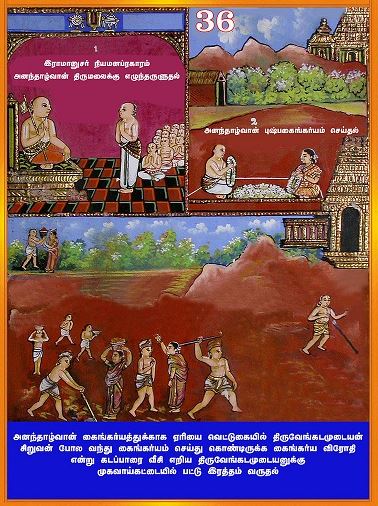 In his spiritual address, the Tirumala Pedda Jiyangar HH Sri Periyakoil Kelviappan Shatagopa Ramanuja Periya Jiyar Swamy said Ananthalwar stood as the right example for a true "Bhakta" (devotee) who dedicated his life in the service of Lord Venkateswara. He said he pioneered the Pushpa Kainkaryam in the temple of Lord Venkateswara and rendered his sincere services till his last breath in his 102 years of pious life.
Meanwhile the Avatarotsavam has been observed with great religious fervour in the Azhwar tank gardens in the presence of seers of various peethams including the chief seer of Tirumala.
Later, the entire clan of Sri Ananthazhwar recited 4000 Divya Prabandha Pasurams and also the Srinivasa Gadyam and Lakshmi Gadyam penned by Sri Purusai Rangachari. Sri Tirumala Chinna Jiyar was also present.
Source : TTD