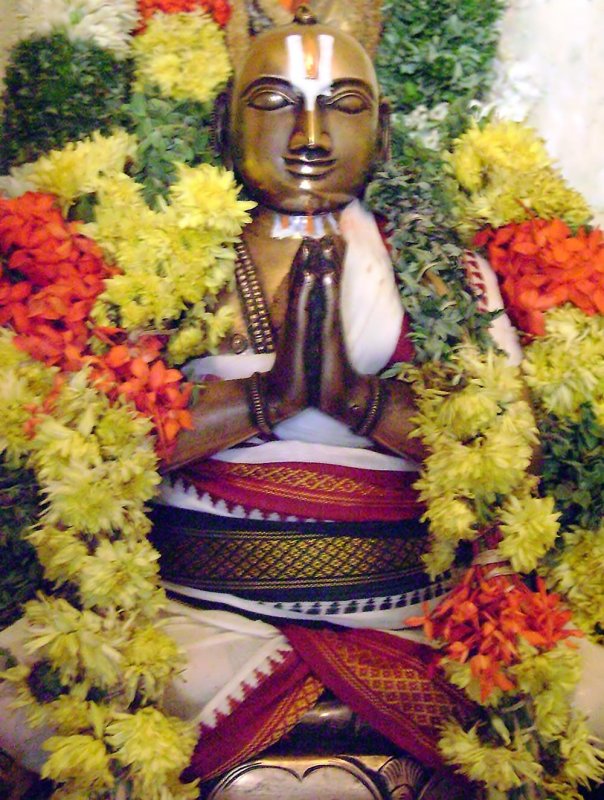 Uyyakondar was the main disciple of Nathamunigal. He took avatharam at Tiruvellarai , near Tiruchi  in the Tamil month of Chitrai under the constellation Kritthika.  It was the year Prabhava (886 AD).  He was an amsam of Jayasenar a nithyasuri.  He was given the name of Pundarikaksha by His parents. Incidentally Pundarikaksha is the reigning deity of Tiruvellarai divya desam. He was 63 years younger than Nathamuni. Like Madurakaviazhwar, Uyyakondar treated His acharya equal to Perumal and obeyed His acharyan without questioning.  He studied the Vedas, Vedanthas and the four thousand Divya Prabhandhams from Nathamunigal. Nathamunigal had received from Nammazhwar, along with the divyaprabhandhams the divya mangala vigraham of Bhavishyadh acharya (Bhagavadh Ramanuja). It was to  Pundarikaksha  that  Nathamuni  entrusted  the vigraham to ,with the instructions to hand it over to his grandson. Pundarikaksha  handed over the custodianship , to Manakal Nambi as the said grandson was born after His time.
Now how did Pundarikaksha get the name Uyyakondar?  One day Pundarikaksha was asked to escort Nathamunigal's  Devigal (wife) Aravindapavai to her maternal home. Not knowing His worth Pundarikaksha  was asked to sit in the courtyard and was served old rice soaked in water (pazhaiadhu). Pundarikaksha accepted it happily as Srivaishnava prasadam. When Nathamunigal came to know of this incident  he appreciated Pundarikaksha's  reaction and commended  Pundarikaksha and exclaimed  yennai uyyakondero ?  Thenceforth Uyyakondar became His name, which was justified by one more incident:
Nathamunigal knew Bhakthi Yogam and Prappathi margham. When asked which path He wanted to learn,  Uyyakondar answered  "Will anyone marry when there is a corpse lying inside the house? The meaning of this statement is that when the whole universe is drowned in misery, sarangathi was the path He wanted to learn about. Bhakthi yogam is not easy to follow. It should be continuously practised and antima smaranam is a necessity. Only the person practicing Bhakthi yogam can reach moksham.  Prappathi yogam  whereas will deliver the ignoramus and the learned. Pundarikaksha wanted to redeem everyone. He wanted to take the entire human race to Moksham . So He befitted the title Uyyakondar.
So much involved was Uyyakondar in preaching what Nathamunigal taught that He did not compose any works independently. But the famous Tiruppavai Thaniyans-"Annavayal Puthuvai Andal" and "Soodi kodhutha Sudarkodiye" were His compositions. Swami Desikan calls Him the embodiment of  Shuddha Sattva  that is He had no Rajo or Tamo gunam and was purely Sattva.
Let us end our note with His Thaniyan:
Namah Pankaja Nethraaya, Nathasri Padha Pankaje!
Nyastha Sarva Bhaaraya Asmadh Kulanathaya Dheemathe!
Writeup By : Sri Vyjayanthi Rajan