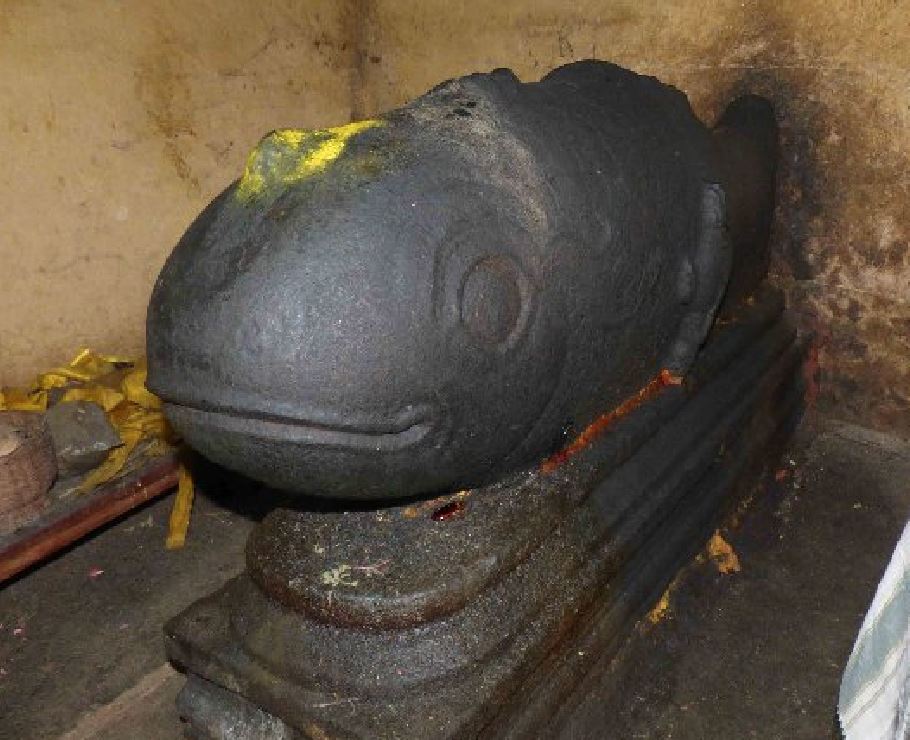 Matsya Jayanthi and AdiVan Satakopan Panguni Kettai Tirumanjanam at Dasavatharan Sannidhi
Jaya Panguni Kettai(9.4.2015) Matsya Jayanthi was celebrated at Sri Dasavathara Sannidhi. According to Srirangam Panchagam it is Matsya Jayanthi today. Since many almanacs mentioned the day as Varaha Jayanthi kora kizhangu ladoo was prepared by Madapalli kainkaryam swami and was offered. Aradhakar swami began Tirumanjanam to Matsyamurthi at about 8.00a.m. Sesame-oil was applied and was followed by milk, curds, turmeric, sandal and snana powder tirumanjanam. As each dravyam was used Matsya Bhaghavan's Adbhutha saundaryam was revealed especially the shanku and chakram. A fish protects its young by merely glancing. The first among the ten avatharas Matsyamurthi will protect us all with His divya kataksham. Swami Desikan in Sri Dasavathara Stotram adressess Him as   "Iccha Meena" and" Maatsyam vapu:" Those who have Kethu dosham can be relieved by worshipping Matsyaroopi Narayana.
After tirumanjanam to Matsyamurthi monthly tirumanjanam was done at AdiVan sathakopan sannidhi as it was Kettai. Purattasi Kettai was when Sathakopa Jeeyar took avatharam. Commanded by Ahobila Sri Nrisimha he went to Ahobilam where Nrisimha administered the prekshamantram and gave him sanyasam .Malolan came to his hands and the Ahobila Muth was born.
These are some of the photos taken during the occasion…
Matsya Jayanthi at Dasavathara Sannadhi
Sri Adhivan Satakopan Panguni Kettai Thirunakshatram
Writeup & Photography : Vyjayanthi & Sundararajan