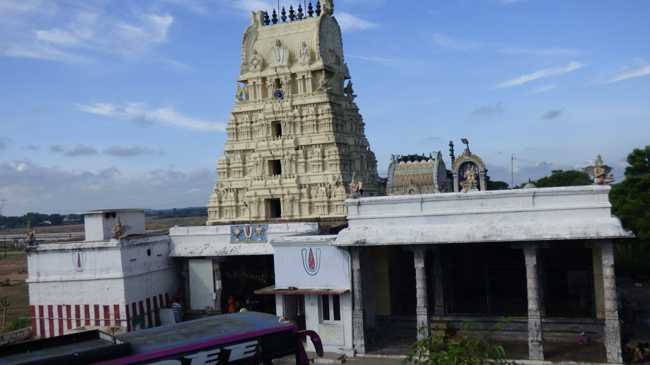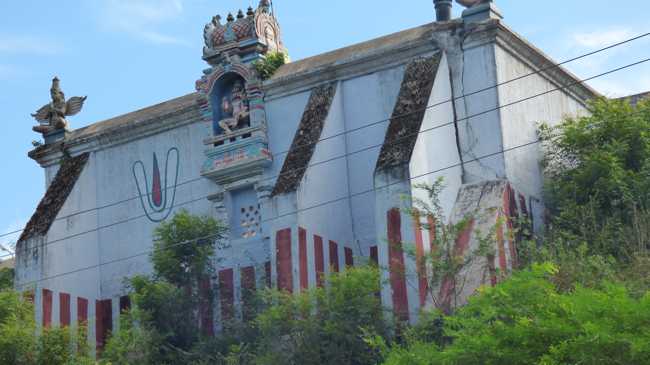 On the morning of November 1st we set out for Pazhaya Seevaram from Kanchipuram at about 7.00a.m. We took a share auto(Rs.7.00 each) to reach the main bus stand so as to get assured seats. We boarded a bus  going to Chingelpet after ensuring that it would stop at Pazhaya Seevaram. The main bus stand was bustling with activity with flower vendors selling flowers and the fruit stalls were stocked with different kinds of fruits. Travellers could be seen buying sweet boxes from the sweet shop and the eateries were making and storing iddlis in casseroles.
It was 7.45 a.m. when the bus started and the 20 km journey was done in about an hour's time. As we alighted we caught sight of a temple with Vadagalai tiruman and the white and red lines of a temple. At the centre we could see Lakshminrisimha swami flanked by Garudazhwar at the four corners. We expected to climb steps to reach the temple but found a motorable road and saw a bus parked infront of the temple. After washing our feet at the tap outside we entered the temple precincts to find a group of tourists who were waiting for the sannidhis to open.  As we entered we noticed the madapalli(temple kitchen) to our left. There were sannidhis for Nammazhwar, Vishnuchitta(periazhwar) and Tirumangaiazhwar but were closed. As we made our way inside we noticed to our right a golden door and a board above which said Ahobilavalli Thayar. As we moved further in there was a platform with a small flight of steps on either side .There were photos of several Gujarathi vaishnavas who had contributed to the temple. As we moved out to the right we saw the dwajhasthambham and balipeetam.  As we moved in pradakshinam we saw on our left a sannidhi for Andal which was also closed. Since we came to know that the temple would open after half an hour, we decided to look around. We saw below a long white bridge, the Palar bridge which lead to Tirumukoodal(confluence of three rivers).  Sad to say the rivers are totally dry*After the recent rains in Chennai, where Kanchipuram was also affected,Tirumukoodal is flowing with water*. The view of the hills in the distance against the blue sky looked beautiful and clear road signs could be seen. We climbed a large number of steps to see the Varadaraja Perumal mandapam. Once a year on kannu pongal Varadaraja Perumal travels to Pazhaya Seevaram to bless the devotees on the 20km.stretch. Tirumanjanam takes place at the mandapam which is reached by climbing many steps. Then Varadan goes to Tirumukoodal Appan Venkatesa Perumal koil. Pazhaya seevaram temple is thus closely linked with Varadaraja Perumal. The hill is known as Padmagiri and Seevaram is probably a colloquial version of Sripuram. Ahobilavalli Thayar sannidhi had opened by the time we returned and devotees were lighting ghee lamps outside. Thayar was resplendent in magenta silk blue bordered saree and giving Her cool kataksham to all. The sannidhi was neat and clean and the teakwood prabhai appeared new.
We  then waited for Perumal sannidhi to open. The tourists lined up for darshan and we joined the queue. As we climbed the platform a mirror caught our attention .It contained a slokam in sanskrit which is translated thus "One with the Face of a lion and is  Rudrarupi, One with Abhaya Hastham and is Karunamurthi(Merciful Form). One who is Sarvavyapi(All Pervasive) and Lokarakshakan(Protector of the universe), Grant me Lakshmi kataksham and fulfilment of wishes Oh LakshmiNarasimha".
Even as we read these lines we noticed a small sannidhi to the left  within an enclosure and realized it was Garuda Bhaghavan. We expected the sannidhi to be infront of us  but we had to turn right.  It was as if we were entering a cave. As we proceeded in line we had darshan of Lakshmi Narasimha who was captivating. After giving our offerings and obtaining Perumal Theertham and kumkuma prasadam we came out after requesting the aradhakar swami to spare some time for recording the sthala puranam. He said that after offering of thaligai(nivedanam) which would take about half an hour he would do it. So we waited while the bell was rung by madapalli swami inside and a small boy outside.  The process did take almost 30 minutes. After the offerings were made at the bali peetam etc. aradhakar swami came out as promised and gave us a recording of the sthala puranam. We owe the presence of this temple to Atri Maharsi who did tapas at Naimisharnayam to see Lakshmi Nrisimha. He was directed to Padmagiri in Kanchipuram. The bewitching form of the Lord made him want other devotees also to enjoy darshan. Thus we can see the archamurthi of Lakshmi and Narasimha with their hands on each other's shoulders,  Even after returning home His Beautiful Form with Lakshmi on His Lap kept visualising and it was indeed our good fortune that took us to the holy hill far from the noise and bustle of cities. The greenery, the serenity and ofcourse the beauty of the place will remain always in our thoughts. Special mention must be made of the aradhakar swami and the madapalli swami who meticulously do their duty and keep the sanctity of the temple . We will remember the little village boy who rang the temple bell for more than half an hour when prasadams were being offered. Lord LakshmiNrisimha's partiality towards bhakthas is manifest as the avatharam itself was to protect Prahlada. Devotees visiting Kanchipuram should plan a visit to this hallowed spot if possible during kannu pongal or leisurely on any other day.