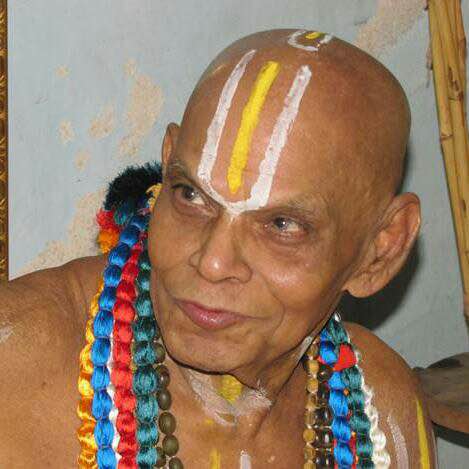 HH Srimath Royapuram Andavan Sri Raghuveera Mahadesikan of Poundarikapuram Ashramam in Srirangam attained Acharyan Thiruvadi, today around 8:35 PM……
More detailed information to be updated shortly…
Recently, In the month of April HH Srimath Royapuram Andavan's 86th Thirunakshatram was celebrated! 
HH Srimath Royapuram Andavan was on Sancharam couple of months before to Bangalore to bless His sishyas.
A short writeup about His Poorvaashramam:
His Poorvaashramam thirunaamam was Sri D. Rajagopalachariar and was appointed as the ninth Jeer of the Ashramam on January 30th 2012. He is a great scholar in Sanskrit, Tamil and Hindi. He is an ardent follower of the eighth Jeer of the Ashramam, Paravakottai Gopala Desika Mahadesikan Swamigal. Swami was born on April 27, 1931 in Vaduvur village in Thanjavur district.
Sri Swami, popularly known as 'Royapuram Swami,' started learning Sanskrit in KRM Estate Patasala in Mannargudi. After four years of training, he joined the Raja Veda Dharma Patasala in Kumbakonam for advanced study in Sanskrit. He later joined the Madras Sanskrit College in Mylapore and graduated as 'Sahitya Siromani'.
During this period, he also learnt Hindi and qualified in the Visharadh examination. He also passed the Tamil Vidwan course.
Swami has served as Tamil teacher for ten years in Sethupathi High School, Madurai. Later he shifted to New Delhi to serve as a Tamil teacher in New Delhi Tamil School in His Pooravasharam
During his stay there, Sri Swami was conferred the titles "Sahithya Ratna" from Haridwar Ashrama Swami, "Vidyabhooshana" from Gujarat Vidyapeet and "Ramayana Kathabivarshaka" from Harinagar Tamil Association.
After serving in New Delhi for 30 years, he came to Srirangam and had his Grantha Chathustaya Kalakshepam under the Holy Feet of Srimad Paravakkottai Andavan of Srimad Poundarikapuram Swami Asramam.
Srimad Paravakkottai Andavan was pleased with his services and gave him an opportunity for 'Bhikshai kainkaryam and also conferred the title "Acharya Seva Durandhara" on Sri Swami. He had the honour of doing kainkaryam in the Thiruneermalai Asramam and Bangalore Asramam for some time.
He has authored the books, "Thulasidasarum avar tham arulvaakkum"; "Thiruppavai – Godastuthi" ; "Sudarsana Satakam – Commentary".
He had participated in the Vidwat Sadas conducted under the auspices of the Ashramam. He had assisted Srimad Paravakkottai Andavan in the publications of the Asramam like Srimad Rahasyatrayasaram, Chillarai Rahasyangal and Ramapiranai Karpom.