Nagareshu Kanchi-Tirupaadagam  Pandava dhoothan temple
(The Lord as an Emissary)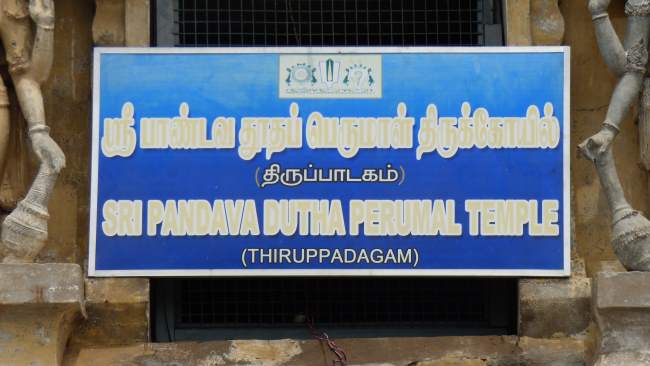 Sthala Puranam

Perumal declares openly 'Aham Bhakta Paradeenan' that is He will do anything for His bhaktha. He depicts this in Kanchi divyadesams by taking Nrisimhavatharam at Tiruvellukai, assuming eight Hands at Astabhujakaram, becoming a bridge in Tiruvehka, showing light in Tiruthanka and showing His pride in being a messenger for the Pandavas at Pandava dhoothan temple.
 He exists in the vishvaroopam Form revealed to Duryodhana in the Kaurava assembly and reveals it to us in archaswaroopam at Kanchipuram. Located in Shiva Kanchi very close to Ekambareshwarar temple this temple is close to the railway station as also Kanchipuram Bus Depot. Autos and share autos are available in plenty. We travelled in our two wheeler and reached this place in about half an hour from our house in Vishnu Kanchi.
 As we reached the temple there was a board saying 'Pandava dhootha Perumal  temple'.  There is a four tiered rajagopuram at the entrance. Two women flower sellers were urging to buy flower garlands so we bought some from both for everyone living in a divyadesam is special.
After entering the 'Gopura vasal' we prostrated at the dwajhasthambam and entered the temple precincts after worshipping Garudazhwar and Anjaneya who are in the same sannidhi. Then there is a sixteen pillared mandapam. There are boards displaying the sthala puranam and stotrams and pasurams. As we step into the sanctum  we saw to our right azhwars and acharyas and the divyamangala vigraham of Arulalaperumal Emperumanar. We shall talk about swami later on.
Pandava Dhoothar
 In the small garbhagriham we stood rooted as we saw a gigantic Form of Perumal seated in ardha padmasana (One Feet folded and the other dangling) posture almost 30 feet in height. His Right Hand is in Abhayamudra (Palm points to us in blessing) and His Left in Varada mudra.  (Palm points to His Feet). His two Arms look like wings and sparks seem to emanate from His Tirumeni. Facing East His Tall Crown, Tiruman (how did they manage to apply it), Beautiful Lotus Eyes, the necklaces and chains and the rings on His Fingers are all sculpted and the Beautiful carvings on His Tirumeni are astounding. We are so lost in Moolavar we remember to see Utsavar Pandavadhoothan with His Consorts only when the aradhakar swami waves the deepam and talks to us.
The question is how did Pandava dhoothan come to Kanchipuram. Let us trace our steps back to The Mahabharatha story. The Kauravas by cheating in the game of dice deprived the Pandavas of their kingdom and refused to return it even after they fulfilled the conditions of the game. The Pandavas wanted to avoid war and were  ready to accept five villages so they send Krishna as their emissary. Wicked Duryodana says he would not part with even a needlepoint of his kingdom. Angered by this unfairness Krishna reminds him of all the injustice the kauravas did to the Pandavas. Duryodana was furious and decided to do away with Krishna when He would come to the assembly the next day. A decorated chair was placed over a deep pit covered with bamboo twigs. The idea was  that Krishna would fall deep down and collapse. Sri Krishna came  to the court pressed the platform with His Toe and the seat crashed. He revealed  His Vishvaroopam (Huge Form) to Duryodana and the blind Dhritharastra. In later years Parikshit's the grandson of Pandavas was shown this Form by Sukabrahmam. Pariksit's son Janamjeyan desired to see this Form so Vaishampayana brought him to Kanchipuram and performed Ashvamedha yagyam. The Form which Janamjeyan saw is revealed to all of us as archa divyamangalamurthi at Tirupaadagam. Four Azhwars that is Budham, Pey, Tirumazhisai and Tirumangai have poured their anubhavam in their pasurams. We are not qualified in anyway but are awestruck for sure.
As we came out and proceeded in pradakshinam we saw a mandapam which said 'Tiruvaymozhi Mandapam' which is a multi-pillared mandapam  which was probably a 'kalakshepa mandapam'.
After crossing this mandapam we spotted Thayar Sannidhi and went inside. There is an elephant on either side of the mandapam and at the top of the mandapam we saw Gajalakshmi flanked by Garudazhwar on either side.
  Rukmini Thayar
 As we reached the gate we saw Rukmini Thayar in seated posture with chathurbhujams (Four Hands). Her Hands like Perumal's are in Abhaya and Varada hastham. As we moved on there was an inner latticed (with bricks) compound wall with lotus motifs. We saw a vimanam withYoga Narasimha. There was another vimanam with lions flanking Durga seated with a sword. As we proceeded we had darsanam of  'Chakra vimanam  which is above the sanctum of Perumal and has five kalasams on the top and two circles are seen clearly on the structure which represent Perumal's Chakram.
We then saw a sannidhi for Chakrathazhwar with clear instructions painted on the door saying not to light lamps on the steps of sannidhis. The temple authorities are able to enforce this and that is why  the entrances are clean unlike the oiliness made by dripping ghee and oil lamps in other temples. There is a yagasalai and the temple tank is visible as we end our pradakshinam.  The Theertham is known as 'Matsya theertham'. The tank is well protected with walls and a yellow gate with Garudazhwar on either side.  Repair work is on and we spotted iron rods in the compound as also workers atop the outer compound wall. Overall the temple is well maintained and as we reach the dwajha sthambam again we had a talk with Ubha Ve T.V. Srinivasan swami who is taking care of the temple.
Arulalaperumal Emperumanaar
The V in his initials stand for Vinjimoor a village near Tirupathi. They are descendants of 'Arulala Perumal Emperumanaar'. Known as Yagnamurti this swami was a scholar of repute and travelled all the way to Srirangam and challenged Ramanuja to a debate. The loser had to accept the philosophy of the winner. The debate went on for 17 days at the end of which Ramanuja was on the verge of losing. That night Kanchi Varadaraja Perumal came in Ramanuja's dream and asked him to refer to Alavandar's 'Mayavaadha nigraham'. Thus equipped Yagnamurthi stood defeated and became Ramanuja's shisya. Yagnamurthi was given the name 'Arulala Perumal Emperumaanar' and wrote 'Gnana saaram' and 'Prameya saaram' two outstanding treatsies on Srivaishnava sampradhaya. This swami spent his last days in 'Pandavadhoothan temple' in the service of Perumal and srivaishnavas. His descendants are the dharmakarthas of this temple. This swami's divyamangala vigraham is found in this temple and his tirunakshatram 'Karthigai Bharani' is celebrated with devotion in this temple.
Having travelled to the times of Mahabharatha and Ramanuja we were overwhelmed by the happenings of our glorious past which have been preserved in our temples by dedicated srivaishnavas.
Photos & Video: Sundararajan 
Write-up: Vyjayanthi Rajan