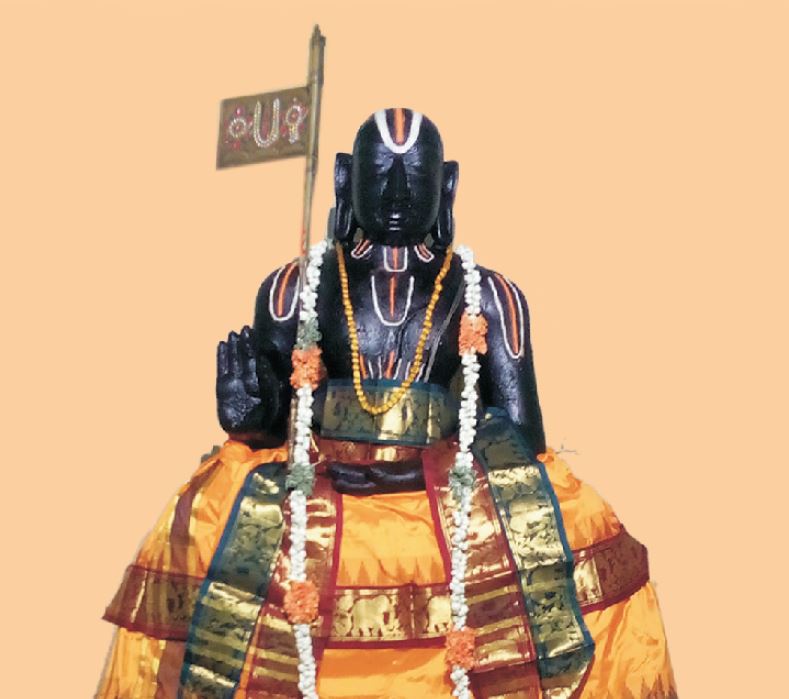 SRIMATHE RAMANUJAYA NAMAHA
We all aware that, we are approaching the landmark 1000th year of Ramanuja's Thirunakshatram in few months. Swami Bashyakaarar was the one in organizing  the Sri Vaishnava Samparadayam and showed the greatness of our Vishishtadvaita philosophy to the world. To remember our "torch bearer" of Vishishtadvaita and to show the greatness of his works to the world, a team of seven people has been formed to release a book titled "Ramanuja Daya".
This book is an offering ("Samarpanai") of all belonging to "Desika Sampradayam" to the entire world about the Glory of "Ramanuja" and Vishishtadvaita philosophy. The entire publication is conceptualised by Navalpakkam Mahavidwan U Ve V Vasudevachariar Reader, Nyaya Shastra at Sankaracharya Institute of Sanskrit – Trivandrum. There are about 100 renowned scholars who have contributed to the treatise and many of them have received prestigious Government of India awards. These Mahavidwans hold very high positions in various Sanskrit universities across India and have spent their life propagating the vishishtadavaita philosophy.
This books contains the following with articles on each section.
1. Ramanuja Vaibhavam
2. "Essence of Sutras" like Sri Bhashyam, Geetha Bhashyam, Deepam etc.
3. Other religions – How Ramanuja overcome the challenges?
4. Guru Parampara and Greatness of Other "Acharyas"
5. Ramanuja Darshanam
6. Tatvas
7. Importance of Anushtanamas and Ramanuja's experiences
8. Line by line meaning in a lucid form of "Ethiraja Vaibhavam, Ramanuja Nootruandadi and Ethiraja Sapthathi".
We are planning to launch "Ramanuja Daya" on All India basis on the auspicious day November 5th 2016 ("Pillan and Vishvakshenar" Thirunakshatram) at Ahobila Mutt Kanchipuram between 3.00 pm to 5.30 pm. The book has two volumes and is written in a lucid form in Tamil catering to age group starting from 20 years onwards. Every chapter has a synopsis specifying the objective in the beginning and followed by an article. We believe this book will act as an Encyclopedia of the entire Vishishtadvaita philosophy for current and future generation.
We also think that this is the only book of its kind where in a cluster of "Mahavidwans" have contributed in one single publication. This books has Sri Mukams and blessings of yathis HH 46th Jeer of Ahobila mutt, HH Sri Andavan of Srimath Andavan Ashramam and HH Parakala Swami of Parakala Mutt Mysore.
The three luminaries of our Vishishtadvaita Philosophy today viz. Navalpakkam U Ve. N S Ramanuja Tatacharya (recipient of chevalier Award), Navalpakkam U Ve Valayapettai Ramanuja Tatacharya and U Ve Kothimangalam Varadacharyar of Mysore have given their introductions and contributed their own masterpiece. Every Mahavidwan who has contributed to the articles will be honoured at this function.
Ramanuja Daya is reasonably priced at Rs 200 for both volumes consisting of over 750 pages to make it affordable to Sri Vaishnavites with colour printing, photos all over of various Divyadesams and "Archakas". The intention is completely noble and a contribution to our Sampradayam. As Ramanuja Daya team We do not intend to seek any donors or sponsorship to this publication or function. Few likeminded people (part of the team) have funded this project out of our own funds. The proceeds collected out of sale of this masterpiece will be used for initiatives to propagate the philosophy from now on till May 2017 and continue for future years. We plan to release about 1000 copies initially.
Ramanuja Daya Book release invite by Sri. U.Ve. Karunakaracharya Swamy
Ramanuja Daya Book release invite by Sri. U.Ve. Ananthapadmanabacharya Swamy
Ramanuja Daya Book release invite by Navalpakkam Sri. U.Ve. Vasudevacharya Swamy
Ramanuja Daya Book release invite by Thiruayindhai Sri. U.Ve. Malolakannan Swamy