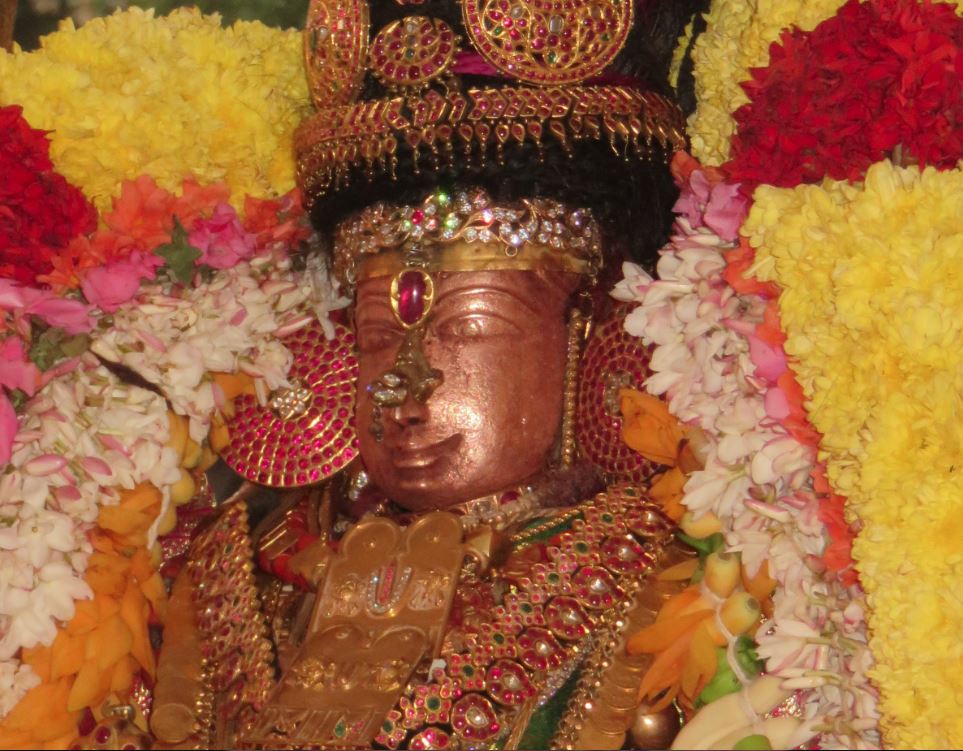 Yaaga salai
As we proceed clockwise we have to climb a flight of steps to reach the 'yaaga salai' This is an enclosed structure with homa kundams and is the place where yagyams are performed . This is the venue for 'pavitra utsavam' and is called 'Pavitra -utsava mandapam' . There is a small room in the corner where yagyams are performed during utsavams. By descending a flight of steps we can reach the next praakaram and also view the 'Punyakoti vimanam'. But we will proceed to Sri Rama Sannidhi before entering Alavandar Praakaram'.
Sri Rama Parivaram
 As we go behind the yaaga salai a few steps lead us to the sannidhi housing Sri Rama, Seetha, Lakshmana and Hanuman. We have moolavar and utsavar and can have darsan through the grill gate. This mandapam is visited by Varadan and His Consorts during 'Rama Navami'. On normal days devotees light lamps and make kolams. Locals write 'Sri Ramajayam' on the kolam platform several times either with rice flour or with their fingers.  After worshipping Rama Parivaram we have to descend several steps to reach Ananthazhwar sannidhi.  We are now in 'Yamunai thuraivan tirumutram' or madapalli prakaram.
Ananthazwan sannidhi
This sannidhi houses the moolavar divyamangala vigraham of Ananthan one of the nityasuris. There is a gopuram over this sannidhi. Also known as Seshan He is in seated posture with a  beautiul 'tirumukamandalam'(Face) crowned by the hood of a snake. He becomes Perumal's padhukas when He moves, His seat when seated and His bed when He reclines. Worshipping Ananthan fosters unflinching devotion to Sriman Narayana. He bestows children and devotees light lamps before Him after making kolams with rice flour. As we come in pradakshinam we see an arasa maram (peepul tree ) with several stone snakes on the platform. As we proceed clockwise we reach the sannidhi of Karimaanika Varadan.
Karimannika Varada Sannidhi
 On a raised platform we have a sannidhi for Karimaanika Varadan. Here we have moolavar divya mangala vigraham of Karimaanika Varadan flanked by Sridevi and Bhudevi.  There is no gopuram over this sannidhi. Devotees make kolams and light lamps at this sannidhi and do several pradakshinam. This sannidhi is where Alavandar saw Ramanuja along with other students of Yadava Prakasa.  To our left on a raised platorm is a colonnade of pillars which was perhaps used to conduct spiritual classes. Nowadays we can occasionally see someone reading texts like Srimad Bhaghavatham.
Punyakoti vimanam
As we proceed in pradakshinam we have to move a little away from the prakaram walls to view 'Punya koti vimanam'.  As the name indicates sighting of this vimanam bestows koti(a crore) punyams. This is the vimanam which came from the agni kundam of Brahma's Ashvamedha yaagam and under the vimanam was our Varadan. This vimanam can also be viewed from the steps of the yaagasala mandapam. There are seven kalasams on the vimanam which represent the seven moksha kshetrams. 'Ayodhya, Mathura, Maya, Kasi, Kanchi, Avanthika and Dwaraka.
Madapalli
After darsan of Punyakoti as we proceed in pradakshinam we have to our left the  temple kitchen known in srivaishnava parlance as 'Madapalli'. Our Sampradhaya is called 'mahanasa sampradhayam' or 'madapalli sampradhayam'. The prasadams which emerge from the madapalli are of high quality and varied. If one happens to be present during goshti one gets plenty and varied prasadams. Also after the pujas we can see templeparicharakas giving prasadam to the visiting pilgrims. As we walk along we spot a Bilva tree and the ugranam or store room near-by. When the door is open we can have darsan of 'Madapalli Nachiyar'. Mahalakshmi Thayar takes the Form of 'Madapalli Nachiyar' to ensure that proper cooking takes place for Her Husband.
Thayar Sannidhi
 After crossing the kitchen well we can see a flight of steps leading to Thayar Sannidhi. We have to climb a  flight of steps to reach this sannidhi. We can also enter from the main entrance. Since we are taking the pradakshinam route this entrance has been taken. As we enter right infront of us is an enclosure which is the spot where oonjal takes place for Thayar after Her return from 'Dorai-Thottam' on Fridays. To our left there is a sannidhi for Sri Krishna.  He keeps count of the devotees visiting Thayar sannidhi and accepts the deepams offered to Him by local devotees as also kolams. On Rohini, Tirumanjanam takes place and some sincere devotees make 'yezha-kolams' ater cleaning the spot outside. As we proceed to enter the first threshold carved figurines can be seen at the bottom of the doors. We have to proceed straight to reach the sanctum sanctorum of Perundevi Thayar which is guarded by dwarapalakis (female doorkeepers) at the entrance. When standing before Her we are transfixed and one look is never enough. We do not know where to look? Her sarees are always gorgeous and She has perhaps the best collection among Divyadesam Thayars. Her Tirumukhamandalam with the serene Smile of Affection and Protection makes one feel secure.
Her exquisite ornaments  stand out whether it is Her mukkuthis(nose-rings) or ear-ornaments, crown. nethi-pattai or the huge Tirumangalyam and the thick bangles and other chains and necklaces which make one wonder whether these ornaments gain beauty by adorning Lokamatha(Universal Mother)? After handing over our fruit offerings or cow's ghee for the lamp we accept Manja kaapu(ground turmeric) and move out reluctantly turning back again and again to have another glimpse of Her.  As we come out and move in pradakshinam to our right hand corner is a grinding stone decorated with kolams. This is where turmeric is soaked and ground freshly daily by devotees in the morning. As we proceed clockwise to our left is a raised platform and as we turn the corner we can spot Thayar's vimanam(golden dome) which goes by the name 'Kalyana vimanam'. As we near completion of our round we have to climb a few steps to reach a small room with many photos on the walls. The first photo is that of  'Kalyana Nagar'. This is a photo of Ooragathan Perumal found in 'Ulagalandha Perumal' temple. Devotees trace the shape of this Perumal with turmeric with the belief that He will foster good marriages. Then we have a photo of Bhrighu Maharisi's yaagam and Mahalakshmi emerging as his daughter. Then we have the picture of Perundevi Thayar showering gold coins for a bachelor to get married after hearing swami Desikan's 'Sri-Sthuthi'. Perundevi or Mahadevi can give everything but what we should seek is Saranagathi which is all encompassing.
Photos : Sundararajan
Write up: Vyjayanthi Rajan
To be continued