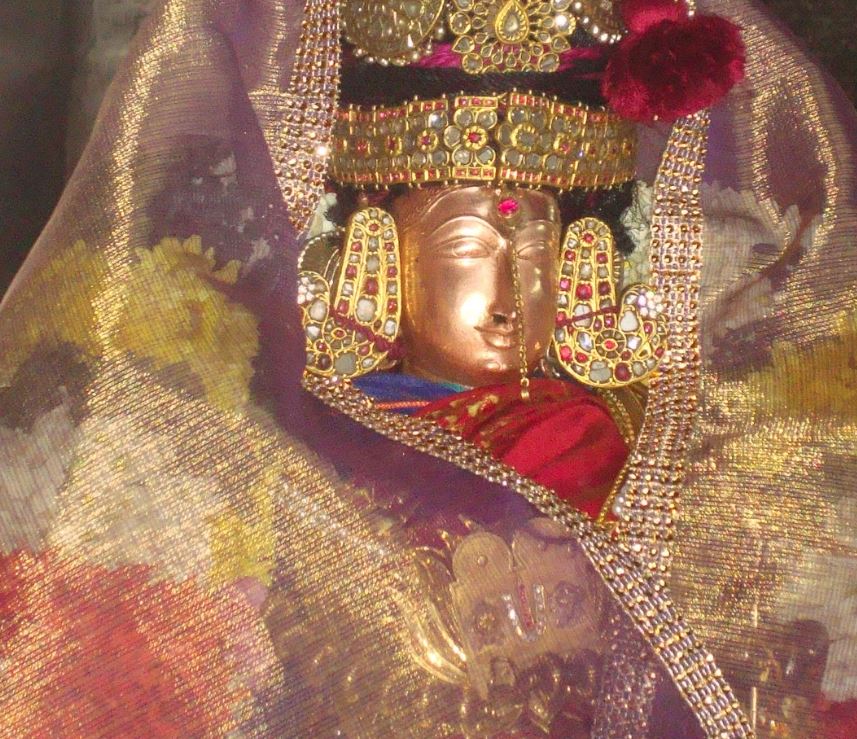 After coming out of the door before descending the steps we have to proceed to our left and seek Narasimha deva on a pillar. There is a lamp burning in an enclosed glass case and lamps lit at His Feet. Locals whisper their unending wishes in His Ears, before getting out of this sannidhi. Our next stop is the sannidhi of Garuda Bhaghavan'.
Garudazhwar
After getting down the steps from where we entered if we go in the clockwise we will reach the sannidhi of Garudazhwar. He is inside a grilled enclosure at a height and there are few steps which have to be climbed to light lamps and a platform to make rice flour kolams. It is a common sight to see women devotees taking out a wet cloth, wiping the spot and making kolams. This Garudazhwar can be seen clearly after sunset. Garudazhwar usually faces Perumal and here he faces Narasimha Perumal.  As we enter the inner prakaram we spot dwarapalakas on either side of the entrance.
 Yoga Narasimha sannidhi
This is the Kshetra Perumal and existed before Varadaraja Perumal and resides in the Hasthisaila caves. Perumal is in yogic posture and reminds us of Sholingapuram Narasimha. Besides moolavar and utsavar we have Chakrathazhwar in this sannidhi. This sannidhi is to be visited before we ascend the Hasthigiri Hills. We are now in the 'malai prakaram' also called Senayar kone prakaram. Worshipping Narasimha bestows freedom from illness and confers dhairyam(confidence). Special worship is offered on Swathi and pradosham. Panakam is offered to Him and on Narasimha Jayanthi day He enjoys Tirumanjanam with Varadan and His Consorts at 'kanadi-arai mandapam'. After coming out of the sanctum of Narasimha under the 'Guhai vimanam' we proceed in pradakshinam and find a sannidhi for Andal.
 Andal Sannidhi
Andal sannidhi is located at the left hand corner as we come in pradakshinam from Guhai Narasimha Sannidhi. The gopuram on the top has beautiful figurines and the sannidhi houses Andal moolavar and utsavar. Utsavar Andal goes in purappadu during Margazhi Neeraatal utsavam and during Aadi Pooram utsavam. The speciality of Kanchipuram Andal is that 'malai matrudhal' (exchange of garlands) takes place everytime Varadan returns after veedhi purapadu to Atthigiri. She makes one gaze again and again in admiration.
Visvaksenar sannidhi
After Andal sannidhi we have the sannidhi for Vishvaksena which can be reached by climbing a flight of steps leading to a platform housing the sannidhi. We generally find this sannidhi closed but before the start of Vaikasi Brahmotsavam this is the scene of activity and Senai mudaliar does 'nagarai-sodanai' (security-check). His Tirunakshatram is Aippasi Pooradam. Next to Vishvaksenar sannidhi there is a room called Venkadari room. Venkatdari swami who lived by uncchivrutthi (alms) has made tremendous offering of ornaments for Varadan and Srirangam Ranganathan. Varadan dons the Venkatdri-kondai when He goes in chapparam during Vaikasi Brahmotsavam.
Entrance to Atthigiri
As we proceed in pradakshinam thinking of Venkatadri we see the temple well with white and red lines which is kept covered. While doing pradakshinam devotees go clockwise around the well too. At this point we see before us a flight of steps and an entrance with white lions with their tails entwined. Locals do not go up by these steps but proceed further and take the steps infront of Dhanvanthri sannidhi. This side too has similar lions with entwined tails. It is a practise to place our head on the elephant's head at the entrance and then climb up . As we reach a platform we see to our left a whole lot of golden steps with spikes. There are 24 steps representing the 24 syllables of the sacred' Gayatri mantram' which is medidated upon by brahmins during their sandhya vandanam. 24 represents the 24 tatvams and the 25th is jeevatma who seeks Paramatma the 26th tatvam.
We climb up the steps holding on to the iron railing at the side. There is a rope dividing the steps for entry and exit. After climbing up we have to proceed straight infront of us to reach the door leading to a hall. In this hall there is a silver bed and the dwarapalakas holding shankhu and chakram stand guard. The crown of one has shankhu and the other the chakram. They seem dignified and it is a practise to take their permission before entering the sanctum. Even at this point we can have darshan of Varadan standing aloft in Majesty clad in all finery. We have to ascend a few steps to get close to Him. Every time one sees Him it seems like it is the first time. His Crown, Tiruman, The Mandha smitham (slight smile) and His colourful silks, salagrama malas, flower garlands and other ornaments are all captivating. His Four Hands hold the shankhu, chakram and one Hand is in Abhaya Hastham with the words 'Ma-shucha:' spelt out which means 'Do not worry'! The other Hand holds the Gadha(mace). The silver 'Thunga villaku' (hanging lamps) have five mukhams lit and when electric lights are off Varadan's Tirumukhamandalam glows and His reassuring Smile is visible clearly.  At His Feet we see utsavar flanked by Sridevi and Bhu devi. This is the Perumal who emerged from Brahma's yaaga kundam and therefore has pock marks which seem to add to His Beauty. This is the Perumal who traverses the length and breadth of Kanchipuram to see His devotees and bless them. We also have at base Pranatharthihara Varadan who is the Hero during 'Pallava-utsavam. 'We also have narthana Krishna(dancing Krishna) who enjoys  Tirumanjanam with Varadan and Consorts on Srijayanthi at 'kanadi-arai mandapam' and goes in purappadu the next morning on Sesha vahanam on the Mada veedhis to accept sesame-oil offerings. In the evening He enjoys 'uriyadi' along with Varadan.We also have the divyamangala vigraham of 'Selvar'.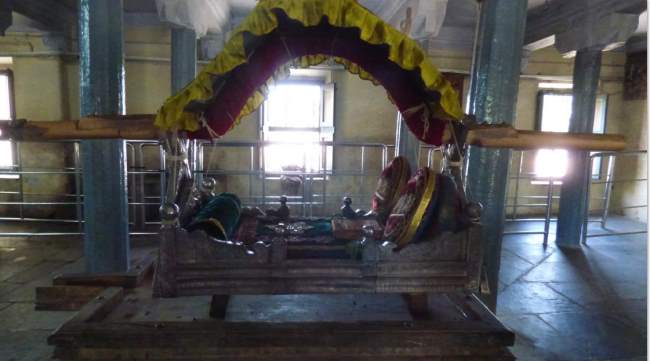 Devotees after darsan descend the steps taking a look back after every step for no one can have enough. On Fridays Tirumanjanam takes place and evening darsan Perumal is adorned with many flower garlands and reminds one of Srinivasa. After coming out of the sannidhi we find ourselves in a room at the end of which is a cradle like structure with velvet pillows which is used during sayanam at night. There is an enclosure where arulicheyal goshti sits to chant divya prabhandham in the morning and evening.  On the walls we have 'Devaraja suprabatham' written . This is chanted in the early morning to wake-up Perumal. As we turn to our right as we descend we reach a corridor leading to 'Palli Darsanam'
The Lizards of Kanchi
Have we ever come across people wanting to see a 'palli'? Well in Kanchi every second pilgrim comes asking the way for 'palli'. By buying a ticket for Rs.2.00 we can join the line for 'Palli darsanam.' The sons of Sringibera were the shishyas of Gauthama muni. One day Gauthama muni found two lizards in the water meant for Perumal's 'Tiruaradhanam'. Angered by their carelessness Gouthama cursed his shishyas to become lizards. When they begged forgiveness and asked for release of their curse he directed them to Satyavratha kshetram and asked them to worship Varadarja Perumal. One punyam in Satyavratha kshetram begets 1000 times benefits. So these lizards got redemption from their curse and attained Srivaikuntam. Varadaraja Perumal said that those who see these lizards whose bodies remain encased in gold and silver will attain punyam and freedom from diseases. The sun and moon stand witness to this. So we have to climb a few steps inside the lizard room and touch the lizards along with the sun and moon as witness.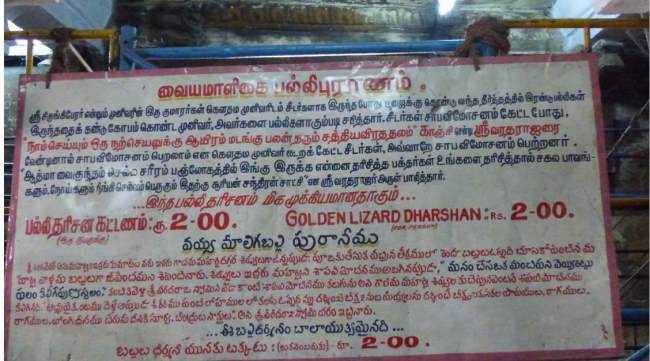 Photos : Sundararajan
Write up: Vyjayanthi Rajan
To be continued